What Do Your Body Acne Breakouts Mean?
Is your back breaking out? You might need to get more sleep. Bumps on your neck? Try cutting out sugar and see what happens. Skin problems can tell you a lot about what's going on inside your body. Similar to the ancient practice of face mapping, body mapping can help us understand why we're breaking out and what to do about it.
There is no shame in having a couple of pimples (or a whole population of them) — but it's also fair to want to look and feel our best, especially as we inch towards warmer weather and start planning out our skin-bearing spring and summer wardrobes.
The skin on our bodies is thicker than facial skin, so pimples can often be more stubborn — but you can actually be more aggressive with treatments.
Body acne, like all acne, requires a holistic approach and a little trial and error. The acne map above is a great place to start solving the mystery of your breakouts. We're sharing a few insights on how to deal…
How To Deal With Body Acne
Neck
Breakouts in this area can be related to hormonal imbalance. If you're breaking out here, pros recommend getting your hormones checked, especially if neck pimples are near or under the chin and jawline. You might also consider eating less refined sugar (which could be a trigger hormonal imbalance). Make sure your shampoo and conditioner are suitable for your skin type as many hair products leave a residue that can migrate down to the neck area and clog pores.
Shoulders
Clogged pores are the most likely cause of shoulder breakouts, although hormonal fluctuations can also contribute. The best ways to treat shoulder acne is to be sure you shower after exercising. Try exfoliating your skin with a gentle shower mitt and a non-toxic, non-irritating body wash.
Chest
Breakouts on your chest could indicate an imbalance in your liver, an allergic reaction or an imbalance in the gut. According to ancient Chinese wisdom, the stomach meridian is on the chest, so chest acne can also be related to poor diet or food sensitivities. Avoid eating too much spicy food and drink room temperature or warm beverages.
Arms
If you're noticing acne on your arms, you could be experiencing a vitamin deficiency. Breakouts here could also be confused with allergic rashes. Those little bumps could also be caused by keratosis pilaris, a common condition related to a buildup of the protein keratin, which can plug a hair follicle. Take a look at your laundry detergent, lotion and body wash for irritating or pore-clogging ingredients.
Stomach
If you see a pimple-like bump on your stomach, it may be an ingrown hair or an irritation from tight clothes or rough fabrics. Consider switching to loser fitting clothes made with gentler, breathable materials like organic cotton and hemp.
The V
Breakouts in this area could be related to ingrown hairs, or it could indicate a hygiene issue. We don't want to freak you out, but if you have acne down there it might be a symptom of an STD. If you're unsure, get it checked out by a doctor to be safe.
Thighs
Allergies, ingrown hairs and generally sensitive skin could be to blame for acne on your thighs. Folliculitis, an inflammation of the hair follicles, is a common cause of pimples in this area. Try experimenting with a gentle exfoliating wash, and switch to lighter, looser pants for a few days and see it that helps.
Back
This is an area where body acne is fairly common. It could be related to hormonal fluctuations, or maybe it's just your sweaty active lifestyle. If you're active, make sure to shower right after you sweat and change into clean clothes that let your skin breathe. If you don't have time to shower, keep wipes like these on hand to clear out your pores as best as you can. If that's not working, try switching up your body wash for something cleaner and more gentle, and be sure to exfoliate a few times a week. Pores on your back are larger and more prone to clogging than pores on the face. Avoid fragrance, perfumes, and dyes. If you're still not seeing improvement, some pros recommend cutting back on fried foods and getting more sleep.
Butt
The most likely cause of breakouts on your booty is clogged hair follicles — try using this gentle lactic acid Body Resurfacing Mask from True Botanicals a few times a week. Some pros believe that butt breakouts are linked to issues with digestion. Get in the habit of popping a probiotic before bed. Try to avoid iced drinks, especially early in the morning when you wake up and your body isn't warm yet. Avoid sitting too long; get up every hour and walk around to improve blood and air circulation.
Discover how to lose excess fat from your belly, face & thighs in less than 7 days with this simple ancient practice. Watch the Detox Masterclass here. Playing for a limited time!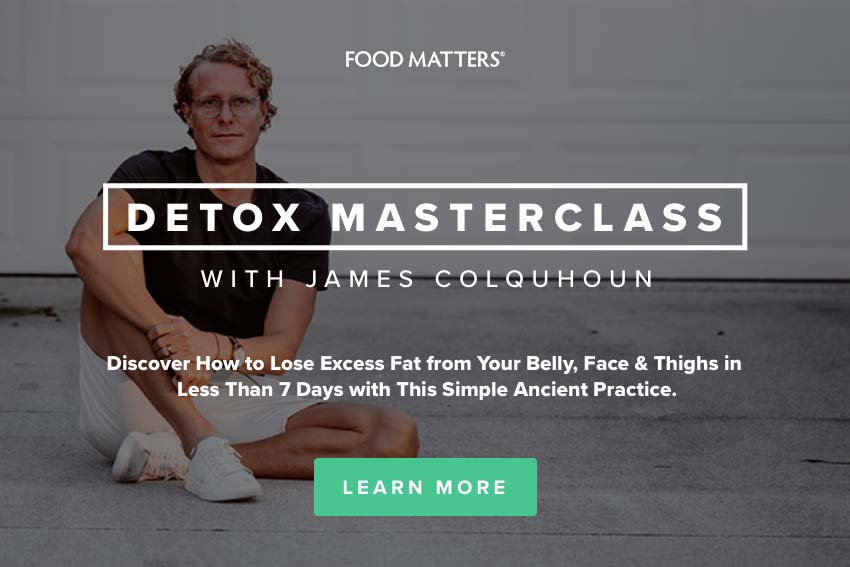 ---