Overcome Fatigue for Good, & Reclaim Your Energy with Ari Whitten
Listen on the
food matters podcast
WATCH THE VIDEO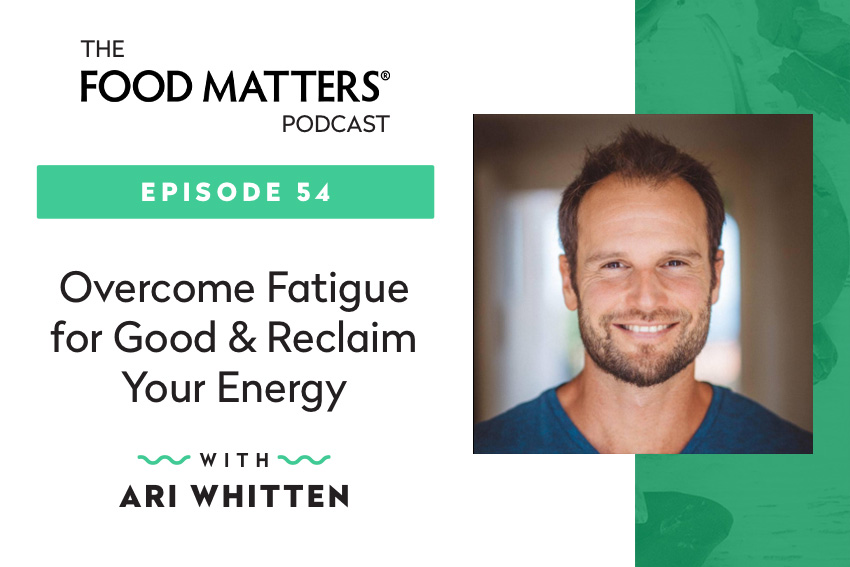 With the busy and fast-paced lifestyle of modern society, it can be easy to dismiss tiredness as being a normal part of how you feel. But you don't have to accept it as something you must live with forever!
Low energy levels, burnout, and fatigue significantly affect the overall quality of life, including moods and relationships. Plus, it can be a key indicator of your overall health.
Joining us to discuss easy solutions to dramatically improve energy levels, is Ari Whitten, an energy and fatigue specialist focused on taking an evidence-based approach to energy enhancement. He explains how sleep, stress, and nutrition affect you and how to make easy lifestyle changes to optimize your energy, and overcome fatigue for good!
Ari's work ultimately helps to find ways to improve your mood, mental and physical performance, quality of life, and overall happiness, as well as simple methods to prevent disease and illness.
About Ari Whitten
Ari Whitten is the #1 best-selling author and the creator of the Energy Blueprint System for overcoming fatigue and increasing energy levels. He is an energy and fatigue specialist who focuses on taking an evidence-based approach to energy enhancement. He is on a mission to help 1 million people overcome fatigue in the next 2 years.
In this week's episode with Ari Whitten you'll discover:
Types of fatigue and the common causes.
Debunking adrenal fatigue.
How nutrition affects your energy levels, & how you can eat to optimize your energy.
The role your mitochondria play in producing and enhancing your energy.
Ways to optimize your gut health to enhance your mitochondrial function.
How nutrition affects our circadian rhythm and sleep cycles.
Top superfoods for more energy, all day long.
Why caffeine and stimulants are not the answer, and can actually make your fatigue worse.
Plus so much more!
Being heavily fatigued mentally and physically is a major concern for many people. This episode will teach you how to take control back, and reclaim your energy to live a more enjoyable and productive life!
Episode resources:
If you enjoyed this podcast, please share it with your friends and family on social media or leave a comment. We'd love to hear from you, and hear about your experience.
We'll see you next time!
---