How Sleep Affects Longevity Plus Secrets of the World's Healthiest People with Jason Prall
Listen on the
food matters podcast
WATCH THE VIDEO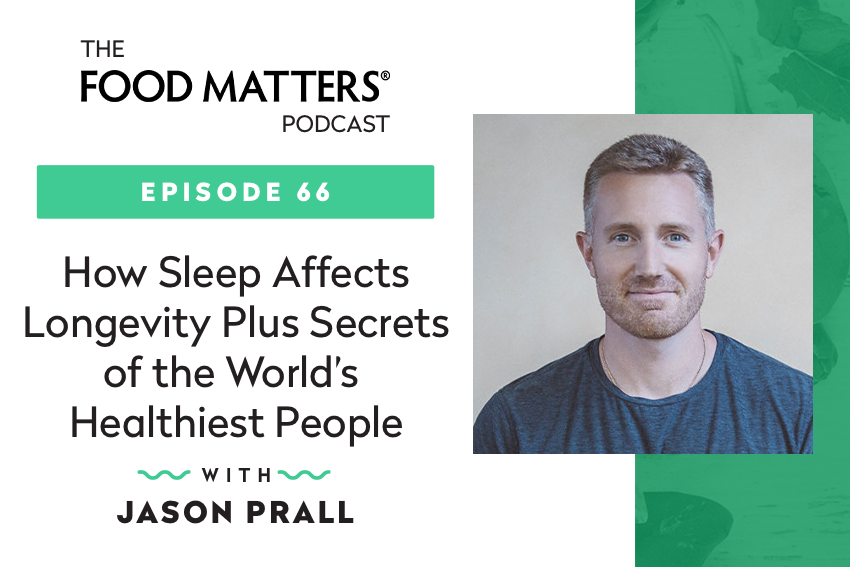 Have you ever wondered what the biggest factor is in determining how long a person lives? Longevity is a topic that seems to be studied extensively, but there's still so much we don't know because we are limited by the lifespan of a human. What we do know is that there are several factors that contribute to a long, and healthy life. In this episode with Jason Prall, we dive into the topic of longevity and how you can live a long, healthy life.
About Jason Prall
Jason Prall is a health educator, practitioner, author, speaker, & filmmaker. At 13 years old, Jason began dealing with his own chronic health conditions and for the last 21 years, he's dedicated his life to researching and sharing the wisdom he's gathered from all over the globe.
In 2018, Jason traveled to over 10 countries to create "The Human Longevity Project", a 9-part film series that uncovers the true nature of chronic disease in our modern world. Jason loves to explore the intersection of ancient methods of healing and the latest, cutting-edge, scientific research.
In this week's episode with Jason Prall, you'll discover:
Jason's personal story and what led him to devote his life to studying longevity.
The importance of connection vs community as related to longevity.
The top 3 most important factors to living a longer life.
The morning routine you should be following to help reset your circadian rhythm.
And so much more!
Episode resources:
If you enjoyed this podcast, please share it with your friends and family on social media, and leave a comment or review here. We'd love to hear from you, and hear about your experience.
We'll see you next time!
---