How Identifying Your Sleep Type Could Transform Your Health with Olivia Arezzolo
Listen on the
food matters podcast
WATCH THE VIDEO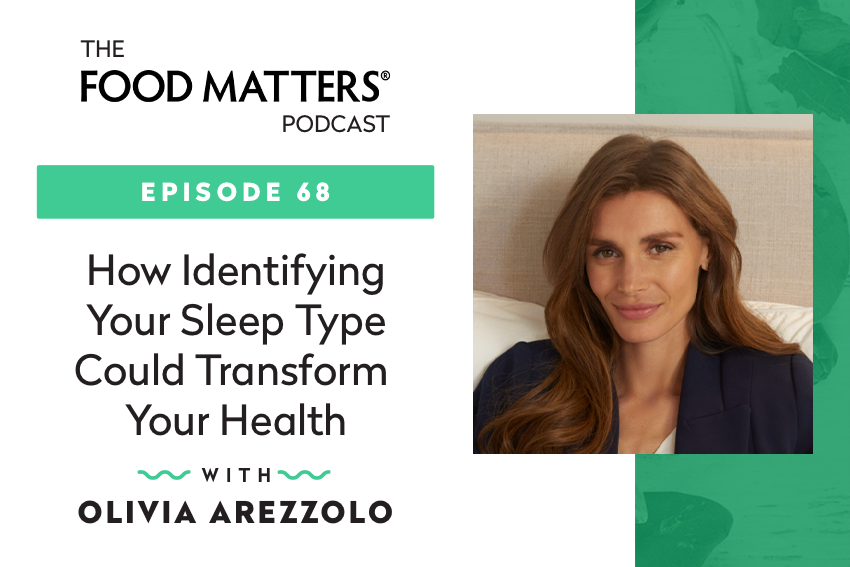 Did you know that the average person spends 26 years of their life asleep? Sleep is one of the most important components of overall health yet one of the most overlooked. It's becoming more and more common to hear people express how tired they are, no matter how much sleep they get. In this episode with Olivia Arezzolo, Australia's leading sleep expert, we discuss the impact sleep has on overall wellbeing, how to better cater to your sleep chronotype, and how diet affects sleep.
About Olivia Arezzolo
Olivia is Australia's leading sleep expert, speaker, author, coach, and advisor. After 9 years of studying, Olivia's qualifications include a Bachelor of Social Science (Psychology), a Certificate of Sleep Psychology, a Diploma of Health Science (Nutritional Medicine), and a Certificate 3+4 in Fitness. Her bestselling book, Bear, Lion or Wolf, is now published in 10 countries in 8 languages. Her mission is to help individuals feel their best, inside and out, via the simple but important avenue of sleep.
In this week's episode with Olivia Arezzolo, you'll discover:
The strong correlation that exists between insomnia and mental health issues.
The importance of sleep if you are trying to lose weight.
What a sleep archetype is, and how you can identify yours.
How to use your sleep archetype to develop habits that will promote better sleep.
Food to eat and avoid to give you a good night's sleep.
The single human invention that has negatively impacted your body's natural circadian rhythm.
And much more!
Episode resources:
If you enjoyed this podcast, please share it with your friends and family on social media, or leave a comment. We'd love to hear from you and hear about your experience.
We'll see you next time!
---