10 Celebrity Superfood Secrets!
I am woman, hear me roar! When it comes to empowerment, ain't nobody, do it better, as they say.

And the good news is, it is possible to give your energy and vitality a boost on the road to success with these ten celebrity superfood secrets. Go girl!

1. GREEN JUICE
The 38-year-old actress Gwyneth Paltrow has revealed that most of her favorite nibbles are in beverage form, including kale juice. "I'll make a juice with kale, lemon juice, water, and a little agave," says the high profile health beauty. Sounds like the perfect thirst quencher to us, packed full of goodness (though I would swap agave with a little green apple or pear).

2. ORGANIC BLUE CORN TORTILLA CHIPS
Spotted in the possession of Cameron Diaz, this little snack is great because it's made with organic corn, with no hydrogenated oils, no artificial flavors or colors, no preservatives, no trans fats, while it uses expelled pressed oil, is Kosher certified and cooked in filtered water. As far as snacks go, that's pretty good!

3. WALNUTS AND RAISINS
When it comes to reaching for a pick-me-up, health campaigner Alicia Silverstone can't get enough of the walnuts from her local farmers market. "They're fresh and organic – so much better than store bought walnuts," she explains. "I get them from the same vendor who sells organic, non-sulfur raisins. The combo is so delicious for a quick snack. The key is to look for non-sulfured raisins. You can sample them at your local farmers market."

4. ORGANIC RAW KOMBUCHA
A firm favorite also with Cammy, Kombucha contains probiotics, live active enzymes, l-theanine (an amino acid), organic acids and polyphenols (antioxidants). The taste is an acquired one, but it will fire you up!

5. GREEN TEA
A drink high in antioxidants which aids digestion, curbs appetite, evokes a sense of calm and even prevents illness, green tea is loved by Fergie (who is reported to down the drink before every performance), Oprah and Lady Gaga. It's a teacup powerpack!

6. COCONUT WATER
Successful icons like Madonna, Gisele Bundchen (I want her legs!), Elizabeth Banks and Alexis Dejoria swear by coconut water as a great go-to refreshment, and its not difficult to see why. It's not only fat- and cholesterol-free, it also packs more potassium than a banana. The Jamaicans use it as a heart tonic and the United Nations' Food and Agriculture Organization says it's full of natural electrolytes. No wonder it is great for refueling and hydrating on the go.

7. A HANDFUL OF RAW VEGGIES
When running low on body fuel, Venus Williams is renown for stocking up with a grab of vegetables. Packed full of minerals, natural, fat-free and great for gut digestion, this is a quick and easy snack that will get you back on track in no time. And no need to cook – preserve those vitamins by going raw!

8. SLICED APPLES AND HONEY
The snack of our leading lady, Michelle Obama, sliced apples and honey can give your body a natural boost of energy when you start to feel yourself flagging. While Michelle gets her honey from The White House beehive, a good organic local honey can work just as well. Ancient Olympic athletes also ate honey to enhance their performance, so imagine what it might do for you! A variation on this is apple with honey and nut butter, which can provide healthy fats, fiber, protein and phytochemicals also.

9. WATER
Jessica Alba is often asked how she looks so good while being so busy, and her answer is usually the same. She drinks three liters of water a day. Beyonce is also known to drink a lot of water to keep her active. A natural way to help cleanse your body from waste and toxins, water improves the absorption process of vitamins and minerals, aids digestion, speeds up your metabolism, increases your energy levels and leaves your skin glowing. What's not to love?!

10. DARK CHOCOLATE
When Miranda Kerr reaches for a boost, she turns to high quality dark chocolate. Packed full of antioxidants (which help to remove free radicals), and vitamins and minerals (potassium, copper, magnesium, iron) to support good health, dark chocolate is also good for the heart, helping keep blood pressure relaxed. It's time to indulge!
What Are Your Top Snacks To Keep You Energized?
---
If you haven't already, join our free global challenge at www.GetOffTheGluten.com to receive daily recipes & health tips, access to our private group for support and inspiration, plus before and after testing to track your progress in key areas of your life such as weight, sleep, bloating, skin-conditions, mental health and more!
JOIN THE GROUP CHALLENGE STARTS IN: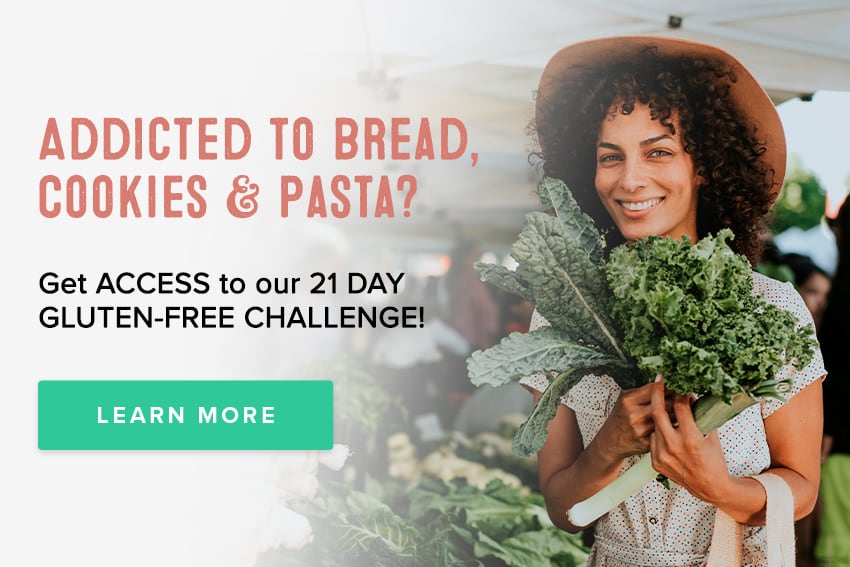 ---