10 Tips For A Gluten-Free Lifestyle
Many people may realise that they have a sensitivity to gluten, as whenever they eat a food containing it, they experience; aches, pains, headaches, lethargy, irritability, acne, digestive discomforts such as bloating, gas, constipation or diarrhoea and much more.

So you have to ask the questions:
"Am I prepared to put up with these health issues or quit gluten all together?"
"Do I want health and vitality, and am I really prepared to do what it takes in order to get it?"

Changing to a gluten-free lifestyle can seem overwhelming to some people. But if you're ready to make the commitment to your health and cut gluten out of your life completely to give you clarity of mind, better health and energy so you can do the things you love, become motivated and optimistic about life again, we have come up with 10 of our top suggestions.
1. Roast, Grill or Slow Cook Meats To Have On Hand Throughout The Week
Grilled, slow-cooked or roasted meats are perfect to always have on hand in the fridge, pre-cooked and chopped up so you can quickly whip up a salad for the kids lunch and for work too.
2. Have Plenty Of Fresh Fruits And Vegetables On Hand
Go to your local markets on the weekend and stock your fridge with fresh seasonal fruit and vegetables. You can pre-cut vegetables and store in containers, wrap them with a moist tea towel to extend the freshness. Or if you have excess produce, quickly blanch them in hot water and freeze for a later use. Excess fruit can be easily chopped and frozen in small zip lock bags to be added to smoothies, later on, cooked and stewed, made into puree's, jams or added to baked goods or chia puddings.
3. Make Extras
When you're making meals like soups, stews, stocks and broths, muffins, slices, bliss balls etc, double it and freeze them so you always have healthy options available that you can just grab out of the freezer and de-frost for a quick, healthy, pre-made meal or snack.
4. Utilise Your Oven And Slow Cooker
Roasted meats and veggies are one of the simplest meals to do, as you only have to place everything onto a roasting tray and whack it in the oven. A slow cooker can be so handy when you have little to no time to make dinner after work as you can put your meat, veggies and stock into the slow cooker and leave it on while you're at work and you get to come home to dinner that only needs to be plated up. The leftovers can be eaten for breakfast or taken to work the next day.
5. Use Gluten Free Flour Alternative
Keep these ingredients readily on hand so you can do an impromptu bake, such as; nut and seed flours (almond, hazelnut, sunflower seed meals etc) and store these in the freezer to extend the shelf life and deter them from going rancid. You can also use coconut, buckwheat, arrowroot, tapioca and banana flours.
6. Shop Smarter
Learn to navigate the supermarket isles and aim to shop in mainly the perimeter where all the fresh foods are kept. Also, beware of supermarket and marketing ploys by educating yourself.
7. Become A Label Reading Expert
Avoid refined and processed packaged foods and stick to whole, fresh and seasonal food. If you do purchase something in a packet, avoid anything with an ingredient lists miles long that looks like a chemical laboratory. Dubious ingredients you don't recognise, more often than not, will contain gluten.
8. Vary Your Diet
When you first begin you may be scared to branch out and try new things. Don't be afraid to have fun and get creative in the kitchen. We love the quote 'Just because the ingredients change, doesn't mean the menu has to'. There is a wide world web out there and numerous amazing healthy cookbooks for you to take your healthy gluten-free meal, snack and drink inspiration from.
9. Stock Your Kitchen Well
Make sure you have your pantry stocked with the basics, such as; turmeric, cinnamon, paprika, cumin, pepper, a quality Himalayan salt, other spices and dried herbs, coconut oil, ghee, quality olive and nut oils, nuts, seeds, dried fruits and coconut, rice, quinoa and buckwheat. Make sure you fridge is packed and ready with basics like homemade mayonnaise and pesto which can be added to plain meats, eggs and salads for extra flavour. Keep cold cuts and left overs, pre-roasted veggies and plenty of fresh eggs, fruit, vegetables, yoghurt, fermented vegetables like sauerkraut on hand to make your meal prep easier. Stock your freezer with frozen berries and other pre-chopped fruits for quick additions to smoothies and add chopped veggies to stir-fry's, curries, soups and stews. Lastly, try growing a garden or a small patch where you can plant your own leafy greens and herbs. By having a one ingredient pantry fully stocked with real foods means you can use fewer total ingredients and reduce your work in the kitchen. That's something we can all benefit from!
10. Become Informed
If you're a parent, you have a very challenging, yet important job to educate your children (and perhaps those few around you who will listen) about wholesome real foods and why it is important for them not to consume food which has been manipulated, refined and overly processed. Become informed and educated about food and don't be cajoled by advertising and marketing, it is merely there to sell a product is not necessarily the truth.
We hope our top 10 tips help you easily live a gluten free, sustainable lifestyle so you can get vibrant health and be nourished from the inside out.
What are your tips?
Do you have a passion for nutrition & natural healing?. Learn more about the Food Matters Nutrition Certification  Program here.
ENROLLMENT & BONUSES CLOSE IN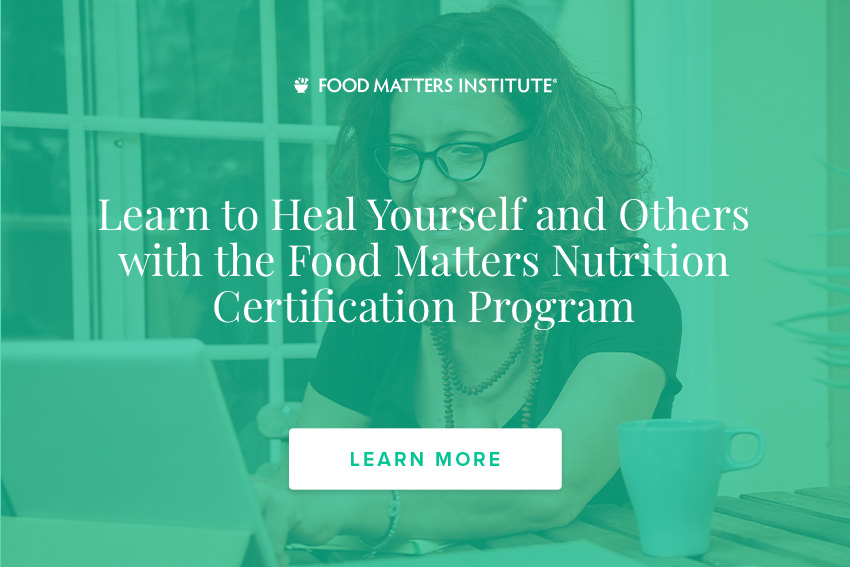 ---