12 Foods to Boost Your Mood & Energy!
So it's 3:00 p.m., you've been sitting in front of a computer screen all day and you're definitely struggling. Unfortunately, while your work day is coming to an end, chances are your day probably isn't! Once you make it home through busy peak hour traffic, you still have to cook dinner, walk and feed the dog and maybe even take care of some of those household chores before bed.
Fatigue breaks us down not only physically but also emotionally and wreaks absolute havoc on our precious immune systems, making us way more susceptible to illness and depression. Not a fun time for anyone! So it's really important that we fuel our bodies the right way and boost our mood and energy naturally instead of turning to caffeine and sugar-filled snacks. While they might give you a temporary hit, they won't do your body any good in the long run; they will only slow you down and leave you even more tired!
So next time you feel that pesky slump coming on, have some of these energy-boosting foods on hand and see for yourself just how well they help get you through the rest of your day.
Salmon
Salmon is a great source of the energy-boosting goodness that is essential omega-3 fatty acids, which are important for energy production, brain activity and circulation. On a side note, it's also great for maintaining heart health! You just can't go wrong with a nice piece of salmon.
Banana
Bananas are one of the world's best foods for supplying your body with energy. Rich in potassium and B vitamins, they can provide your body with a more sustained release of energy. The supply of vitamins and carbohydrates in bananas make you feel full, help slow down digestion and keep blood sugar levels stable.
Coconut
The oils that are found in coconut provide a super nutritious source of energy as it primarily consists of medium chain triglycerides, a type of fat that is turned into energy quickly and efficiently. Coconut is utilized by the body to actually produce energy rather than store it as fat. That's what we want! Coconut is an awesome food to prevent you from feeling sluggish throughout the day.
Lentils
Lentils and other legumes, like kidney beans and chickpeas, help stabilize blood glucose levels and prevent those mid-afternoon crashes you've struggled through so many times before. By incorporating lentils into your lunchtime meal, you will stretch your energy levels that little bit further and avoid the slump altogether.
Eggs
Now eggs are an absolutely awesome source of iron and protein! They are also naturally rich in B-vitamins which are responsible for converting food into energy. Eggs are sure to give you a sustainable hit of energy which will last throughout the whole day.
Kale
Kale truly is a superfood! High in vitamins and minerals, kale is one of the best vegetables you can fuel your body with and is a real energy booster as it provides you with the essential minerals of copper, potassium, iron and phosphorus. To get the most out of the energy boosting benefits of this super veggie, ensure you cook it instead of eating it raw as it makes it easier for your body to digest and absorb all those important nutrients.
Ginger Tea
Forget the afternoon coffee and grab a ginger tea instead! Not only will the coffee keep you up all night and disrupt your body clock, caffeine is also known to contribute to nervousness, increased heart rate and restlessness. Doesn't sound like fun to us! Ginger-infused tea is filled with antioxidants and nutrients that will give you that afternoon boost without the caffeine consequences. All you need to do is boil water with some fresh ginger for 5-10 minutes and add a squeeze of lemon before drinking. Yum!
Nuts
Almonds, cashews and hazelnuts are all high in magnesium, which plays a major role in converting sugar into energy, and are also filled with fiber to keep your blood sugar levels even. Keep a bag at your desk and just a handful at 3PM will give you longer lasting energy than a cup of coffee ever will.
Quinoa
Quinoa (pronounced keenwah - you're welcome!) is a gluten-free grain that contains more protein than any other grain or rice. It is so rich in amino acids that it is considered a complete source of protein; high in lysine, methionine and cysteine. Even better, it is also high in folate, magnesium, phosphorus and manganese, making it a nutrient-packed source of carbohydrates for lasting energy levels. This is the ultimate food to boost your mood!
Goji Berries
Goji berries have been used for literally thousands of years in Chinese medicine to help increase energy and enhance the release of hormones. They increase the body's ability to handle stress and support healthy mood, mind and memory- all while giving you the get-up-and-go energy you need to get through the day! And they taste pretty good too. What more could you want?
Asparagus
It's no secret that low energy levels have a major effect on your mood and there is nothing worse than feeling sluggish AND down! Luckily, you can boost your mood with asparagus. It is one of the best plant-based sources of tryptophan which helps create serotonin, one of the brain's primary mood-regulating neurotransmitters. The high levels of folate also add to asparagus' happiness-promoting profile!
Raw Cacao
Okay, okay, we get it. Sometimes you do need that little hit of sweetness in the afternoon. And there is nothing wrong with that if you do it the right way! By allowing yourself a little treat every now and then will stop any sugar binges in the future. Nibbling on a square or two of dark chocolate energizes the body by providing an excellent source of iron and magnesium. Just please make sure it is at least 70 percent!
What Would You Add To The List?
---
If you haven't already, join our free global challenge at www.GetOffTheGluten.com to receive daily recipes & health tips, access to our private group for support and inspiration, plus before and after testing to track your progress in key areas of your life such as weight, sleep, bloating, skin-conditions, mental health and more!
JOIN THE GROUP CHALLENGE STARTS IN: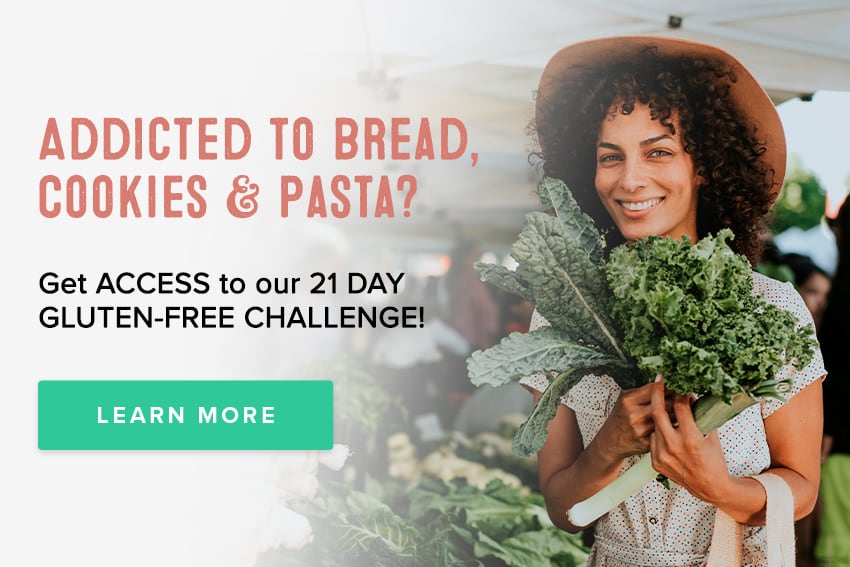 ---