15 Healthy Snacks You Can Make In A Mug
Food is more than just fuel for the body. It stirs the senses and evokes memory and mood. In this cosy winter weather, it's easy to imagine roast dinners, freshly baked pies and hot chocolate. While those treats are tempting, we all know that sluggish, bloated feeling that hits soon after indulging. But with a few simple recipes, you can still enjoy your winter comfort foods without costing your health! These one mug meals are perfect soul-food to rejuvenate your body on these sleepy Winter days. These no-fuss recipes will intoxicate your tastebuds and take no time to whip up, ensuring that your R&R time is spent doing as little as possible…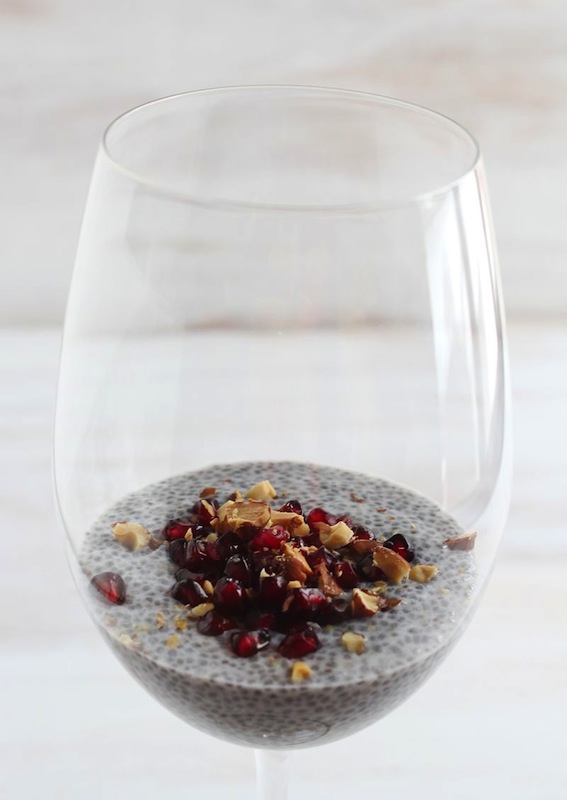 Courtesy of Emma, A Beautiful Mess

If you're craving a sweet and silky dessert, this one's for you! Packed full of protein and healthy omega fats, this pudding with satisfy any sneaky sugar cravings and replenish your body as you savour every mouthful.
Ingredients:
[1 serve]
2 tbsp chia seeds

1/2 cup coconut milk

1/8 tsp vanilla extract

A pinch of sea salt

1 tbsp honey or sweetener of your choice

Optional extra's - chopped fruit and/or nuts


What You Need To Do:
In a mug, combine the first four ingredients. Give it a good stir and refrigerate for at least one hour. (After the first thirty minutes, give the mixture a stir so it doesn't clump together.)

Once you're ready to eat, stir in the honey/sweetener and top with your favorite fruit or chopped nuts.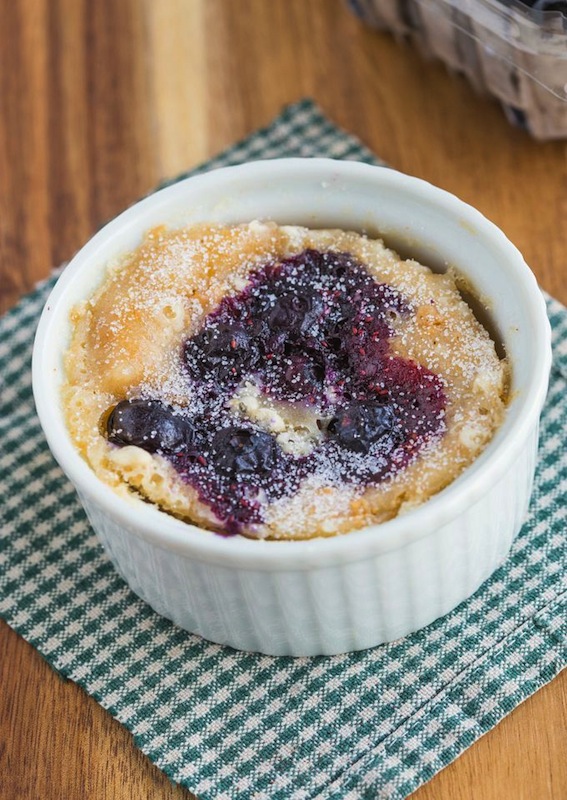 Courtesy of Adam, The Big Man's World

This simple homemade recipe is a mugful of sweet and tart flavour explosions. Fill your home with the comforting aroma of freshly baked muffins as this fluffy pocket of fruity goodness bakes!
Ingredients:
[Serves 1]
1 tbsp coconut flour

1 tbsp almond flour

1 tbsp oat flour (omit for paleo version)*

2 tbsp granulated sweetener of choice (we use coconut sugar, adjust to taste)

1/2 tsp aluminium free baking powder

Pinch cinnamon

1 large egg (can sub for 1 large egg white or 1 flax egg)

1 tbsp mashed banana/pumpkin/mashed starchy vegetable e.g. sweet potato

1 tbsp + dairy free milk of choice**

2-3 tbsp fresh or frozen blueberries


What You Need To Do:
Pour batter into an oven safe mug and bake at 350F (180C) for 12 minutes, or until a toothpick comes out clean.

Notes
* If you omit the oat flour for almond, you'll need a dash more dairy free milk.
** Depending on the starch you use and the brand of coconut flour, you will most likely need more than 1 tablespoon - adjust accordingly.
#3 Heavenly Apple Crisp For One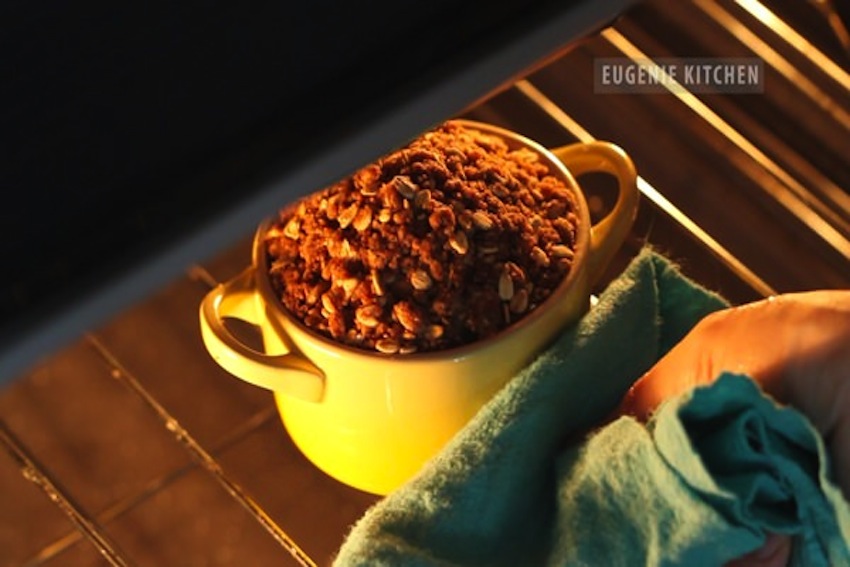 Courtesy of Eugenie Kitchen

Few things beat an apple pie in the Winter Dessert stakes! This healthy version has been adapted to include some nourishing ingredients and is super simple to create - no pastry chefs needed to reach that Apple Pie euphoria!
Ingredients:
For apple filling:
½ apple, peeled, cored, and thinly sliced

For crisp:
2 tbsp rolled oats

2 tbsp flour of your choice (coconut, spelt, gluten-free, rice)

1 tbsp

rapadura

or coconut sugar

1 tbsp coconut oil

1/8 tsp ground cinnamon
What You Need To Do:
Preheat your oven to 360F (180C).

In an oven proof mug, add in rolled oats, flour, sugar, coconut oil and ground cinnamon. Mix until combined.

Add in thinly sliced apple and make sure the top is covered by ½ inch (approximately) of oats mixture. Apple slices will reduce by half in size after baking.

Bake in the oven or about 35 minutes, or until the apple is tender.


Notes
You may need to bake on the bottom oven shelf to prevent the oats from burning.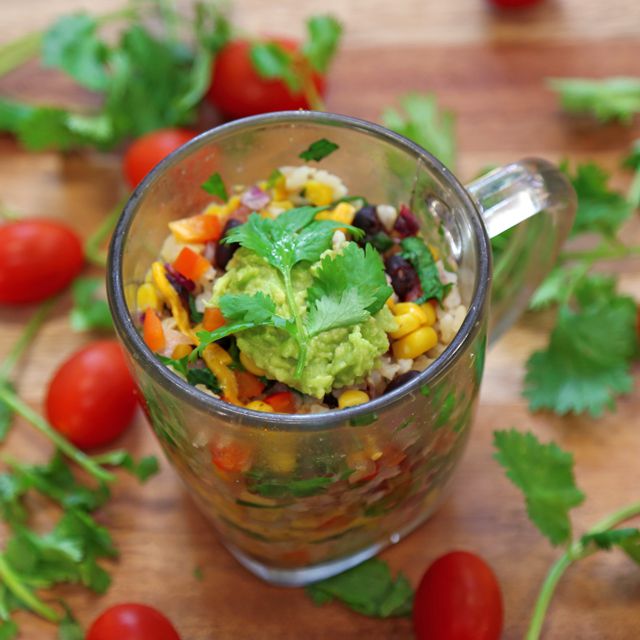 Courtesy of Mind Over Munch

With a kick of cayenne to boost your circulation and warm you up from the insides, this Burrito Mug is the perfect way to use up some leftover rice or quinoa. Just add a few extra veggies and voila - you have a healthy mexi treat!
Ingredients:
1⁄4 cup (50g) leftover rice or quinoa

1⁄3 cup water

A pinch of cayenne pepper

Whatever mix-ins you'd like! (Examples: beans, organic chicken, tofu, corn, onion, chopped spinach, peppers, cilantro, cashew cheese, tomatoes, salsa, avocado, lime juice, etc.)
What You Need To Do:
Preheat oven to 360F.

In a large heat-proof mug, layer the rice and mix-ins however you like, reserving heat-sensitive ingredients such as avocado and cashew cheese to one side.

Pour liquid into mug and bake mixture in oven for 15 to 30 minutes, or until food is warmed through.

Drain away any excess water and place avocado and/or cashew cheese on top prior to serving. Enjoy!

Courtesy of Kristy Sayer, Southern In Law
Ingredients:
3 tbsp cacao powder

1/4 cup unsweetened applesauce

1/4 tsp aluminium free baking powder

Pinch of sea salt

1 tsp alcohol-free vanilla essence

1 tsp to 1 tbsp Maple Syrup, depending on your preferred sweetness
What You Need To Do:
Preheat oven to 350°F (180

°

C). Mix all ingredients in an oven-proof mug. Cook for 20 to 30 minutes or until the brownie has cooked and the edges are pulling in from the sides.

Serve warm or allow to cool.

Notes
If you're feeling extra decadent, try a dollop of coconut yoghurt on the side… Luxurious!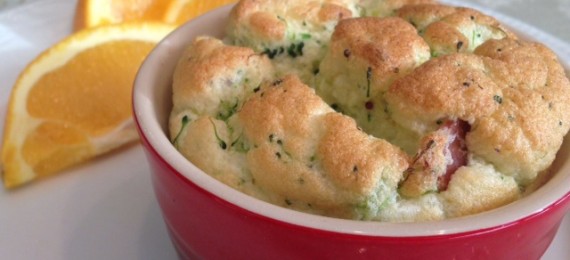 Courtesy of Tami Broderick, Healthy Fit Nutrition

Okay, so this recipe isn't technically made in amug…. But a ramekin is awfully close! Thesesouffles are light, airy and so delicious they will deceive even the biggest dairy addict! They make a great alternative to omelettes and are faster to prep. (After all, you'd prefer to be cosied up in your snuggie, right?)
Ingredients:
1-1/2 cups small broccoli florets

2 slices cooked organic turkey, shredded (omit if wanting a vegetarian option)

4 large eggs, separated

1 tbsp arrowroot starch (can also use potato starch or corn starch)

2 tsp grained Dijon mustard

1 cup non-dairy milk alternative (we recommend unsweetened almond milk)

1/4 tsp salt

1/4 tsp black pepper

3 additional egg whites

1/4 tsp cream of tartar


What You Need To Do:
Preheat oven to 375°F (190

°

C) and coat 10-ounce (285g) ramekins with a little oil of your preference.

Finely chop broccoli and steam for several minutes. Drain well and set aside in a mixing bowl.

Add the 4 egg yolks and the arrowroot starch to the broccoli and mix well.

Add turkey, mustard, non-dairy milk, salt and pepper and mix well.

In a separate bowl, beat the 7 egg whites until soft peaks form.

Add cream of tartar and continue to beat until stiff peaks form.

Using a rubber spatula, spoon half of the egg whites into the broccoli mixture and gently fold in. Add remaining half and continue to gently fold until just mixed. Do not overmix.

Gently spoon mixture into prepared ramekins.

Bake on a baking sheet until puffed and firm to the touch, and an instant read thermometer reaches 160°F (75°C). (It should take approximately 18-20 minutes.) Serve immediately.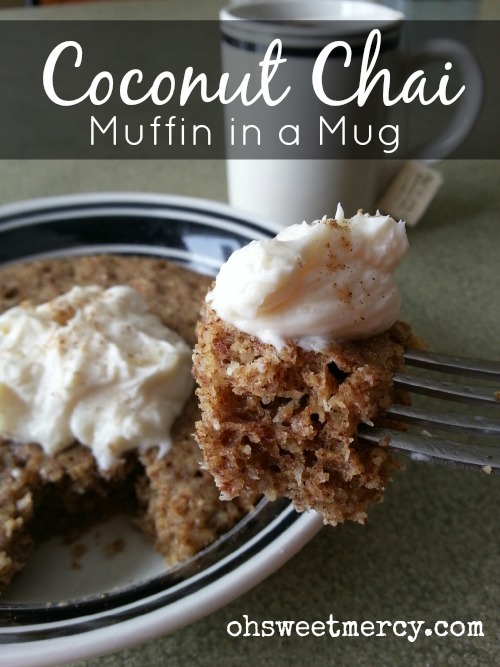 Courtesy of Trim Healthy Mama


What's better than a chai latte or coconut muffin? A coconut chai muffin! This recipe combines the best flavours of both worlds to create a fluffy cloud of coco-nutty chai goodness…
Ingredients:
1 egg

2 tbsp almond meal

2 tbsp ground flaxmeal

1/2 tsp aluminium free baking powder

Pinch or two of sea salt

1/2-3/4 tsp chai spice blend

1 tbsp shredded coconut

1 tbsp coconut oil

Splash of alcohol free vanilla essence

1 tbsp water

Stevia, to taste


What You Need To Do:
Preheat oven to 350°F (180°C).

In an oven-proof mug, whisk the egg well with a fork. Add remaining ingredients and mix well. If your coconut oil is hard, that's ok…just mush it with the fork while you're mixing.

Bake for 10-15 minutes until cooked through. Or, use a waffle iron!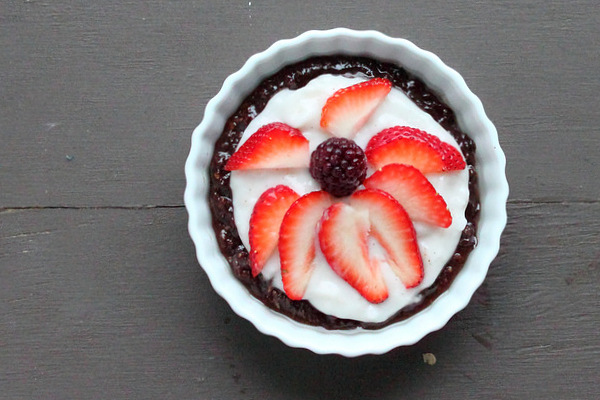 Courtesy of Vegan Richa

This rich and velvety chocolate cherry pie serves one and is worth the little effort to prep the triple layers. We suggest you make extra because once others get a taste of this pie, they'll be begging for more… Pretty please… With a cherry on top?
Ingredients:
Crust:
1/4 cup vegan chocolate chips

2 tbsp ground almonds (or coconut flakes for nut-free version)

2 tbsp coconut flakes

1 tsp almond milk or non-dairy milk
Cream:
2-3 tbsp coconut milk yogurt or cashew cream

A generous pinch of cinnamon

1 tsp ground coconut sugar, maple syrup or sweetener of choice
Topping:
Sliced strawberries

Cherries, blackberries or blueberries (however much you desire!)
What You Need To Do:
Melt the chocolate and add in almond milk, mixing well. Then add the ground almonds and coconut flakes and mix to distribute.

Pour the mixture into a mug, shallow bowl or ramekin and spread evenly. Place in the freezer for 15 minutes.

In a separate bowl, mix yogurt, sugar and cinnamon. Slice strawberries and keep ready.

Take original mixture out from freezer and spread the spiced yogurt on top.

Top with sliced berries.

Freeze for half an hour just to firm up the yogurt. Serve.
#9 Almond Jelly Cup


Courtesy of Lee Holmes, Supercharged Food

This fresh take on jelly offers good protein and a satiny smooth texture that will melt in your mouth. Serve with stewed fruits to bring on those cosy Winter vibes!
Ingredients:
1 cup almond milk

2 tsp powdered gelatine or agar-agar

¼ tsp vanilla powder

½ tsp powdered stevia


What You Need To Do:
Pour half the almond milk and all gelatine in a small saucepan over low heat. Whisk briskly until the gelatine is dissolved. Remove from heat and add the remaining almond milk, vanilla and stevia and whisk to combine.

Pour into one or two mugs (or jelly moulds) and refrigerate until set.

Notes
Serve with a warm berry coulis or stewed Winter fruits if desired.
You can make a vegetarian version of this using the agar-agar.

Recipe and images from 'Heal Your Gut' by Lee Holmes (Murdoch Books) available now in all good bookstores and online!
#10 Creamy Hot Chocolate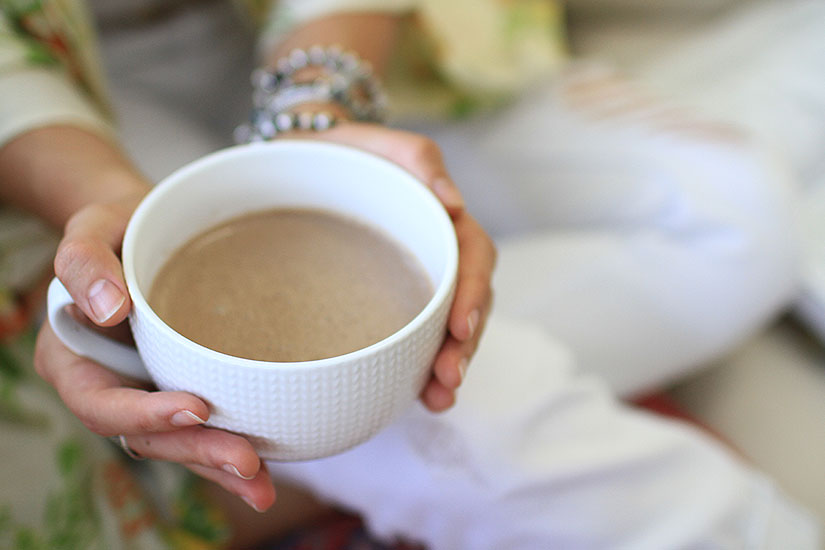 Food Matters

What Winter is complete without a luxurious hot chocolate? This cacao-ey concoction uses our very own Superfoods Chocolate and is brimming with antioxidants in every mouthful.
Ingredients:
2 tbsp

raw cacao powder

1 cup coconut milk


What You Need To Do:
Simmer ingredients in a small pan over low heat until warmed.

Transfer to your favourite mug and allow to cool down to drinking temperature.

Snuggle up with your favourite FMTV film and savour every single sip.


#11 Layered Leftover Millet Porridge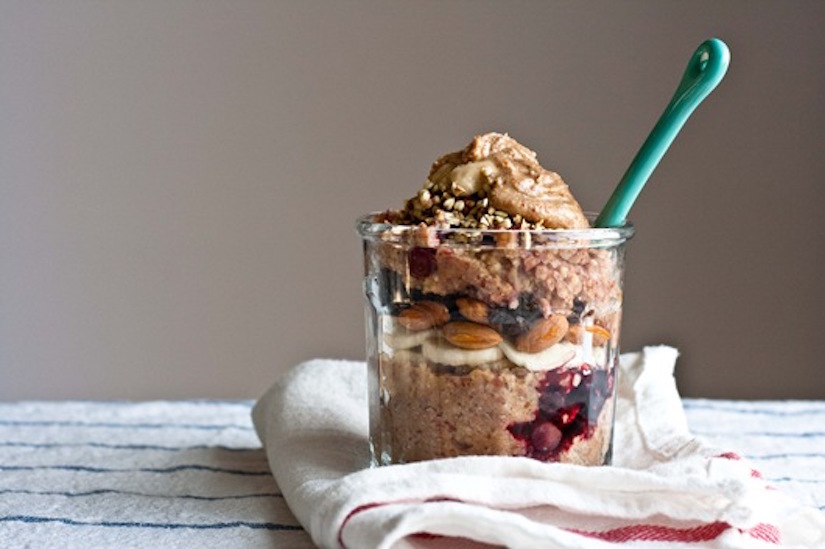 Courtesy of Ashley McLaughlin, Edible Perspective

Are you in a rush for a warm and nourishing winter breakfast? The secret is to cook some millet in advance… It freezes well and can be pre-portioned for easy use in this delicious recipe.

Ingredients:
1 - ¼ cup pre-cooked millet (cooked in water)

½ cup unsweetened almond milk

¼ tsp cinnamon

1 tsp organic vanilla essence

⅓ cup frozen organic blueberries

⅓ cup frozen organic cherries

What You Will Need To Do:
Add millet and milk together in a pot over medium heat and bring to a simmer for 3 - 5 minutes.

Once it starts to thicken, add in frozen fruit and stir.

When the fruit is cooked and the desired consistency is met, take the pot off the heat.

If the mood strikes you, layer in some of your favorite superfoods and enjoy!

Notes
Pictured is the perfect combo of crunchy buckwheat groats on top, nut butters, cinnamon and fruits. Savor every lil bite!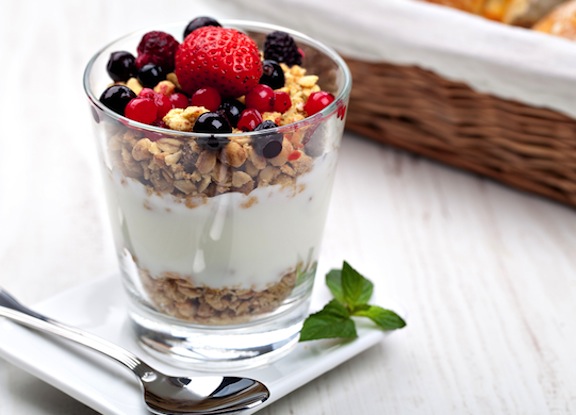 Courtesy of Nava,VegKitchen

This delectable recipe is so simple that you could barely call it cooking! Although this recipe is layered like a parfait, serving it it in a mug creates a cold weather mood. Stewed seasonal fruits and aromatic spices also stir a Winter nostalgia…
Ingredients:
[Serves 4]
Two 6 - 8 oz (170g - 230g) containers of vanilla, lemon or berry coconut yoghurt

Two cups seasonal Winter fruits, stewed with ¼ teaspoon of allspice, cinnamon, nutmeg or clove

3 oz (85g) dark dairy free chocolate, grated

1 tbsp toasted sliced almonds

1 tbsp granola of your choice
What You Need To Do:
Distribute yoghurt and stewed fruits in layers between 4 mugs.

Refrigerate until ready to serve.

Before serving, sprinkle with one-quarter of the chocolate, almonds and granola.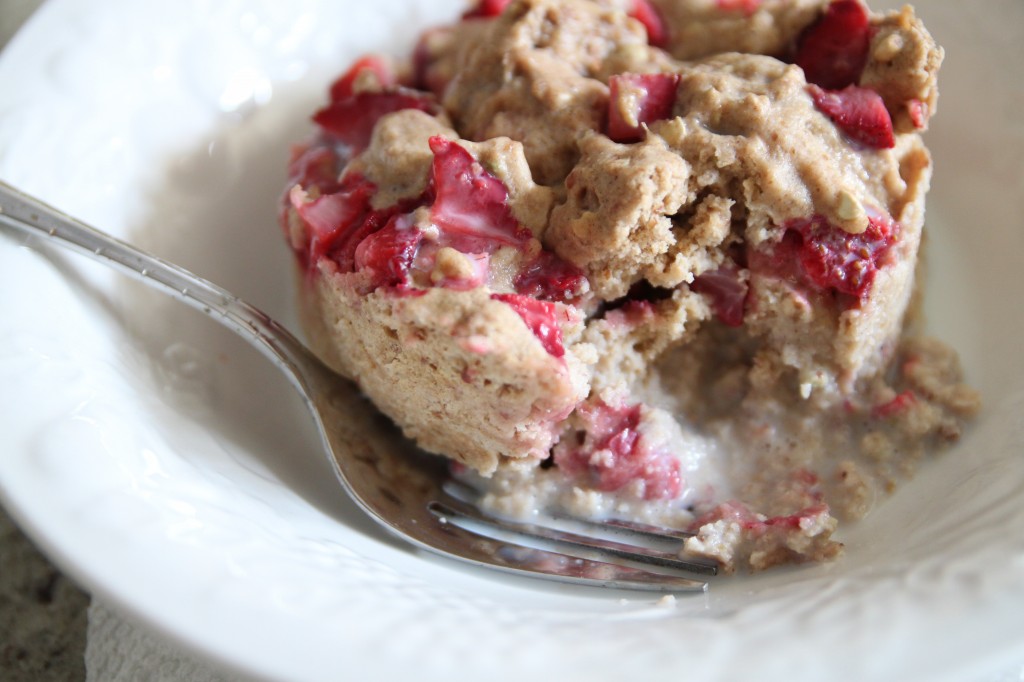 Courtesy of Brandi, Bran Appetite


Few things are as filling as fibre and this "mug-muffin" is brimming with bran to satisfy your belly. Substitute the strawberries in this recipe for whatever berries you can get your hands on… Frozen organic works perfectly fine, too!
Ingredients:
1/4 cup oat bran

2 tbsp oat flour

2 tbsp buckwheat groats

1 tbsp ground flaxseed

1/2 tsp aluminium free baking powder

pinch sea salt

1/4 tsp cinnamon

1/2 tsp vanilla

2 tbsp unsweetened applesauce

1/4 cup almond milk

1/2 cup fresh strawberries, diced
What You Need To Do:
Preheat oven to 350

°

F (180°C).

Mix together the oat bran, oat flour, buckwheat groats, flaxseed, baking powder, salt, and cinnamon in a large oven-proof mug.

Stir in the vanilla, applesauce, and almond milk until all the dry ingredients are incorporated. Gently fold in the diced strawberries.

Cook for approximately 15 minutes, or until the top is set.


Notes
Serve with a dollop of coconut yoghurt on top whilst still warm for a 'pudding' style of treat!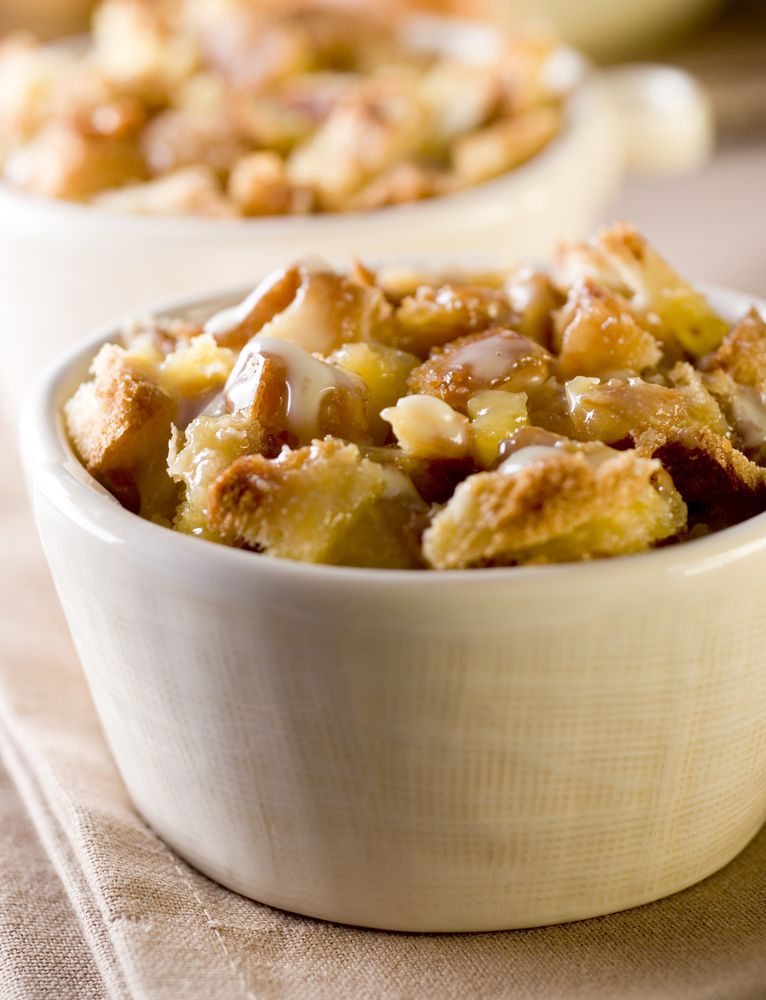 Courtesy of Kas2, Thrifty Fun
Ingredients:
1 egg, beaten

1/2 cup almond milk

1 tsp coconut sugar (optional)

1 slice of gluten free or sourdough fruit bread

1 pinch ground cinnamon

A smattering of optional faves (raisins, currants chopped apple, sulphite-free dried apricot, whatever you would like in it)
What You Need To Do:
Preheat oven to 350

°

F (180°C).

Break the egg into a large oven proof mug, and beat the egg with a fork. Add the milk and sugar to stir (plus optional ingredients if desired).

Tear up one piece of bread into the mug. Using a fork, press the bread pieces into the egg/milk mixture to moisten the bread. (If there are optional ingredients, bring those ingredients up in with the bread so they are all mixed)

Cook for approximately 13 minutes or until the bread pudding is raising up a little and the egg looks set.


Notes
As this original recipe was originally intended to be cooked in a microwave and allows you to use different breads (with various densities), cooking times in the oven may vary. Whilst we have converted cooking times based on an average microwave oven strength, we still advise to check your pudding every five minutes or so until it's cooked to perfection!
For a softer, sweeter pudding, serve with a little extra warmed almond milk and maple syrup.

Filled with zesty tomatoes and circulation-boosting Winter spices, this one mug meal is delicious served warm or cold. Serve with a hunk of warmed, crusty bread for a more filling meal… and to mop up the delicious yoghurt, almond and mint dressing!
Ingredients:
¾ cup rinsed drained canned lentils

½ can (10 oz/285g) diced tomatoes

Chopped fresh green chilli (optional amount to your preferred taste)

½ tsp ground cumin

¼ tsp ground ginger

⅛ tsp hot pepper sauce

1.5 tbsp water

1 tbsp unsweetened natural yogurt (or non-dairy yogurt if vegan)

1 tbsp chopped roasted almonds

2 tsp chopped fresh mint


What You Will Need To Do:
Preheat oven to 320

°

F (160°C).

In a large (16 oz/475ml) mug, combine lentils, tomatoes, chilli, cumin, ginger and hot pepper sauce.

Add water to mixture and cover mug with a little aluminium foil and place into oven (this helps to heat the ingredients more thoroughly, without drying them out).

Cook for approximately 10 minutes or until hot.

Top with yogurt and sprinkle with almonds and mint before serving.

What's Your Favorite Meal-In-A-Mug? Share Your Food Ideas With The Food Matters Family Below!
---
If you haven't already, join our free global challenge at www.GetOffTheGluten.com to receive daily recipes & health tips, access to our private group for support and inspiration, plus before and after testing to track your progress in key areas of your life such as weight, sleep, bloating, skin-conditions, mental health and more!
JOIN THE GROUP CHALLENGE STARTS IN: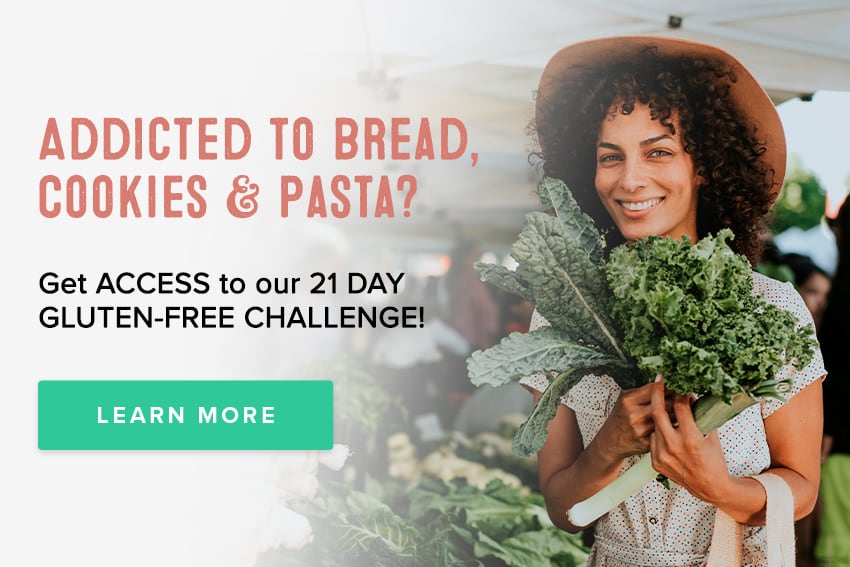 ---