15 Pantry Staples We Can't Live Without
We believe the secret to a healthy, well-stocked kitchen is pantry staples. Staples that make a recipe sing, that are always on call, and can be used in just about everything… From soups and curries to smoothie bowls and salads, these ingredients are just as tasty as they are versatile, and they're brimming with health benefits too! So get out this week's shopping list and make note of these 15 pantry staples we can't live without. You can browse some of our favorite brands right here on Food Matters.
1. Extra Virgin Olive Oil
Although extra virgin olive oil has a lower smoking point than some other cooking oils, this is perfect for cooking at a lower heat and using in all of the best dressings. Extra virgin olive oil (especially cold-pressed and organic where possible) is the highest quality available, retaining more of the natural vitamins and minerals than later presses! Essentially, it's unrefined, so it's not treated with chemicals or altered with temperatures. Olive oil is a great source of healthy monounsaturated fats, which help control cholesterol levels and have been linked with heart health. At temperatures over 200 degrees, it can oxidize, however, which may not be good for your body. Refined oils are able to withstand more heat. Drizzle it on steamed veggies or onto a nice cold salad. Also good for low-heat sautéing. For cooking at a higher temperature we use coconut oil and if we want some inspired flavors, we reach for a dash of sesame.
2. Maple Syrup
Not only is this a beautiful sweetener, but when enjoyed in balance it can actually have some incredible health benefits. It contains calcium, potassium, iron, zinc, and manganese, alongside at least 24 antioxidants, and the glycemic index of maple syrup is around 54. In comparison, table sugar has a glycemic index of around 65. Plus, some active compounds in maple syrup have been shown to help reduce the growth of cancer cells and may slow down the breakdown of carbohydrates in the digestive tract. But be cautious, the pure form isn't to be confused with maple-flavored syrup, which is sugar syrup with chemically derived maple flavors. We try not to add too much sugar to our diet, but when we need a touch of sweetness we opt for a drop or two of our favorite natural maple syrup.
3. Unrefined Sea Salt Flakes
While we're cautious of our sodium intake, we know that a little is important for both our health and making meals taste delicious, so where we need to we opt for unrefined sea salt flakes. What makes salt 'bad' is actually the process of refining, which includes chemical production and bleaching, a process that robs the food of the naturally occurring nutrients. Unrefined salt, on the other hand, is actually full of essential minerals and nutrients for proper electrolyte balance. "Dried at over 1,200 degrees Fahrenheit, the excessive heat alters the natural chemical structure of the salt, causing the potential for a myriad of health problems in your body," confirms Dr. Joseph Mercola.
Some opt to remove salt altogether, or switch to a low-sodium diet, they often replace it with MSG and other additives to achieve the proper flavor (to avoid food tasting bland). Most table salts are fortified with iodine, which was introduced way back in the day to treat a 'deficient' population - so we must just remember to be cautious with our intake and opt for non-iodine fortified where possible.
4. Harissa Paste
Harissa paste originates from Tunisia and packs a punch of flavor, made from blended red chilis, garlic, olive oil, and vinegar it can easily elevate any dish. These days you can find the paste in most commercial supermarkets, either in the international aisle or amongst the spices. If you can't find harissa paste, it can be whipped up quickly, by simply adding the before mentioned ingredients into a food processor. Our favorite way to use harissa paste is as a marinade for fish, or other proteins, mixed with extra olive oil and lemon to create a dressing or adding it to curries, tagines, and stews.
5. Garam Masala
Garam Masala is the spice blend that has done all of the hard work for you. Originating from South Asia, this blend is a mixture of cinnamon, peppercorns, nutmeg, coriander seeds, cumin seeds, and cardamom pods dry roasted to release the aromatics, and then grounded down to form a powder. Garam Masala is the perfect companion for when you're making curries, dahls, and other stews that require a good hit of flavor to bring the dish alive. Plus each spice brings its own unique alchemy of nutrition to the table!
6. Pure Vanilla Extract
Did you know that vanilla comes from the edible tropical orchid plant? Used for hundreds of years across the globe, vanilla is known for more than just its universally-loved flavor. Vanilla has proven aphrodisiac ability and is valued as an antidepressant, anti-inflammatory, and can have a general relaxing and calming effect. We love adding pure vanilla extract to sweeter dishes like poached pears, granolas, and sometimes our smoothies.
7. Hemp Seeds
Hemp one of the most resourceful, sustainable plants on our planet right now. It's used in everything from oils and flours to clothing and bed linen, and it's a staple in our kitchen. The seed is rich in healthy fats and essential fatty acids, providing a good source of the omegas - which we know are vital for brain health, among many other things. They are also a great protein source and contain high amounts of vitamin E, phosphorus, potassium, sodium, magnesium, sulfur, calcium, iron, and zinc, but take care, you'll want to remember to keep these ones in the fridge to help retain all the beautiful benefits. If you're looking for an easy way to slip these into meals, try sprinkling a tablespoon on your salad.
8. Hulled Tahini
You'll be surprised to know that tahini is actually made from ground sesame seeds. This deliciously nutty paste is an essential ingredient in everything from dressings to gluten-free brownies. The best part? It's actually good for you. Tahini contains more protein than milk and most nuts. It's a rich source of B vitamins that boost energy and brain function, vitamin E, which is protective against heart disease and stroke, and important minerals, such as magnesium, iron, and calcium. We often opt for the hulled version for it's slightly sweet and muted flavor (as the sesame seed skins have been removed).
9. Apple Cider Vinegar
This is one of our favorite kinds of vinegar to use. The tangy flavored liquid aids in digestion, and can even be used in place of lemon water. ACV has widespread health properties, including antimicrobial and antioxidant effects. What's more, evidence suggests it may aid weight loss, reduce cholesterol, lower blood sugar levels, and improve the symptoms of diabetes. It makes a perfect easy salad dressing with a little bit of pizazz and if you need, it can be used with a bit of baking soda to help make vegan treats rise. Just when you think you've seen it all, it's also good as a surface cleaner when diluted in water.
10. Tamari
If you've ever dabbled in any Asian-inspired recipes or swapped out salt for another alternative, you've likely heard of soy sauce. We soak our sushi in it and throw it into a stir fry, but often this kitchen staple is derived from GMO ingredients and is packed with wheat. Enter tamari, the ultimate alternative. The traditional, wheat-free version makes a regular appearance in Food Matters meals - but unfortunately, you do now have to check the labels if you have a gluten intolerance - with increased demand major manufacturers have been searching for ways to bulk out this normally gluten-free alternative.
11. Sauerkraut
We usually make our own sauerkraut because it's that easy, delicious, and nutritious, but many store-bought varieties pack just the same punch. Sauerkraut, one of the oldest traditional foods, has a variety of beneficial effects on human health. During the fermentation process, beneficial probiotics, or 'live bacteria', are produced, and these probiotics are what give sauerkraut most of its health benefits. It provides probiotics and vitamin K2 and may help you strengthen your immune system, improve your digestion, reduce your risk of certain diseases, and even lose weight.
12. Paleo Mayonnaise or Vegan Mayonnaise
A good-quality mayonnaise is James' favorite addition to almost any dish. Whether we're making vegan burgers or a poke bowl, it adds some extra creamy, healthy fats. Mayonnaise, when made traditionally, it's a mix of egg, oil, and either vinegar or lemon juice - depending on what you have handy. One of the best vegan alternatives is using aquafaba, the brine from a can of chickpeas, in the place of an egg. If you want to know our insider tip, add a little crushed garlic and mix for an easy aioli.
13. Cassava Flour
This root vegetable blend is one of the closest textures you'll find to 'the real deal'. Normally to achieve a gluten-like-texture, multiple flours and additives are blended together for a somewhat similar feel, but that's not the case with cassava. The flour (derived from the starchy tuber) has high carbohydrate content - making it a valuable food in many indigenous cultures. Unlike many other alternatives, cassava flour is very mild and neutral in flavor as well as being low in both fat and sugar. It's also not grainy or gritty in texture – rather, it's soft and powdery. Plus, the blend is great for most guts as it is gluten, grain, and nut-free!
14. Tapioca Flour
From time to time, the names cassava and tapioca flour are used interchangeably. However, there are some very important differences to note. Tapioca is a starch extracted from the cassava root through a process of washing and pulping. The wet pulp is then squeezed to extract a starchy liquid. Once all the water evaporates from the starchy liquid, the tapioca flour remains. Tapioca is almost pure starch, meaning it gives similar binding properties to gluten. It contains small amounts of protein, fat, and fiber - but has a valuable role in digestion. It is a source of resistant starch, which as the name implies, makes it resistant to certain functions in the digestive system. This kind of starch is linked to benefits such as feeding, the friendly bacteria in the gut, thereby reducing inflammation and the number of harmful bacteria and lowering blood sugar levels after meals, which includes glucose and insulin metabolism and increases fullness - contributing to better metabolic health.
15. Buckwheat Groats
To mix things up these tasty little morsels are a go-to, but be sure to soak them overnight to eliminate any hard-to-digest parts. Buckwheat is a highly nutritious food, used as a grain, but is actually a pseudo-grain - it's actually a seed. Technicalities aside, we love how healthy and versatile the groats are. Packed with protein, fiber, and energy, buckwheat may improve heart health, promote weight loss, and help manage diabetes. If you're looking for more ways to enjoy it, you can turn the groats into porridge, toss them in a salad, or even make a crunchy smoothie bowl topper!
With a pantry full of good-quality and versatile ingredients, you're setting your kitchen up for success. A few key staples, alongside fresh, organic produce and a handful of good recipes, are all you really need. Now you just need the inspiration to use them.
Take the stress out of cooking with 21-days of guided meal plans, shopping lists, and nutrition support. You'll find all of this, and more, in our signature Clean Eating Program.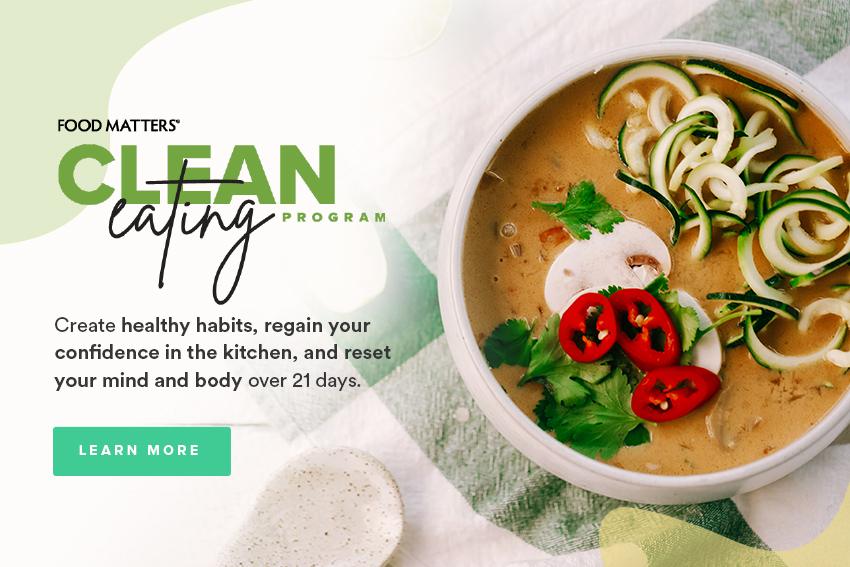 ---