5 Recipes For a Healthy Start to 2011
Looking to start 2011 in a healthy way? Why not try some of these delicious recipes for boosted energy, mental clarity and a more healthier you. Also thank you to those who recently contributed recipes in last year's recipe contest. We are working on our recipe book (and next film) as we speak and the winners will be announced when the book launches.
Red Cabbage, Apple, and Carrot Coleslaw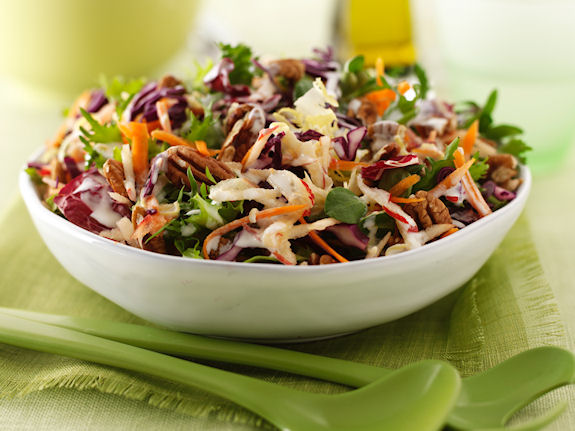 Serves 3
Ingredients
3 cup of red cabbage (thinly sliced)
6 carrots (peeled and thinly sliced)
1 granny smith apple (thinly sliced)
1/4 cup of sesame seeds
1 tablespoon of grated fresh ginger
1/4 cup of raw apple cider vinegar
3/4 cup of extra virgin olive oil
handful of pecan nuts for garnish
Method
Use a knife or food processor to chop the cabbage, carrots and apple Julienne style. Throw your sesame seeds in raw (I like using black and white sesame seeds) or toast them lightly in a frying pan. Toss all of this together.

For the dressing combine the ginger, vinegar and oil and stir with a spoon . Add this to the cabbage, carrots and apples evenly.
Top with more sesame seeds (fantastic source of Calcium). Salt and pepper to taste and add pecan nuts for a delicious nutty taste.
Vietnamese Buckwheat Noodles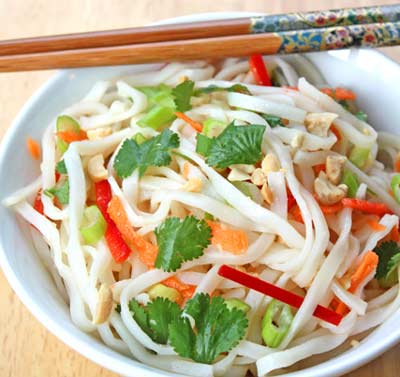 This healthy, quick salad has great crunch and lots of refreshing flavors.
Ingredients
5 cloves of garlic
1/2 green chilli, seeded
1/2 bunch fresh cilantro (coriander)
4 tablespoons fresh lime juice
3 tablespoons fish sauce
1 teaspoon rock salt
3 tablespoons palm sugar
375g buckwheat noodles
4 leaves bok choy, shredded
2 carrots, cut into fine strips
1 cucumber, halved lengthwise and chopped
handful chopped fresh mint leaves
2 tablespoons roughly chopped unsalted raw cashews
4 sprigs fresh mint
Method
1. Finely chop the garlic and chilli with the coriander. Transfer the mixture to a bowl, add the lime juice, fish sauce, salt and sugar and stir well. Allow the sauce to sit for 5 minutes.

2. Bring a large pot of water to the boil. Add the buckwheat noodles and boil for 10 minutes or until tender. Drain well. Rinse the noodles with cold water until cool. Drain again.

3. Combine the sauce, noodles, bok choi, carrots, cucumber and chopped mint in a large serving bowl. Toss well and serve the salad garnished with nuts and mint sprigs.
Curried Quinoa Salad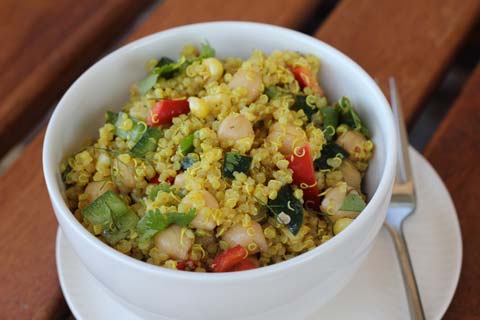 Serves 3
Ingredients
1 cup quinoa grains
1 cup organic jasmin rice
1 red onion, finely diced
1 cup sultana's
1 red and green capsicum, diced
1/2 cup chopped fresh cilantro (coriander), save some for garnish
1/2 cup chopped celery
1 cup fresh corn
1 heaped teaspoon ground cilantro seed(coriander)
1/4 teaspoon ground cinnamon
1 heaped teaspoon ground cumin
1 heaped teaspoon ground turmeric
1 fresh red chilly, finely diced
1 teaspoon finely grated fresh ginger
2 cloves garlic, finely diced or grated
3 table spoons extra virgin olive oil
3 table spoons apple cider vinegar
1 cup roasted cashews (for garnish)
Method
1. Rinse quinoa and rice in cold water and drain.
2. Cook quinoa and rice in boiling water using the absorption method or in a rice cooker for approximately 10-12 minutes to retain the nutrients. In a separate bowl combine cilantro (coriander), cumin, cinnamon, chilly, ginger and garlic and add oil and vinegar to make the dressing.
3. Mix the ingredients together with a spoon. Set aside. Combine all the other ingredients in a large salad bowl. Now fold dressing through. garnish with cilantro (coriander) and toasted cashews.
Coconut Chai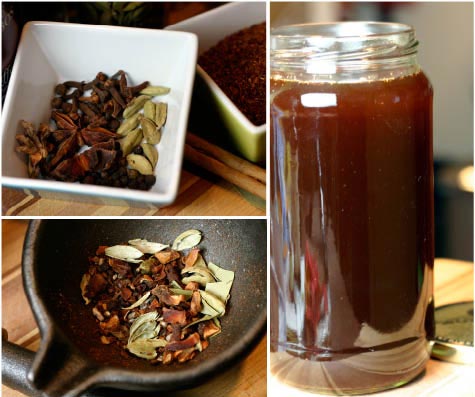 Makes 1 quart of chai concentrate, good for about 6-8 mugs of tea.
Ingredients
2 whole star anise
8 green cardamom pods, whole
1 teaspoon whole cloves
8 allspice berries
12 black peppercorns
2 tablespoon chopped fresh ginger
1 bay leaf
2 cinnamon sticks
4 tablespoon brown sugar
1/2 tsp vanilla
4 cups cold water
4 tablespoon loose rooibos tea other black tea
1 cup coconut cream (tinned)
Method
Pour 4 cups cold water into a pot. Crumble the cinnamon stick and bay leaf into the pot and add the chopped ginger. Pour all the dried spices into a mortar and pestle and bash around a bit to break the spices into a very coarse grind. Pour the spices into the pot. Heat the covered spices and water over high heat and bring to a boil. Then, reduce the heat to low and let the spices steep for 10 minutes, then add the loose tea. Turn the burner off and leave the pot on the burner to steep for another 7 minutes. Add the vanilla and brown sugar and stir to dissolve. Strain the chai concentrate into a 1 quart glass jar.

To serve the chai, pour the chai concentrate into a mug till 3/4 full and stir though 3 tablespoons of coconut cream or your choice of milk. If you like your chai a bit sweeter, stir in a bit of honey. Store the leftover chai concentrate in the fridge for up to a week.
Fresh Green Salad With Strawberry Dressing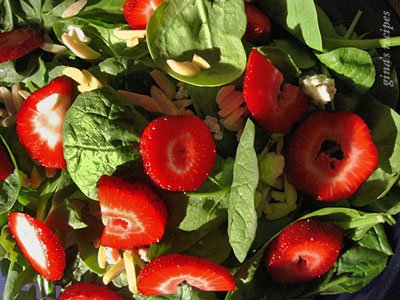 Serves: 3
Ingredients
2 handfuls of baby spinach leaves
handful of dandelion leaves
handful of watercress
1 cucumber, halved and thinly sliced
3 spring onions trimmed and thinly sliced
1 avocado, peeled, stoned and chopped
handful of whatever sprouts you have on hand
tablespoon pumpkin seeds
FOR THE DRESSING

8 ripe strawberries
juice of half an orange
3 tablespoons walnut oil or olive oil
freshly ground pepper
Method
Trim and wash the spinach, dandelion and watercress leaves, pat dry and place in a large bowl. Now add the rest of the ingredients. To make the dressing, whiz all the ingredients together in a blender until smooth. Save some strawberries and slice them up for the garnish.

Enjoy!
Do you have a passion for nutrition & natural healing?. Learn more about the Food Matters Nutrition Certification  Program here.
ENROLLMENT & BONUSES CLOSE IN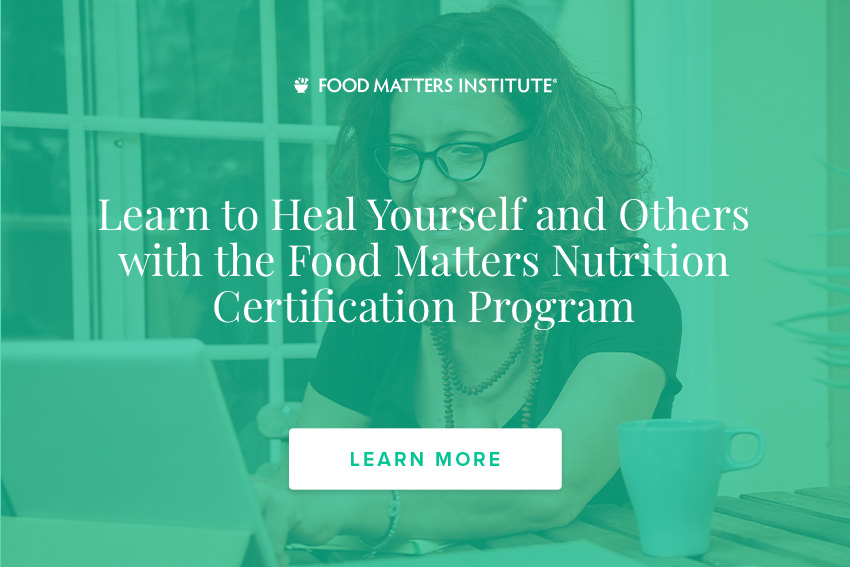 ---