6 Stress Management Techniques To Balance Your Day
We live in a busy world where we juggle many responsibilities. It can get stressful at times. Knowing a few Stress Management Techniques is important. Before we can alleviate stress factors in our lives, we must identify the stressors.

Our career, relationships, and finances tend to be our biggest stress inducers. Sometimes, what we think is the stressing factor is not the problem at all. For example, it may be stated that work it stressing you out. The fact may be that procrastination of completing a task is leading to stress as the deadline approaches. We must accept responsibility for the role we play in creating stress in our lives. We have control and we can choose to see things differently. We have the ability to reframe the problems and stressors in our lives. Stress Management Techniques help reframe the problem. Look at the big picture and focus on the positive. When we adjust our attitude to a situation, the situation changes. Here are 6 Stress Management Techniques that help us deal with stress when it arises.

Stress Management Techniques
Journal - This one act can greatly decrease your stress levels and clear your mind. Take time to journal when you are stressed and note what caused the stress, how it made you feel and what you did to feel better. What we track, we can improve. You may begin to see a pattern of times of the day or particular circumstances that cause you stress. Use these indicators to begin eliminating these stressors from your life.
Support yourself with good nutrition - When we are stressed we often reach for sugar or carb-filled snacks; you know the comfort foods were talking about. A well-nourished body can better cope with stress, so be mindful of what you eat.
Learn to say no - Know your limits and stick to them. Saying no can be seen as an act of self-care. When we take on more tasks than we can handle, stress is inevitable. Pare down the to-do list, by crossing some things off the list, we automatically relieve stress.
Exercise - Take at least 20 minutes a day, three times a week to do some physical exercise. Exercising can relieve pent-up stress or tension and clear the mind.
Get plenty of sleep - Adequate sleep fuels your mind and body to rationally deal with stress.
Meditate - Meditation reduces stress, relieves anxiety and helps us enter a state of calm. A key piece to meditation is deep breathing. Here is a deep breathing exercise you can do anywhere. It takes about 5 minutes.
Select a comfortable sitting position.

Close your eyes and direct your attention to your own breathing process.

Think about nothing but your breathing; let it flow in and out of your body.

Say to yourself: "I am relaxing, breathing smoothly and rhythmically. Fresh oxygen is flowing in and out of my body. I feel calm, renewed, and refreshed."

Continue to focus on your breathing as it flows in and out, in and out, thinking about nothing but the smooth rhythmical process of your own breathing.

Realize that the mind naturally wanders; that is expected and normal. When you realize your mind has strayed away from the breath, simply bring it back. In time, your mind will be able to focus for longer periods of time.

After 1-5 minutes, stand up, stretch, smile, and continue with your daily activities.

If you're in a hurry, worried you may fall asleep or are afraid you will miss something, simply set a timer to alert you. Doing this for even 1 minute helps balance the nervous system.

What Are Your Techniques To Reduce Stress?
---
If you haven't already, join our free global challenge at www.GetOffTheGluten.com to receive daily recipes & health tips, access to our private group for support and inspiration, plus before and after testing to track your progress in key areas of your life such as weight, sleep, bloating, skin-conditions, mental health and more!
JOIN THE GROUP CHALLENGE STARTS IN: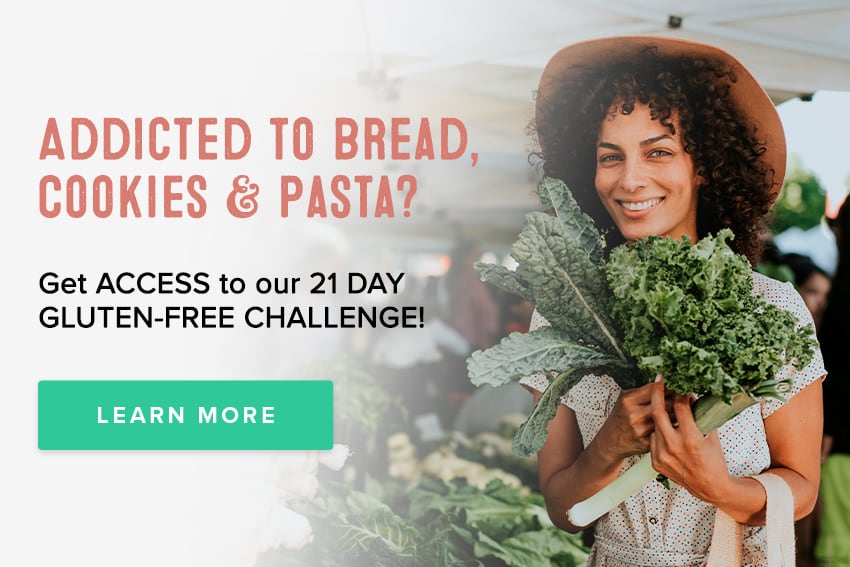 ---