Awesome Autumn Immune Boosters
Hello, fellow wellness warriors!
Autumn is well & truly established now; the evenings are drawing in, there is a bite in the air, and the fires have been lit to make things cosy! The summer weather was a bit delayed this year, so despite these changes, a lot of plants are still in bloom, which makes for a beautifully colourful autumn.


Now is the optimum time to start giving your immune system an extra helping hand, as it adjusts to the changes in temperature and weather.


Today, I am going to share a few of my favourite immune boosters with you.
Blueberries
Oranges
Raspberries
Garlic
Honey
Tumeric
Chamomile
Coconut oil
Each of this super immune boosters can be used in any number of ways to support your immune system. Here is how I add them into my daily diet:
1. Smoothies.
You can, of course, make any kind of smoothie, but my personal favourite is my super pink smoothie, made with blueberries, raspberries, oranges & spinach. I use fresh pressed orange juice, and I also add milled seeds for that extra punch. You can even make smoothie bowls for breakfast, replacing the juice for probiotic yoghurt, and adding granola and/or nuts &seeds on top, scrumptious!
2. Teas.
To help all my antibodies keep fighting fit, I indulge in herbal teas. Raspberry leaf tea, will not only support your immune system but also promotes healthy reproductive functions, and works wonders for menstrual issues. 
Chamomile tea can be bought, or made from the plant. Simply pick the flowers, dry them, then brew in boiled water. Strain and add honey to taste and for added immune support! Turmeric can be used in the same manner, added alongside or replacing the chamomile in the recipe.
3. Coconut Oil.
Coconut oil has a multitude of uses. This versatile oil cleanses the gut & bowels, soaking up and removing nasty bacterias. The oil can be used like any other oil in cooking. It can also be eaten raw, or added to smoothies, both of which are great, simple ways to get coconut oil into your diet.
4. Honey.
We all know honey is a wellness wonder, but it's always good to give a shout out to those of longstanding servitude! Honey can be eaten raw, added to porridge, cereals, granola, salads, stir-fries, smoothies, teas and more!
I hope these simple tips will help you enjoy a happy, healthy, awesome autumn!
Take the stress out of cooking with 21-days of guided meal plans, shopping lists, and nutrition support. You'll find all of this, and more, in our signature Clean Eating Program.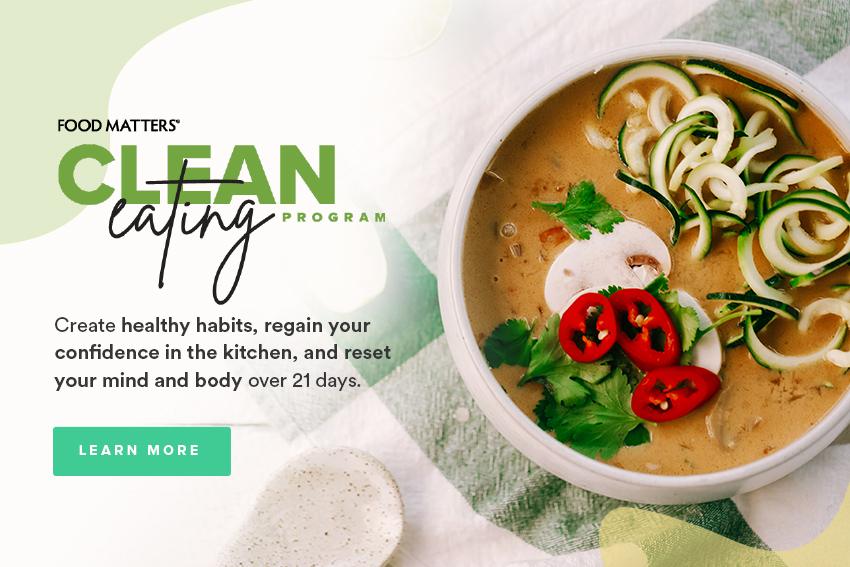 ---