Eating Organic On A Budget. It's Possible!
I used to be green with envy when my friends who were working full-time jobs bought organically grown healthy foods while I was in grad school and keeping expenses tight. With many people struggling to pay the bills, organic foods produced without chemicals or additives seem like an unattainable luxury only a few can actually afford. While it wasn't easy in grad school to budget for foods that kept me feeling healthy, happy, and strong, with a little research, I found that there are ways to keep your diet green and your pockets green too!
Tips For Eating Organic On a Budget
I live in California and love shopping at my local farmer's markets. Although I can't always afford this option, I usually try to stick to purchasing organic foods from the grocery store. When you're shopping at larger supermarkets, keep an eye out for the label that says "USDA organic." The USDA organic label guarantees that the product follows strict production and labeling requirements.


1. Make a gradual transition
Making healthier choices comes with the need for planning and time management skills, so take baby steps! Eating healthier while juggling busy work schedules, family, and taking care of ourselves can seem like a tall order. If you want to make healthy changes to your diet over time, I suggest you start with one or two attainable goals that you can stick to.

For example, I decided that in order to buy organic and save money at the same time, I would eliminate meat from my diet twice a week. This small change not only made me feel better physically but also shaved a significant amount off of my grocery bill. By implementing small steps to improve a habit, process, or lifestyle, we are showing ourselves that we are capable of making a change. Small changes then lead to big changes.


2. Eat with the seasons
I love eating seasonal produce. When I started to tailor my diet according to the seasons, I noticed how my body would change as well. Did you know that in the winter months the body actually calls for more food? Body fat is an evolutionary adaptation to insulate us from cold weather and even provides us with an emergency source of caloric energy.

In the winter months, you can stock up on seasonal items to make winter soups and stews that you can freeze. This will provide multiple meals for your family, reduce waste, and help you save on cash as well! Eating with the seasons also means you're paying less for quality fruits and veggies. Even though I love peaches, I am more likely to buy them in the summer when they're bountiful and won't cost me an arm and a leg.


3. Buy in bulk
When you purchase food, you're paying for packaging costs as well, which can add up. When purchasing in bulk, you not only get a little workout, but you aren't paying for all of the packaging associated with single items. When I buy organics in bulk I buy nuts, grains, and dried fruit. This really does save you a lot and is good for the environment too.


4. A coupon a day makes the organic food stay:
I live in Santa Barbara, CA. One of our local markets that pride itself on selling organic foods has a weekly mailer in which they offer weekly specials on items in the store and have great deals on organic beauty products as well. Looking through coupons in this mailer isn't time-consuming and I always find at least one thing I can save money on. I suggest going to your local markets and inquiring whether or not they have any coupons or weekly offers. Some even offer phone apps so you don't need to worry about wasting paper.


5. Unleash your inner green thumb:
I know what you're probably thinking… "Yeah right, I don't have the time to grow anything to feed my family with! It's busy enough to go to the market and shop for groceries." I am not saying that you need to start a greenhouse, but you may have fun and save money by growing some produce. I suggest planting basil or tomatoes to start with. If you don't feel like starting from a seed, you could even buy an already fruitful plant and just maintain it.

This way, you have beautiful organic foods surrounding you and a physical representation of your motivation to continue buying and consuming organic foods. One year my sister and I started growing tomatoes and we started from tiny seeds. I viewed the seeds as a metaphor for my goal to eat healthier and include more organic food in my diet. I watered them, tended to them, and I planned to take care of them as part of my daily routine.

All of these same ideals can be applied to you and your continued success as an organic eater or shopper. Apply the proper attention to your goal and you will not only feel better but you will also have a little extra cash to use towards something that makes you smile.
---
If you haven't already, join our free global challenge at www.GetOffTheGluten.com to receive daily recipes & health tips, access to our private group for support and inspiration, plus before and after testing to track your progress in key areas of your life such as weight, sleep, bloating, skin-conditions, mental health and more!
JOIN THE GROUP CHALLENGE STARTS IN: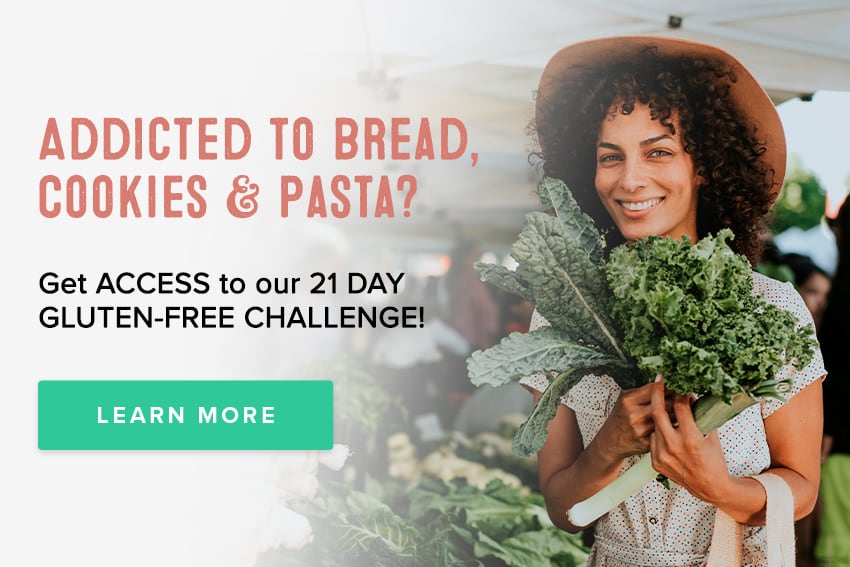 ---