How To Eat Healthy When Dining Out, According To Nutritionists
When the weekend comes, all chaos breaks loose. Food is such a significant part of our current social life; in a way it always has been. It's how we come together as a family, catch up with old friends… It's often the way we meet people on a first date. There's something to be said about the joy of going out for a delicious meal. But when you're trying to focus on your eating habits, maybe with a goal of weight loss or clean eating, going out for a meal can be a stressful experience.
You're definitely not alone in feeling that way. When asked what some of their biggest barriers to eating clean were, the Food Matters community responded with an overwhelming, "dining out". I know it's a problem that I struggle with myself - so much of my social life is based around feel good food. But the kicker is, it doesn't have to be one or the other. I asked around and there are some really simple strategies to help in times like these. This is how to eat healthy when dining out, according to nutritionists.
Take Charge; Suggest The Restaurant
Many restaurants with different cuisines offer meals that suit a wide variety of tastebuds. If you're making a plan to meet with a friend, suggest some venues that you know will meet your needs. Some great options include salad bars like sweetgreen, sushi restaurants, smoothie bars, wholefoods cafes and farm-to-table style restaurants, and even some Mexican restaurants offer options that could meet your needs.
Look Up The Menu Ahead Of Time
This is one of my secret obsessions, just because I like to know what I'm getting myself into when trying a new restaurant for the first time. Looking up the menu online (most places will offer this on their website) allows you to explore all of the options now and decide which one will be the healthiest for you. That way you're less likely to give in to your cravings when you smell something delicious at the next table.
Make A Precommitment
This is like a little promise to yourself, that helps you stay reminded of your eating goals. Brisbane-based psychologist Patrea O'Donoghue, from Positive Psychology Strategies, believes this is one of the best ways to create healthy habits. "A pre-commitment is that you make a decision ahead of time that helps you stay on track with your healthy eating plans," she says.
"In terms of going out, a pre-commitment might involve deciding ahead of time which parts of the menu you will partake. For example, this may mean you'll decide whether to have an entrée and a main, or a main and a dessert, or just a main meal."
Ask To See A Dietary Menu
Restaurants will often have specialized dietary menus for people with allergies or special dietary requirements, and these can be really helpful in supporting your goals. My favorite restaurant offers specific gluten-free and plant-based menus, so I can make conscious decisions about the kinds of foods I'm eating when I'm out for dinner. Just ask your server to see a dietary menu, or better yet, ask them what healthy options they offer.
Build A Meal If You're Able
Many dining places now offer the option to create your own meal. I don't just mean Subway or Chipotle-style, rather those places you like to visit for Sunday brunch. This way you can pick your proteins, your nourishing foods, and your favorite flavors, while leaving out the foods that don't serve you.
Look At Cooking Methods & Substitute If Needed
Similarly, you can look at how the foods are cooked and ask to swap! Health and wellness coach Audrey Del Prete says this is one of the easiest ways to make your meals more nutritious. "When dining out and trying to be healthier, skip the options that say fried, buttered, battered, or crispy," she says.
"Looking for key terms like this will tell you how healthy it is. Healthier options will say broiled, grilled, steamed, or boiled. Many restaurants will be able to substitute a crispy option for something that is grilled instead. It never hurts to ask!"
Opt For Healthy Sides
On that note, if your meal comes with sides, consider what options might nourish your body best? You could look to swap french fries for roasted potatoes, or better yet, sweet potato mash. Salads are almost always available as a side too, and are a great way to crowd out your meal with nutrient-dense foods.
Request Sauce On The Side
Sauces, as delicious as they may be, are often packed with calories alongside other artificial ingredients that damage our health. Psychologist Patrea O'Donoghue says this is one of the most simple steps to healthifying your food. "Look for choices on the menu that don't have such rich sauces or ask for the sauce to be on the side."
Limit Sugary Options
Some of us have an extra stomach for dessert, but most of us don't have an extra body to process it. While there are now some restaurants where you can get nourishing raw treats for dessert, the classic chocolate mud cake is still a mainstay on most menus. "Consider the long term benefits of not indulging in the sugary desserts over the short term pleasures by reframing it as a 'sweet poison' or 'cancer's candy'," says Patrea.
Resist Peer Pressure
I know this is easier said than done, especially when friends aren't understanding of your journey, so it helps to explain why you're making these decisions. If a friend doesn't respect you when you say that you don't want a dessert, it can be really useful to explain why this important to you. A good line to practice and use is, "you can get … if you like, I just won't today as I'm focussing on a nourishing diet right now, and that is really important for my health".
Most Of All, Enjoy Your Food
Dining out isn't something you get to do every day, unless you lead an extremely glamorous life, so it's important to make sure the meal feeds your soul too. Nourishing your body is a holistic experience, so sometimes (and I do mean sometimes), it may mean opting for that big bowl of veggie pasta.
Get access to the entire Food Matters Film Library. Start watching here.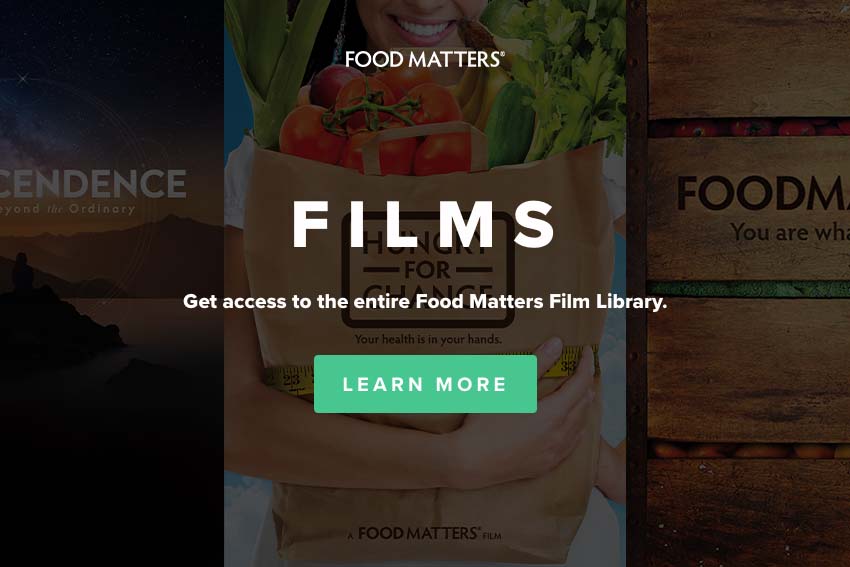 ---