How Much Sugar Is Hiding In Your Favorite Cereals?
Sugar. It is finally being recognized worldwide as one of the great contributors of disease. So we decided to investigate 3 common breakfast cereals and the sugars they contain.

Cereal, aka breakfast in a box. Fast, cheap and a staple in many households, it is perceived to help fuel our day. But did you know that some breakfast cereals are so high in refined sugars that, well, you may as well just eat the box?

Breakfast is recognized to be the most important meal of the day. It is said to break-the-fast of our overnight rest from food. Being the most important meal of the day, breakfast should contain a healthy amount of protein, fats, and carbohydrates. A breakfast lacking good fats and proteins, and one that is carbohydrate loaded, can result in the following:
A spike in blood sugars, which then leads to a drop in blood sugars, (Over time, this can lead to insulin resistance!)
Hunger not long after you've eaten,
Cravings for more sugars shortly after,
Low moods,
Hypoglycemic headaches,
Increases weight gain,
Poor concentration (especially in children),
and gives only a short-term burst of energy, leaving you feeling flat shortly after.

With the fast, busy, overstressed lives many of us lead, it's no wonder so many families have a few varieties of cereal boxes in their pantry. It's an easy option that works for many. But, does it for our health? Not really.
Here are a few examples of why we recommend a change from the typical boxed breakfast favorites.
Fruity Cheerios
Claimed by the company to be a healthy start to the day, and consumed by millions in the U.S, Cheerios' statement to health is based on the whole grain and apparently low sugar ingredients. While they do contain grains, they are highly processed, loaded with refined sugars, and contain a variety of genetically modified ingredients. With 27 grams being a serving, and 23 grams per serving of carbohydrates, that's around 85% being converted to sugars in the body, 9g of which is refined sugars. Not the ultimate way to start off your day. Highlighted are the many types of refined sugars found on the Cheerios site:

Fruity Cheerios Ingredients: whole grain corn, sugar, whole grain oats, corn syrup, canola, pear puree concentrate, rice bran and/or canola oil, salt, corn bran, tri-sodium phosphate, sodium citrate, natural flavor, color, corn starch, vitamin E, BHT and ascorbic acid.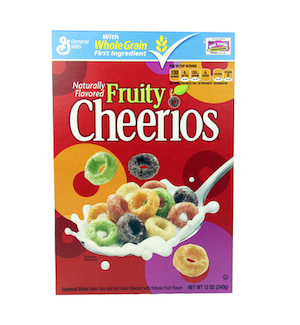 Cap'N Crunch
Another popular, high sugar containing U.S breakfast cereal is Cap'N Crunch. As written on the Cap'N Crunch website, it is said to "start your day with a smile when you enjoy a bowl of this great-tasting crunchy, corn and oat sweetened cereal". It is also recommended on their site to consume with low-fat milk, or fruit juice for a nutritious and easy-to-prepare breakfast, further increasing your sugar load. With 27 grams per serving, and 12 grams of this being refined sugars, you're eating 3 teaspoons of sugar in your breakfast bowl!

Highlighted are the various types of sugars found in Cap'N Crunch:

Cap'N Crunch Ingredients: corn flour, sugar, oat flour, brown sugar, coconut oil, salt, niacinamide, yellow 5, reduced iron, zinc oxide, yellow 6, thiamin mononitrate, BHT, pyridoxine hydrochloride, riboflavin, folic acid.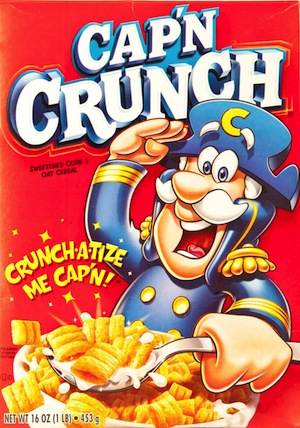 Corey Sipkin/New York Daily News
Wheaties
"Better eat your Wheaties" is the well know slogan. And when you open their website you see photos of athletes. Perceived to be a healthy start to the day, similar to Corn flakes, Nutri-grain and even Milo cereal, Wheaties is really just another box of sugar. With 22 grams per serving of carbohydrates compared to 2 grams per serving of protein, there really isn't much long-lasting fuel being offered.

Here is the list of ingredients found in Wheaties, with the highlighted types of sugars:

Wheaties Ingredients: whole grain wheat, sugar, salt, corn syrup, trisodium phosphate, BHT.

These are just some of the cereals available that have list could continue on what not to eat for breakfast. Although we may be rushed for time, a few extra minutes and a change of ingredients can make a massive impact on your energy, moods, and overall health.

Here are a few tips to improve the meals that "break your fast":
Avoid boxed cereals that contain more than two ingredients (enjoy boxed oatmeal, millet, quinoa flakes, rice flakes, or spelt flakes made into porridge),
Prepare breakfast the night before. See our recipes for inspiration,
Opt for a savory breakfast such as eggs, spinach, mushrooms and grilled tomato,
Boil eggs the night before, if you are short on time,
Prepare smoothie bags with some frozen berries, banana, and greens, and pop them in the freezer. That way they will be ready to grab and blend. Blend with a protein powder to give a more sustained release of energy too!
Plus, take a look out our "no sugar breakfast options" for more ideas.

We do recognize that there are, in fact, some healthy options out there which do come in a box. However, the majority of the big brands are sugar filled.
Have you recently made the switch from a sugar-filled, boxed breakfast cereal to a healthy option? We would love to know how it made you feel, and what you are now eating instead, below.
---
If you haven't already, join our free global challenge at www.GetOffTheGluten.com to receive daily recipes & health tips, access to our private group for support and inspiration, plus before and after testing to track your progress in key areas of your life such as weight, sleep, bloating, skin-conditions, mental health and more!
JOIN THE GROUP CHALLENGE STARTS IN: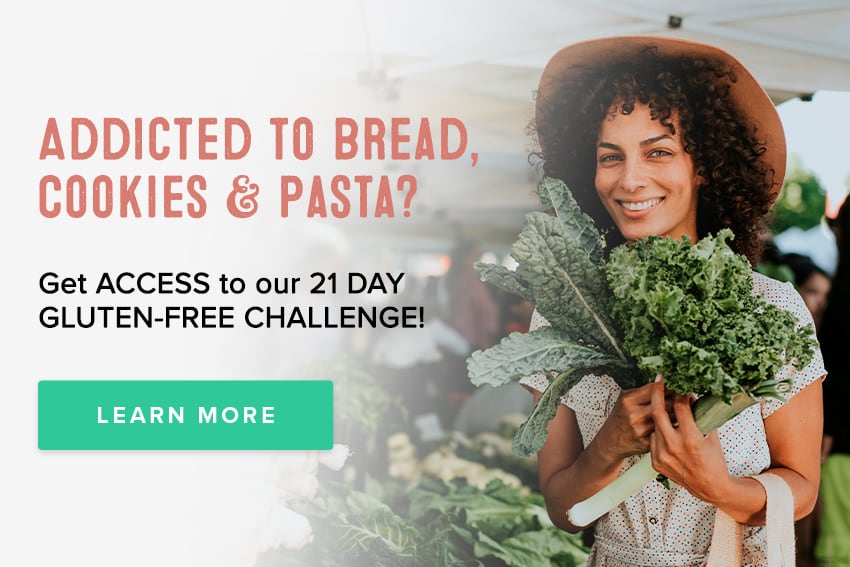 ---