How To Meal Prep In Less Than 2 Hours A Week
Take a moment to imagine this common scenario; you arrive home after a long day at work and you're exhausted. You still have a mental to-do list inside your head that needs to get done before you retire to bed. You open the fridge door, feeling overwhelmed and uninspired, and you reach for the easiest option, or grab the phone and order delivery.
Sound familiar?! Add children, pets, partners, second jobs, finances, piano lessons, tennis practice and a cacophony of other possible elements to the mix and the challenges to making yourself a nourishing homemade meal rapidly multiply!
Luckily, with a little organization and preparation, you can change this scenario, saving yourself time, money and your long term health. Two hours a week is all that it takes to make a difference and set you up for a week ahead of healthy eating. Sound too good to be true?! Take a look through the tips below and dedicate some time each weekend to spend in the kitchen. Put some music on, grab an apron, and enjoy this time of self-care.
1. Organization
Keeping your kitchen organized, clean and uncluttered creates a positive space and makes food preparation and healthy food choices that much easier. Invest in some clear glass jars and containers to store your ingredients in so they are easy to see and you know when you need to res-stock. Keeping staples on hand such as grains, nuts, seeds, pulses, superfoods, basic condiments, herbs and spices ensure that even if you come home exhausted, there are always good food options on hand. Stock up on fresh produce every weekend, preferably from a local farmers' market if you can find one near you. A clean and well-stocked kitchen is a key factor to your weekly meal preparation.
2. Soaking
Nuts, grains and pulses often require soaking before cooking or eating. Each Sunday, soak a batch of almonds which you can use throughout the week to make a simple nutmilk or as a healthy snack. Quinoa only needs to soak for an hour or two, so try soaking and cooking up a batch to store in the fridge, ready for meals throughout the week. You can also soak a batch of chickpeas, lentils or kidney beans that can be cooked early in the week and added to stews, soups, salads or made into dips.
3. Fruit and Vegetable Preparation
Try roasting up a big tray of vegetables and storing them in a container in the fridge. Roast vegetables make a delicious addition to salads or on top of bread with avocado. Wash your leafy greens so they are ready to use for salads and smoothies. Try cutting up carrots, cucumbers or celery for easy snacks with fresh dip. Chop up fruit such as bananas, mango or berries and store them in the freezer for easy smoothies come breakfast time.
4. Homemade Bread
Having a healthy loaf of bread on hand during the week makes for easy breakfasts, lunches and snacks. Experiment with various topping options to keep things interesting such as avocado and lemon, almond butter and berries, or hummus and rocket (arugula). Homemade bread is simple to make and full of healthy fats and protein that will keep you satisfied and nourished. Homemade bread is far superior to anything purchased at the supermarket and making your own fresh batch is so rewarding. It is a routine you will come to love and appreciate.
5. Dips and Dressings
Having a couple of healthy dips and salad dressings in the fridge enable you to jazz up a simple weekday meal into something flavorsome and fun. Try making a batch of hummus or guacamole, an easy tahini lemon dressing, or even just an olive oil balsamic dressing you can keep on the countertop. Store-purchased condiments and dressings are often filled with preservatives, sugar and artificial ingredients, so homemade is always best.
6. Get Creative
When learning to cook healthy, nourishing meals for yourself and your family, good recipes are always helpful. Yet don't be deterred if you don't have every single ingredient on hand. Be creative, work with what you have, and use your intuition. The more experience you gain in the kitchen, the more confident you will feel in adapting recipes and 'going with the flow.' Being prepared and having good quality staples on hand offers you plenty of flexibility and freedom when it comes to creating healthy meals in a matter of minutes.
Most of all - have fun! These two hours a week in the kitchen will fly by and you will be amazed at how these couple of hours offer you so much more freedom throughout the week and set you up for success. As you get familiar with the recipes, you may feel inspired to branch out and try new things such as making your own sauerkraut, nut cheese, granola or trail bars. Build your own recipe collection and enjoy the culinary journey!
Do you have meal prep tips and suggestions to share with us? Please enter them in the comments below.
---
If you haven't already, join our free global challenge at www.GetOffTheGluten.com to receive daily recipes & health tips, access to our private group for support and inspiration, plus before and after testing to track your progress in key areas of your life such as weight, sleep, bloating, skin-conditions, mental health and more!
JOIN THE GROUP CHALLENGE STARTS IN: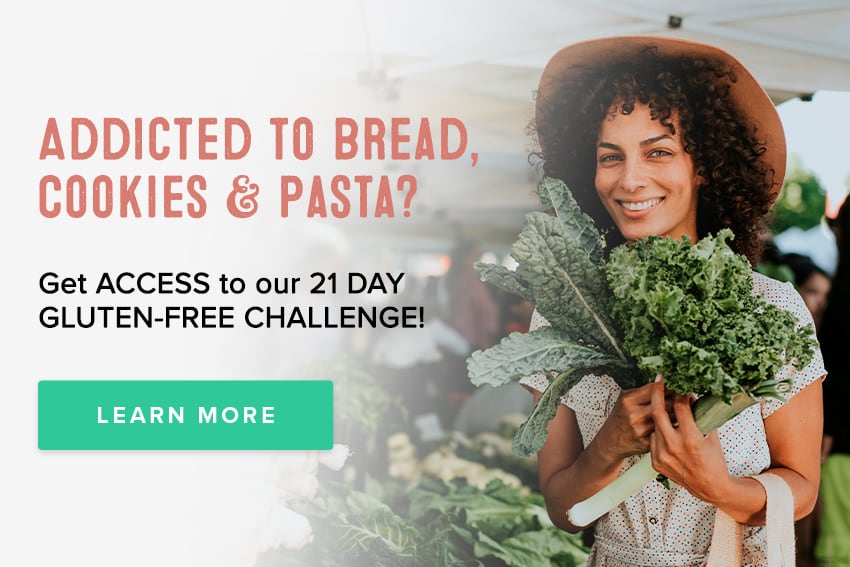 ---