I Studied With Food Matters & Now I'm Writing My First Book
Have you ever thought about the ways that you would like to share your message with the world? Maybe it's through a podcast or online blog. Maybe it's traveling and presenting to groups around the world. Maybe it's simply coffee with a friend. Or maybe, just maybe, it's in a book like recent Food Matters Nutrition Certification Program graduate Anita!
We were so proud to hear that she has taken all of her newfound knowledge onboard and is on a mission to share it with the world, that we had to catch up with her to discover all about her experience studying nutrition online with us. This is what she had to say...
Why did you choose to take the next step with studying nutrition online?
"I have a clean and green online beauty and wellness business, and soon I'll be a published author with my first book about changing health habits one at a time. So, I've always taken care of my health, and I've done that through diet, and exercise, and even mindset. So, I was surprised when I developed some gut issues. Even when I thought I was eating really well, I didn't feel great. I blamed it on turning 50, and I thought, "I just don't wanna age this way." But I did wanna understand what was going on under my skin."
"So, of course, I started Googling, and all I got was confused and overwhelmed. My friend sent me a link to the Food Matters Nutrition Program. I signed up right away. I mean, it looked awesome. All the information in one place. The research was done for me."
What did you love about the Food Matters Nutrition Certification Program?
"It looked easy to follow. I could do it at my own pace. Plus, there was a module on gut health. I highly recommend this program to everyone because it is fantastic. It is so much more than nutrition. I mean, yes, I got educated on what was going on below my skin, and most importantly, why. So, then I made a few different choices and now I feel amazing all the time. You know, for me, this program is kind of like a complete guide on how to be human. From what's happening while you're sleeping, to the toxins you're exposed to, to where disease comes from. Even what the planet needs. Everything in one place on how to flourish in your mind, your body, and your spirit."
That's incredible Anita. So, what's next?
"So, now I can share clean and green with more confidence, passion, and more purpose. I have more knowledge and tools to serve my customers. And I'm really excited. It's really cool to be a part of the healthy living movement."
Do you have a passion for nutrition & natural healing?. Learn more about the Food Matters Nutrition Certification  Program here.
ENROLLMENT & BONUSES CLOSE IN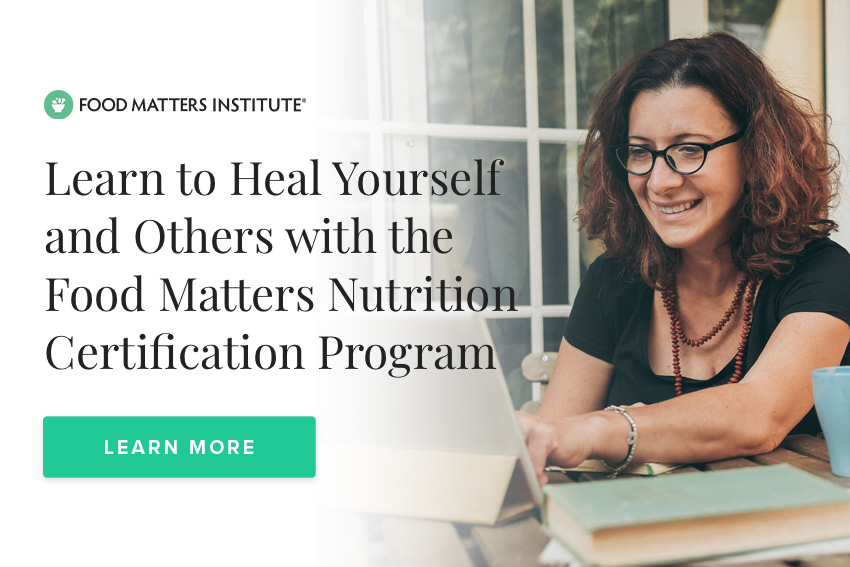 ---