Joyful Exercise: 5 Ways To Move Your Body Without Being Hard On It
When do you feel most motivated to exercise?
I know personally, there's no worse feeling than exercising because I feel I HAVE to. I would rather be doing something that makes my soul happy, even if I know that exercise is needed in the long run.
It's recommended that we practice three kinds of exercise for 45 minutes each day; strength, cardio, and flexibility (or mobility). Finding the perfect trifecta isn't always easy, but when you do your body thanks you for it. Think about it, do you really feel your best when you're smashing out seven high-intensity classes each week, but not taking the time to stretch? Or likewise, if you're someone who opts to go for a run, do you feel strong?
When I think about strength or cardio training, it often looks like something that only gets done in the gym. The truth couldn't be further from this. Exercise is something that should be enjoyed. If you enjoy working out that way, awesome! If you need a little more inspiration, this is the article for you.
I love joyful exercise. That's when I want to run out the door and get to it - because it makes me happy (and it's not just the endorphins talking). If you're not sure where to start, here are five ways to move your body without being hard on it.
1. Go For A Long Walk
Walking is the most underrated exercise, and I'll keep saying that until I die. Nothing clears my head quite like a long walk after an even longer day at work, and it's the perfect way to wake up and begin the day too. Even looking at it strictly from a calorie perspective (which I don't recommend doing), an hour-long walk sees me burning just as many, if not more calories than I would in a heavy weights session at the gym. Walking is great for hip mobility too, so wherever you can, make feet your mode of transport.
2. Sign Up To A Dance Class
Nothing has brought me more joy in this last year than dance. Not only is it an insane workout (seriously, dancers are some of the fittest people I know), but it doesn't feel like an insane workout. It just feels like fun - even if you don't quite get the moves. Dancing does wonders for confidence and creativity, helping you to unlock your inner self that sometimes gets suppressed, and helps you feel that little bit freer. If a dance class seems like too much to begin with, put on some of your favorite music and boogie your heart out at home; that's my favorite way to get ready for the workday.
3. Cycle To Work
Collectively, we spend an insane amount of time traveling to and from work each year - you might as well use that time for some joyful exercise, right? If it's within distance, try biking to work! It's a great way to get the heart rate up, work on your lower body strength, and reduce your carbon footprint, all in one go! The best part? Finding a park is always a breeze.
4. Begin A Home Yoga Practice
Yoga is a complete workout for the mind, body, and soul. Depending on the style of yoga, it's great for strengthening, cardiovascular, and flexibility too - it's honestly the ultimate exercise. I could go on and on about why we love yoga so much at Food Matters, but I'll let you try it out for yourself. Check out our favorite at-home yoga classes over on our YouTube channel.
5. Trial Reformer Pilates
Want to know the best low-fuss exercise for strength? Reformer pilates, without a doubt. The pilates reformer is a crazy machine, that looks like a massage table on steroids, with pulleys and bounce bars, and while the moves seem simple, they'll work the muscles you never knew existed. The pilates reformer was actually invented to look like a hospital bed, as the original intention was to facilitate rehabilitation exercises from soldiers wounded in the war. If you're looking for a great strength exercise, without the stress of heavy weights, reformer is the exercise for you.
How do you find joy in daily exercise? Let me know below!
Take the stress out of cooking with 21-days of guided meal plans, shopping lists, and nutrition support. You'll find all of this, and more, in our signature Clean Eating Program.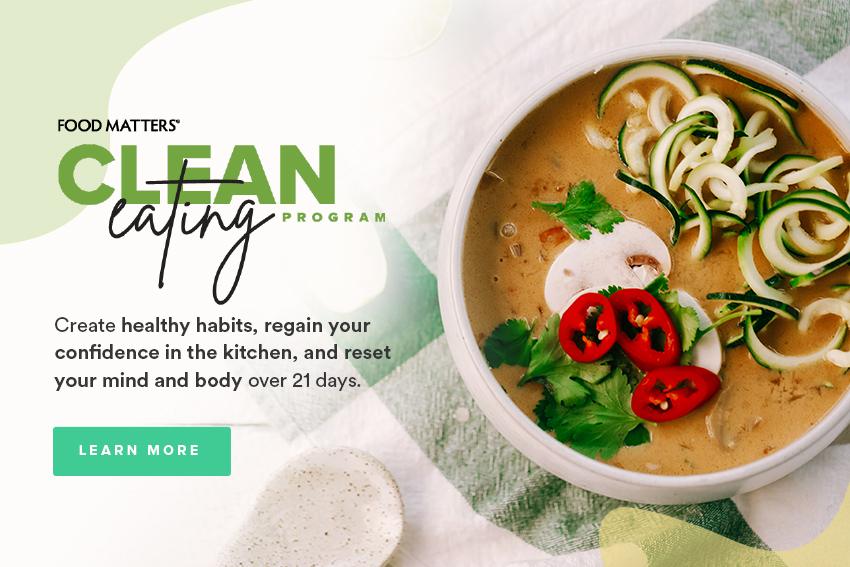 ---