Natural Beauty Trends Of 2018
Maybe she's born with it? Or maybe it's face filler? The secret to a youthful, fresh appearance is the billion dollar question our society is desperate to find the answer to – but does it lie in natural, green beauty products?
Because we love learning of great natural beauty treatments that nourish the skin and boost confidence, without causing adverse health, environment or animal impacts, we've been following the latest natural beauty trends, keen to find out what all the fuss is about and separate some of the fads from the fabulous.
Lets get started!
What's trending right now?
Over the past five years there has been a paradigm shift in the cosmetic industry, which has seen a large portion of products go green or clean. "Keeping up" with the trends, tips, and tricks is next to impossible with social media driving trends and products faster than we can get our hands on them. However, some beauty trends have curbed the fickle nature of the industry due to the fact that they, well… work!
1. Activated Charcoal
Charcoal (as most of us know it) are the remnants of burnt wood after a fire. What you might not know about charcoal, or activated charcoal specifically, is its detoxifying properties that make it a top rated natural supplement.
Activated charcoal is created by burning and cooling a source of carbon, such as wood or coconut shells, after which it is placed in a furnace and activated with oxygen or steam. Once the charcoal has been 'activated', it becomes a highly absorbent material attracting positively charged gas and toxins in the body, binding it to the material, and flushing it out through the body in a stool. This can be used in the aid of flushing out alcohol and drugs from the body with estimates that activated charcoal can reduce absorption of toxins by up to 60%.
Activated charcoal also promotes the following beauty benefits:
Whitens teeth and reduces bad breath - Activated charcoal can naturally whiten and brighten teeth, with various toothpaste brands now adding charcoal to their ingredients list.
2. Jojoba Oil
Jojoba Oil is a golden liquid wax, derived from the Jojoba bean, that has served as a long standing potent balm for skin ailments since it was discovered by the Native Americans. Its versatile properties make it liquid gold in skin rejuvenation, penetrating the skin to restore moisture and keep the skin looking healthy and hydrated.
Some of the benefits you can enjoy from Jojoba Oil:
Hair rejuvenation - Due to its hydrating nature, Jojoba oil doubles as a soothing hair treatment. By adding a couple of drops of pure Jojoba oil to your regular conditioner or damp hair, you can help restore moisture to your hair and scalp.
3. Rose Quartz Face-Roller
In the last few years, crystals have been heralded for their healing properties in wellness enclaves and beauty salons alike, with celebrities such as Victoria Beckham, Katy Perry and Miranda Kerr lauding the health benefits they get from their precious stones. Most recently, there have been reports that crystals, specifically rose quartz face rollers, can be used to aid in the reduction of wrinkles and puffiness on the face.
The big claim from rose quartz:
Promote anti-aging properties - By massaging a rose-quartz stone or roller against the face once a week, you will dramatically smooth fine lines and wrinkles, whilst also assisting with lymphatic drainage, reducing puffiness and soothing the skin.
Although there is no scientific proof that quartz rollers promote plentiful health benefits (beauty or otherwise), it is believed by many that crystals have an 'electromagnetic field' and can help with our health, wellbeing, and appearance. Realself contributor, Dr. Michele Green, disputed these claims noting "there is no scientific proof that the crystal has any chemical properties which can achieve these results in the long term." In conclusion, we think the verdict might still be out on rose-quartz rollers - so if you like playing it safe, check out some of the other options in this list.
4. CBD Oil & Hemp Products
You don't have to tout yourself as being 420 friendly to enjoy the benefits of the range of Cannabidiol (CBD) products sweeping the cosmetic industry - these non-psychoactive products won't get you high! CBD oils and hemp-infused products have been rapidly growing in popularity due to their healing properties that improve hydration, minimize moisture loss, and decrease inflammation.
Here's what you should expect:
So, there we have it! If you're looking to naturally boost your beauty regime, test-drive some of top trending beauty treatments – we think your body will thank you for it.
Tell us in the comments below what new natural beauty ingredients and methods you're trying!
---
If you haven't already, join our free global challenge at www.GetOffTheGluten.com to receive daily recipes & health tips, access to our private group for support and inspiration, plus before and after testing to track your progress in key areas of your life such as weight, sleep, bloating, skin-conditions, mental health and more!
JOIN THE GROUP CHALLENGE STARTS IN: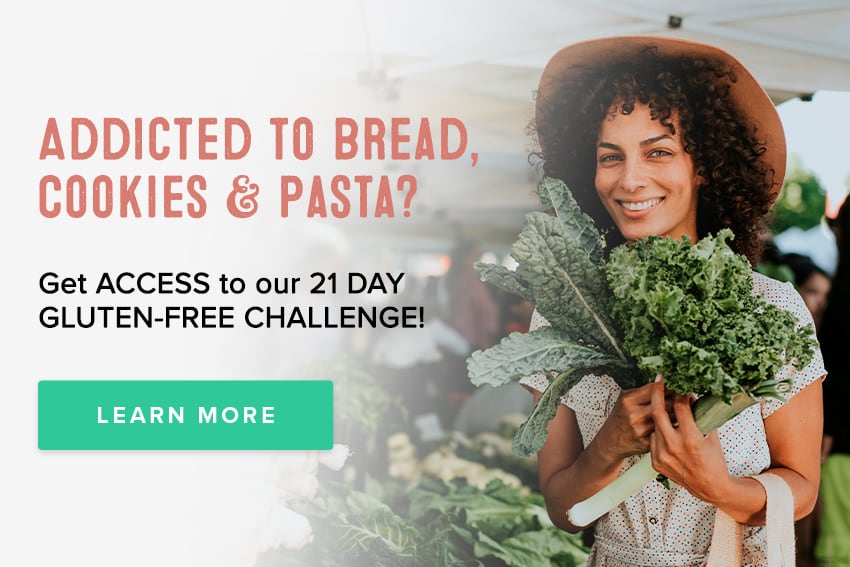 ---