Our Favorite Natural Skincare
When it comes to skincare, my rule of thumb is, if you can't eat it, don't put it on your skin. Your skin is a massive transdermal delivery system and everything that you put on it makes its way into the bloodstream
We have to be so careful about what we put on our bodies, yet the average woman, according to the EWG (Environmental Working Group), is putting over 100 chemicals on their skin before they leave their home in the morning.
And the beauty product industry has become a wholesale dumping ground for these toxic chemicals. Things like mascara, lipstick, and nail polish, are riddled with toxins, ones that you want to be avoiding as much as possible.
The beauty industry is the least regulated industry in the world - even things like perfume have up to 60 ingredients that don't have to be represented on the label! You can find out more about these dangerous toxins found in our products by going to websites like the Environmental Working Group.
So in terms of going back to basics on skincare, I like to think, what are the most simple things in my kitchen that I can use as skin care? Can I use coconut oil? Can I use Jojoba oil? Can I use argan oil?
All simple things but in terms of ease of use, that one product that puts all the best things together in terms of essential oils and herbs, then Annmarie Skincare is perfect. Its founded by the wife of a close friend of mine.
Kevin and Annmarie Gianni are a fantastic couple. Kevin and Annmarie actually traveled for about a year and a half around America in an RV called the Kale Whale. They shot episodes on a video blog called 'Renegade Health Blog" and ended up using a lot of their knowledge to start Annmarie Skincare
It's a fantastic skincare line, my favorite products are the:
Anti-aging skincare oil
Citrus stem cell serum
Aloe Cleanser
Neroli toning mist
They're clean, they're organic, and many of the ingredients are wild-crafted. I 100% recommend these guys, which is why there's even a starter pack that you can order when you go to the website via the link on this page.
Care on!
James
Do you have a passion for nutrition & natural healing?. Learn more about the Food Matters Nutrition Certification  Program here.
ENROLLMENT & BONUSES CLOSE IN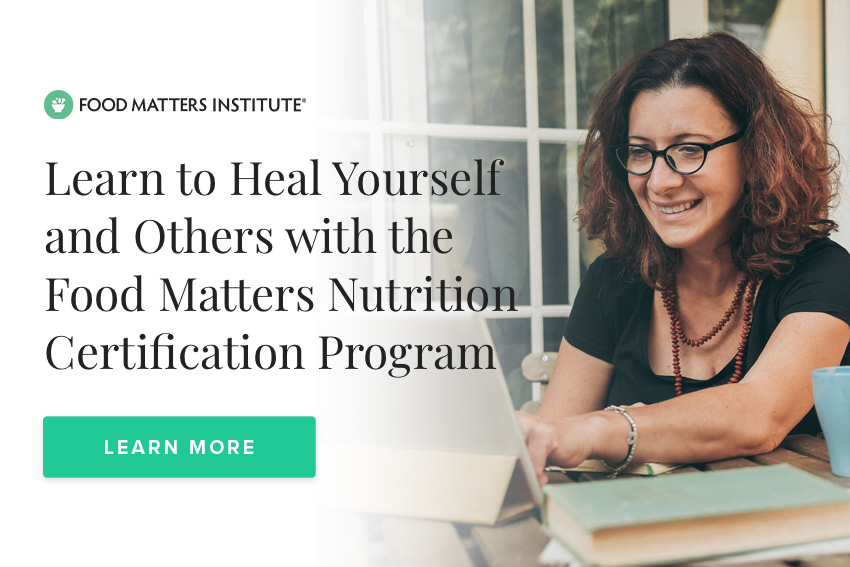 ---