Top 3 Gut-Friendly Habits to Focus On This Year
Gut health isn't going anywhere in 2022. In fact, it's only set to become a bigger, more advanced, and more widely recognized pillar of holistic health. And what makes that really amazing is that many people in conventional medicine are really starting to stop and take notice of its importance too.
The state of your gut health can and will influence the health of your entire body. It does this by influencing digestion as well as playing an essential role in the gut-brain axis. Through these two avenues, your gut health can impair almost every element of your body. With that in mind, here are the top 3 gut-friendly habits to focus on this year:
1. Focus On Gut-Friendly Nutrition
Good nutrition is essential for a healthy life. That's one of the core values we've been sharing since we first began our journey with Food Matters all these years ago, and it couldn't be more true when it comes to supporting gut health. Your digestive system is the first port of call for any foods you eat; it's where nutrients are absorbed and wastes are discarded, so where possible, you always want to be able to fill your diet with gut-friendly foods. Foods you should definitely look to include are:
Probiotics; kimchi, kombucha, miso, and organic tempeh.
Prebiotics; apples, sauerkraut, asparagus, garlic, onion, leafy greens, and artichokes.
Antioxidants; berries, salmon, spinach, red bell peppers, dark chocolate, and turmeric.
While we're on the topic of gut-friendly foods, here's an amazing article from James that breaks down exactly what kinds of foods you need.
2. Get Daily Exercise
You probably know that 20 minutes of daily exercise is needed for your fitness, but were you aware that you need it for gut health too? The truth is, your digestive system is made to move. Moving your body and exerting your energy stores helps to replenish the cycle, rather than letting everything get stale inside you. It's always best to think of it as a free-flowing river; you want your body to be in the current, not in a murky pool to the side (as comfortable as that might be). And here's where you get to have fun… Make your daily exercise something you enjoy! A walk with your dog, a sunrise surf, a dance class with friends - the choice is yours.
3. Reduce Overall Stress Levels
Stress. Now that's a big one. In our modern world, people are collectively more stressed than ever before, and it's a different kind of stress. It's chronic, so much so that the World Health Organization has previously called it the epidemic of the 21st Century (this was a couple of years ago, of course). And stress doesn't just impact your mind - it influences your entire body. Especially your gut health. Because the two are so interconnected, limiting stress may support healthy digestion, promote regularity, and ease bloat.
The steps may seem small and simple, but stick to them this year and watch the changes unfold in your life. I promise you that only good things will come from it.
---
If you haven't already, join our free global challenge at www.GetOffTheGluten.com to receive daily recipes & health tips, access to our private group for support and inspiration, plus before and after testing to track your progress in key areas of your life such as weight, sleep, bloating, skin-conditions, mental health and more!
JOIN THE GROUP CHALLENGE STARTS IN: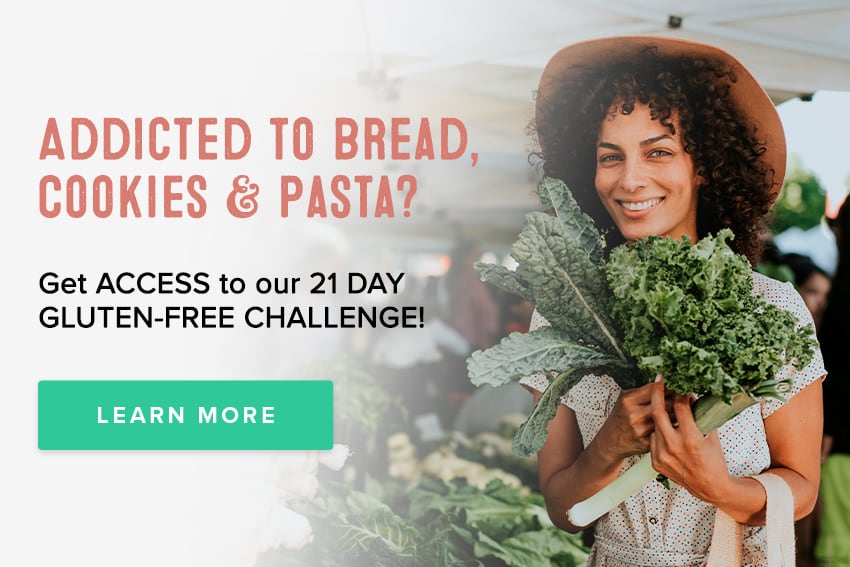 ---