10 Most Popular Health Films of 2019
This year has been an extraordinary one for FMTV! We've added hundreds of new transformational videos, inspiring documentaries, yoga and meditation classes, incredibly healthy recipes series, guided programs, and more!
This month we're doing something for the first time ever by opening up 100 of our most popular documentaries, classes and recipes for FREE! No credit card required.
It's almost impossible to narrow down our 'must-watch' shortlist but below, in no particular order, are some of the titles that you need to see!
1. E-MOTION
If you've ever wanted to stop sickness, disease, anxiety, fear, depression... you need to watch this film. E-Motion is a factual documentary that explores how human emotions affect the physiology of the human body and how when negative emotions are replaced with positive emotions, bona fide physical changes occur. A team of emotion experts from around the world share their wisdom and negative emotion clearing methods to show humanity the path to health and enlightenment.
2. FUEL YOUR HEALTH
Fuel Your Health dives deep into subjects like the gut microbiome, the myth about fat, the fermentation revolution, lifestyle medicine, as well as the optimum diet for the body and the brain. Watch nutrition experts like Dr. Terry Wahls, Sandor Katz, Dr. Maya Shetreat along with nutritional pioneers like John Bagnulo and Dr. Mark Pettus as they share their inspiring, healing stories. This film goes back to basics when it comes to health, a reminder we all need!
3. TRANSCENDENCE - LIVE LIFE BEYOND THE ORDINARY
TRANSCENDENCE - Live Life Beyond the Ordinary is our latest project, a 5-part docu-series that explores the current state of our physical, emotional, and mental health in a captivating new way. Drawing on research and interviews by some of the world's most recognized celebrities, doctors, and thought leaders including Novak Djokovic, Jim Kwik, Mark Hyman, Libby Weaver, Bruce Lipton, Wim Hof, Gabrielle Bernstein, Joe Dispenza, and Marie Forleo to name a few. This inspirational FMTV original series is set to challenge the way you view your health and ultimately question how you can live a better life.
4. AVERAGE JOE IN THE RAW
Follow a 30-year-old 'Average Joe' as he tries a raw, plant-based diet, plus exercise, for 60 days. His experimental journey tests the effect this change has on his physical, mental, and emotional state. This Joe hopes to transform his complacency and fatigue (on the Standard American Diet) to an improved version of himself. Medical benchmarks are measured, as experts and others weigh in with opinions and commentary along the way, in a light-hearted look at the modern, every-day-struggles for health.
5. HUNGRY FOR CHANGE
Hungry For Change exposes shocking secrets the diet, weight loss, and food industry don't want you to know about. Deceptive strategies designed to keep you craving more and more. Could the foods we are eating actually be keeping us stuck in the diet trap?
6. POWERED BY GREEN SMOOTHIES
In this film, you'll learn how a group of everyday people and athletes were able to see what impact one green smoothie a day had on their health and performance. The results are pretty amazing! A great takeaway from this film is that you don't have to make huge changes in your life to see a powerful impact. This film beautifully shows how one simple drink, a green smoothie, can help you increase your energy and outlook on life. It's fun, energetic, and inspirational! After this film, you'll be firing up your blender to take your green smoothies to the next level!
7. THE TROUBLE WITH BREAD
Did you know that in the U.S., the 'gluten-free' industry is worth a staggering $10.5 billion? There is so much more to learn about wheat, and how it has changed in just the last couple of generations. In this film, Ms. Beidelman journeys from farm to mill to the table, on a quest for answers about gluten intolerance and a hunt for the perfect loaf, one she can eat without getting sick. Along the way, she makes some unexpected discoveries about crucial changes to the wheat itself and how it is processed and fermented. Let's just say that bread as you know it, is not what you think.
8. FOOD MATTERS
Food Matters is a hard-hitting, fast-paced look at our current state of health. Despite the billions of dollars of funding and research into new so-called cures, we continue to suffer from a raft of chronic ills and everyday maladies. Patching up an over-toxic and over-indulgent population with a host of toxic therapies and nutrient-sparse foods is definitely not helping the situation.
9. THE HEALING EFFECT
The Healing Effect movie is a documentary about the healing power of food that features best-selling authors and experts from around the world like John Robbins, Joel Fuhrman, Daphne Miller, David Wolfe, Charlotte Gerson, John McDougall, Philip McCluskey, John Bagnulo, and many more. The film follows the story of a police officer in the gritty city of Lowell, Massachusetts, who has radically changed his diet and inspired his community. The movie explores the power of prevention, why bad genes are not your destiny, food and lifestyle secrets from the healthiest, longest-lived people on the planet, as well as simple steps to get started right now in changing your life, one bite at a time!
10. H.O.P.E.
H.O.P.E. is a life-changing documentary, uncovering and revealing the effects of our typical Western diet, high in animal-based foods. It contrasts the limited interests of the pharmaceutical and agricultural industry with the all-encompassing interests of living beings on this planet, and with the power of responsible consumer action. H.O.P.E. is an urgent call to action to all of us to commit to a change towards sustainability and safeguarding our living environment. It has a clear message: by changing our eating habits, we can change the world!
This is just a small snippet of what we will be sharing throughout the FREE online event. Take a look at some of the titles here.
Take the stress out of cooking with 21-days of guided meal plans, shopping lists, and nutrition support. You'll find all of this, and more, in our signature Clean Eating Program.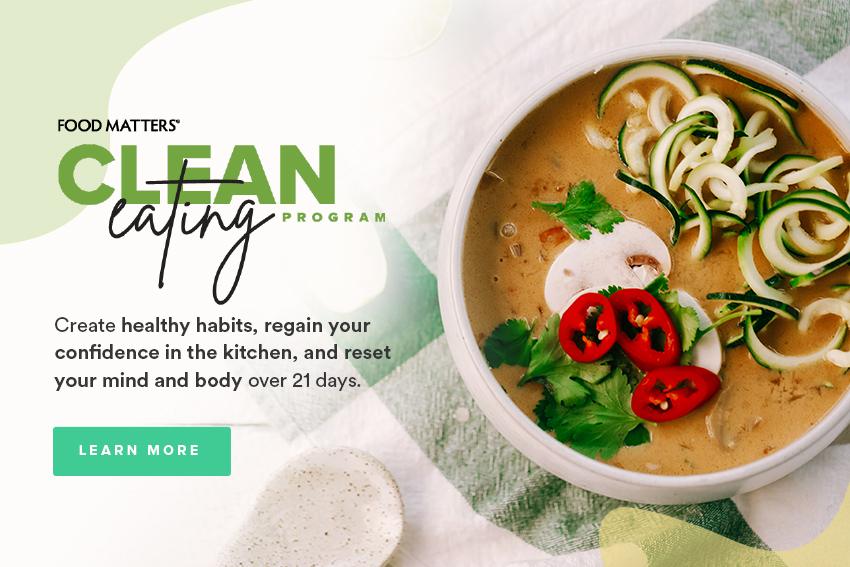 ---