What Does A Healthy Eating Plan Actually Look Like?
Perhaps the idea of making (and sticking to!) a meal plan makes you cringe. Maybe you have been down that road before and the enthusiasm of the initial plan fades as each day of the week slips by. Following a healthy meal plan shouldn't feel like a chore. A successful meal plan is a guide that will support you to make healthy food choices and reach your ideal wellness goals. Luckily, long gone are the days where meal plans are dull or depriving. Developing a meal plan that excites you is an easy way to stay on track and stay committed. So, how do you take the first steps to creating a meal plan that works for you? We have some tried and tested tips to help you on your way.
It's Time to Say Goodbye…
As mentioned above, a meal plan should not be about deprivation, however there are a few things that are best eliminated to assist you on your path to vibrant health. When you develop your meal plan make the commitment to say farewell to refined sugars and processed foods. If you know you do not tolerate gluten or dairy well, it is best to steer clear from these common irritants also. Rest assured, there are always healthy substitutions for these foods that we will get to in a minute!
Fall in Love with Healthy Fats
Fats have been the 'bad guy' for many years, yet good fats are essential for a healthy body and mind. Foods like fresh avocado, sustainable fish, activated nuts, coconut and good quality oils are a wonderful addition to your meal plan and will help you to feel satiated whilst boosting your metabolism, brain health and digestion.
Focus on Healthy Proteins
Ensuring you have a protein element in each meal will help you to feel satisfied and nourished. Protein is an important component for every cell in the body and good quality protein is essential for a well-functioning system. Try to diversify and include fish, legumes, pulses, nuts, seeds, leafy greens, chia seeds, quinoa or a good quality protein powder in your meal plan.
Understanding Wholefoods
When it comes to eating well, focus on quality over quantity. Ensure your meals include natural ingredients, steer clear if anything artificial and focus on wholefoods. Try to choose organic where possible, use quality oils and learn how best to store your ingredients for maximum freshness and nutrient levels. You will find that when you fuel your body with nutrient dense wholefoods, you won't be hungry until your next meal.
Stay Hydrated (with the good stuff)
Getting into a routine of hydrating your body first thing in the morning is a real key to success. This may include a big glass of filtered water with a green powder, a turmeric ginger tea, or a simple lemon water. Throughout the day, keep your water levels up. Thirst can often be disguised as hunger. Try having a glass of water instead of a snack and see if the hunger subsides. You may find it beneficial to write your liquids into your meal plan to remember to top up throughout the day.
Prepare for Snack Attacks
Being prepared with healthy snack options will ensure you avoid unnecessary set backs on your meal plan. Activated nuts and seeds, fresh fruit and vegetables, miso soup, hummus and homemade crackers and avocado are great options to keep in the kitchen or take with you if you're on the run. When shopping, make a list and stick to the items on there- avoid the snack isles and check-out counter temptations!
Be Realistic
No matter how good your meal plan may be, life happens. It is important to stay flexible and learn how to make the best choice in any given situation that may arise. If you are eating out, look for the healthiest option you can find, mix up side options that often include salads and steamed vegetables or if you're on a coffee date, opt for a herbal tea or turmeric latte over coffee.If you do happen to 'slip up,' be forgiving. A slice of cake at a birthday party isn't the end of the world! Being able to navigate life and get back on track with ease is a huge part of long term success.
Swap This for That
Learning how to make substitutions is an easy way to still enjoy plenty of your favorite foods in a healthier way. Making food from scratch with healthy ingredients means that you can still include tacos or pizza in your meal plan! Be open to experimentation with your substitutions- like a cauliflower pizza base topped with lots of fresh vegetables, olives and cashew cheese! Try switching our white rice for brown rice, and wheat noodles for mung bean or zucchini noodles. Get creative in the to make your meal plan fun and diverse.
Think Ahead
A successful meal plan goes hand in hand with organization and time management. Try setting aside a couple of hours each week to shop and prep some basic meal components to make your week a little easier. Try to set aside time to prepare your meals each day and enjoy this time rather than having it be stressful or rushed. Cook extra at dinner time to make for an easy lunch the next day or freeze leftovers for quick mid-week meals. Structure your meal plan in a way that works for you so you feel prepared and in control.
Have Fun
Staying committed to your meal plan requires you to enjoy the journey. Be creative, embrace change, get your family and friends involved in cooking and sharing healthy meals. Try shopping at your local farmer's market and getting to know where your food comes from. Eating well isn't a diet, it's a lifestyle, and soon your meal plan will become second nature.
A Few Suggestions…
Still unsure of ideas? Browse our recipe section for plenty of healthy meal options, or here are a few of our favorites:
Breakfast:
Lunch:
Dinner:
If you would like to receive an in-depth, step-by-step meal plan, join the Food Matters 21 Day Gluten Free Program. You will receive downloadable week-by-week meal plans and shopping lists designed to transform your life in a positive, inspiring and beneficial way. On top of the meal plans and recipes, you will gain access to daily videos with educational lectures, fitness and movement sessions, meditation, cooking demonstrations and so much more. Become a meal plan pro as we guide you every step of the way. We have our first 'start together, finish together' for the year with this program, starting January 14. See you there!
---
If you haven't already, join our free global challenge at www.GetOffTheGluten.com to receive daily recipes & health tips, access to our private group for support and inspiration, plus before and after testing to track your progress in key areas of your life such as weight, sleep, bloating, skin-conditions, mental health and more!
JOIN THE GROUP CHALLENGE STARTS IN: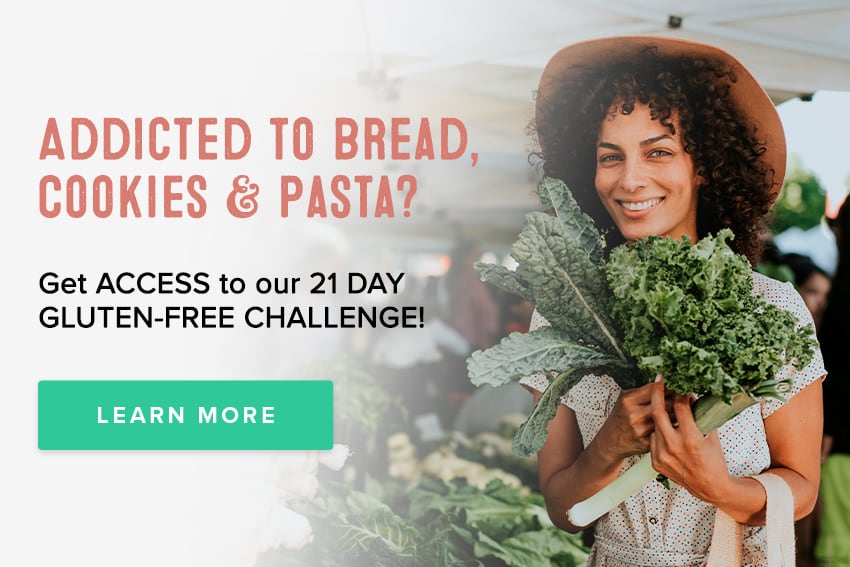 ---