What's The Difference Between A Nutrition Coach & An Accredited Nutritionist?
Online nutrition coaching is being praised as one of the most booming career pathways in recent years, and when we look at the world around us it should come as no surprise. Not only are we living through a global pandemic, but modernized society has lead us down a path of chronic disease, poor nutrition, and financial influence in healthcare. It's no wonder that we sometimes need someone like a nutrition coach to guide us through the maze. But there's a lot of confusion in the nutrition, health, and wellness space about what different professions are, and what they allow you to do.
So what's the difference between a nutrition coach and an accredited nutritionist?
What Is A Nutrition Coach?
A nutrition coach works with a holistic approach, considering all pillars of health and wellbeing. But what does this look like in practice? The best way is to imagine a coach on a football team, who gives their players the advice, education, and skillset they need to become champions. A nutrition coach can be seen through a similar lens; they give you guidance across all areas of your health and where needed, and can make referrals to a specialized practitioner. However, first and foremost, a nutrition coach understands that food and nutrition is the cornerstone of health.
They have a deep knowledge of basic nutrition principles and the education required to provide basic nutrition recommendations to their clients. While they still consider all lifestyle factors for physical, mental, and spiritual health, food is often the focus of their practice. Nutrition coaches typically love healthy food, have an innate desire to help people live their healthiest lives, and a natural curiosity about the way the human body works. Globally there are fewer people working as nutrition coaches, as there are fewer specialized training programs readily available. For those looking to break into the field, it often means there are more opportunities to find clients in less saturated markets.
At A Glance:
Takes a holistic approach to healing.

Core focus on nutrition.

Deep knowledge of basic nutrition.

Can study online, not influenced by governing bodies or financial contributions.
What Is An Accredited Nutritionist?
An accredited nutritionist will typically have completed at least a Bachelor's-level degree at University, with clinical experience required as part of their degree program. However, upon graduating (which often takes 4 years minimum), there is no guarantee that one can register as a nutritionist. Accrediting bodies will require their nutritionists to meet certain requirements, often promote certain ideologies or key messaging to clients, and charge an annual fee to remain accredited. Accreditation regulations vary from country to country, and state to state.
At A Glance:
Bachelor's Degree (min. 4 years, postgraduate qualifications often required).

Clinical experience often required.

Deep knowledge of basic nutrition and human biochemistry.

Accreditation regulations vary from country to country, and state to state.
Why We Train Nutrition Coaches
In our line of work, we've come to understand that food truly does matter. For me, food is paramount. It's a cornerstone, and more emphasis needs to be placed on it's role in healthcare.
I've watched the healing powers of nutrition play out firsthand, as my father turned his life around and reversed chronic health conditions by simply changing his diet and his mindset towards food.
A nutrition coach will look from a holistic perspective, in line with public health messaging, but tailor their advice and recommendations to each individual client. We know that there are many barriers preventing healing minds from embarking on a 'traditional nutrition education'. We also know that with worldwide attention being placed on natural ways of healing, nutrition coaches are an invaluable contribution to our society - and we need more of them!
Do you have a passion for nutrition & natural healing?. Learn more about the Food Matters Nutrition Certification  Program here.
ENROLLMENT & BONUSES CLOSE IN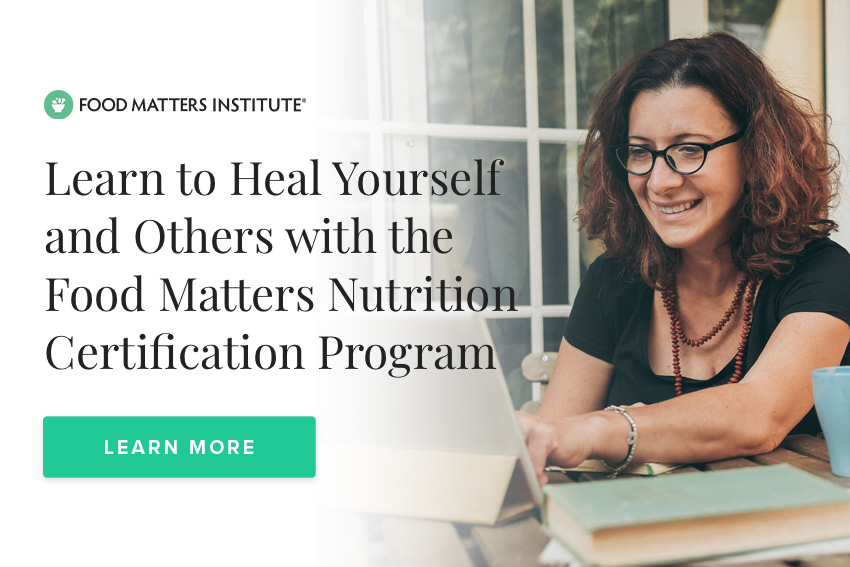 ---