Your Story - Can You Be Symptom-Free By Changing Your Diet?
Looking back I was always a 'sick' child. Seemingly with stuff that never had a name or treatment no matter what body part ailed. Countless doctors appointments and years of suffering until finally one day it all blew up in 1986.
The day my life changed was only a few weeks after I was newly married.
For the 1st 6 months the doctors kept repeating I had an inoperable brain tumor on my brain stem. There was nothing they could do. I was 23 years old and thought I had my whole life ahead of me to suddenly have it all come to a crashing stop.
I ran to find answers and as luck would have it the MRI was invented and slowly becoming available. With great effort I scheduled a full head/neck MRI with a new doctor complete with a spinal tap to hopefully learn more.
The diagnosis after this changed from a death sentence to a life sentence when I was diagnosed with Multiple Sclerosis (MS). A debilitating disease that affects millions around the world for which there is no cure or clear understanding.
From The Onset I Became A Committed And Ideal Patient Doing Everything The Doctors Asked And More
Quickly I became acquainted with the National MS Society and was nominated to the Board of Directors believing that these relationships were key to my wellness
In typical me fashion for years I was the largest fundraiser, advocate and speaker for the MS Society and our healthcare system in support of MS treatments. Once diagnosed I became involved with the systems in place supporting whatever the latest drug or treatment was believing with all of my person this was key to a successful life with MS.
After almost 2 decades following the rules without fail my body failed. The worst and most debilitating outcome resulted in the bilateral loss of my hands coupled with trouble swallowing both of which now had me require full time help with 'roommates' to live in as well. By the age of 37 I was declared legally disabled and my husband walked out the day I was told the progression to the most advanced stage of MS had begun.
I was living with painful injection sites now black and blue, taking 24 pills a day with my health continuing to fail, constant pain with no interruption just increase and decreases in elevation, driving no longer an option and life savings depleted clearly things were beyond desperate.
My life felt and appeared to be hopeless.
I moved from the east to the west coast of the USA knowing no one when my daughter went off to college. I felt I had no choice as I grew to lack the ability to control my body temperature and living in the east coast kept me a prisoner in my home and too sick to begin healing. I believed & knew in my heart this was a last stitch effort to heal. I somehow thought if the answer was to be found a California mindset was in order.
Little Did I Know This Was The Beginning Of Many Life Changes That Would Result In The Miracle Known As PaleoBOSS Lady
My life clearly was unmanageable with daily fear of being institutionalized and/or homeless an increasing reality.
Thankfully like a brick hit forehead I had a realization that a life motivated by fear was not capable of higher purpose outcomes. This led me to think, "Drastic times called for drastic measures." In typical California girl fashion I went to Burning Man (festival) to find the answers for my future and to save myself. Burning Man cuts you off from the consumer driven world and dumps you into a no judgment zone filled with an artistic, self-expressive, spiritual energy like no other while living in the middle of the dessert battling Mother Nature.
During my time on the Playa I asked myself day after day how deep I could dig to overcome the beast that lived inside me known as MS. The answer that kept coming back was that I needed to get conscious about my life. I needed to start asking questions about everything. The agreed upon current assumption had to be that potentially everything in my present life was toxic.
The Intense Work Began
1st order of business was to separate myself from everyone and taking time to retreat, allowing life to create the space to begin the committed journey of changing my current narrative.
To change you narrative one must be willing to question the status quo. My miracle status has been a result of slow, steady and sustainable steps that have resulted in a life of consciousness at every turn. Please do not confuse this with scheduling or planned living. I am talking conscious living.
A perfect and simple example would be that when I sit down to eat I know where everything on my plate came from. Being able to identify food by your local farmer, CSA or farm location are important consciously made choices in my wellness life. Prior to this I had no idea and never thought to consider that it mattered. Well it does matter and in a lot of ways. This effort of awareness in living resulted in huge gains along my miracle journey and this is only one of many changes I have made.
Today I Am Almost 100% Asymptomatic Successfully Managing All Of My Symptoms From MS
I live 100% alone and take care of myself without any help and a little over a year ago I bought a new car. I take only 1 thyroid medication and no longer see a specialist for any healthcare issues, I am the healthiest I have ever been defying the odds daily. Symptoms I had for over 26 years are completely gone.
I am still wrapping my head around my miracle life and cry tears of joy almost daily. The beauty about the message and what I have learned is health care is accessible to all and the power to heal can often be found inside each of us. For the last 8 years I went back to school gaining a post graduate degree in community psychology to assure my message is culturally relevant and impactful.
Today as PaleoBOSS Lady I am so proud to announce I will be embarking on a yearlong tour driving around the entire United States sharing & meeting the community! Can you believe that this miracle has healed enough and will be "taking it to the streets" driving around America? Join me in this grass roots movement of consciousness to tap the miracle that lives inside of us. Namaste.
What Dietary Changes Have You Made To Improve Your Health?
---
If you haven't already, join our free global challenge at www.GetOffTheGluten.com to receive daily recipes & health tips, access to our private group for support and inspiration, plus before and after testing to track your progress in key areas of your life such as weight, sleep, bloating, skin-conditions, mental health and more!
JOIN THE GROUP CHALLENGE STARTS IN: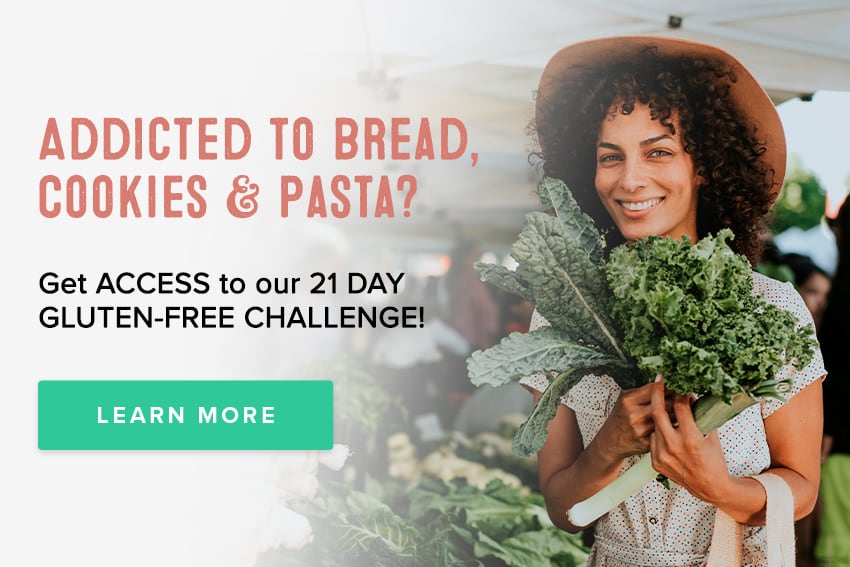 ---