How To Stop Stress Eating & Kick Bad Habits for Good with Marc David
Listen on the
food matters podcast
WATCH THE VIDEO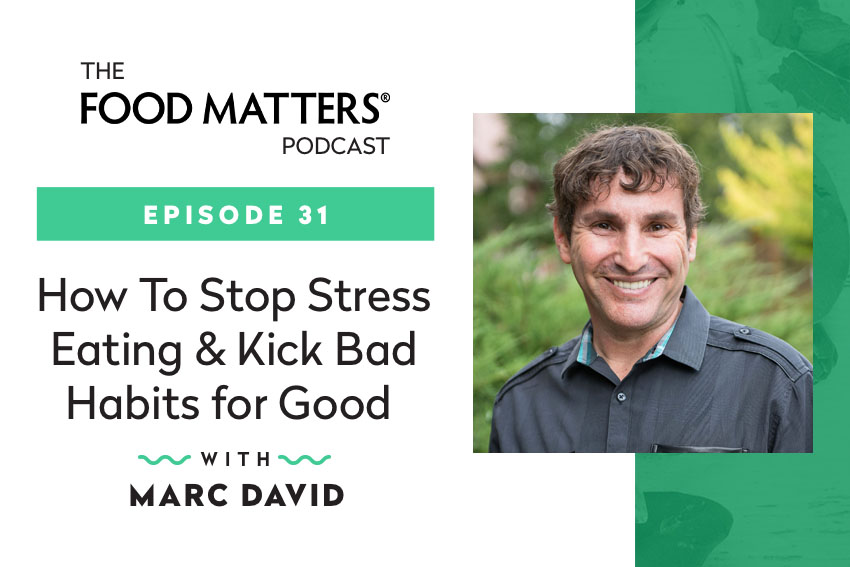 Stress eating is a habit that many of us are all too familiar with. But in times of need, it makes sense right? We typically reach for the foods that bring us comfort. The issue arises when we find ourselves in periods of prolonged, chronic stress, with food being our savior. That's when it becomes a habit that we need to take a deeper look at.
In this week's episode with Marc David, we're doing exactly that. Marc is the Founder and primary teacher of the Institute for the Psychology of Eating. He's a leading visionary, teacher, and consultant in Nutritional Psychology, and the author of the classic, groundbreaking, and bestselling books Nourishing Wisdom and The Slow Down Diet.
For more than three decades Marc has paved the way in eating psychology and nutrition and I'm excited to talk to him today about:
The importance of our relationship with food and its impact on our highest potential.
The impact of stress on our appetite, digestion, and overall health.
Common causes of emotional eating (e.g. binge eating) and how to identify them.
How the Slow Down diet works and its relation to stress impact.
The physiological impacts of fast eating.
Roadblocks to having a healthy relationship with food & everlasting self-love.
The interconnection between beauty & confidence.
And so much more!
Episode resources:
I know that the Food Matters community has struggled with stress eating in the past, and with uncertain times like these, I knew Marc would have some sage wisdom to share. I hope you benefit from this conversation as much as I did.
---