Juicing for Glowing Skin, Weight Loss & Transformation with Jason Vale
Listen on the
food matters podcast
WATCH THE VIDEO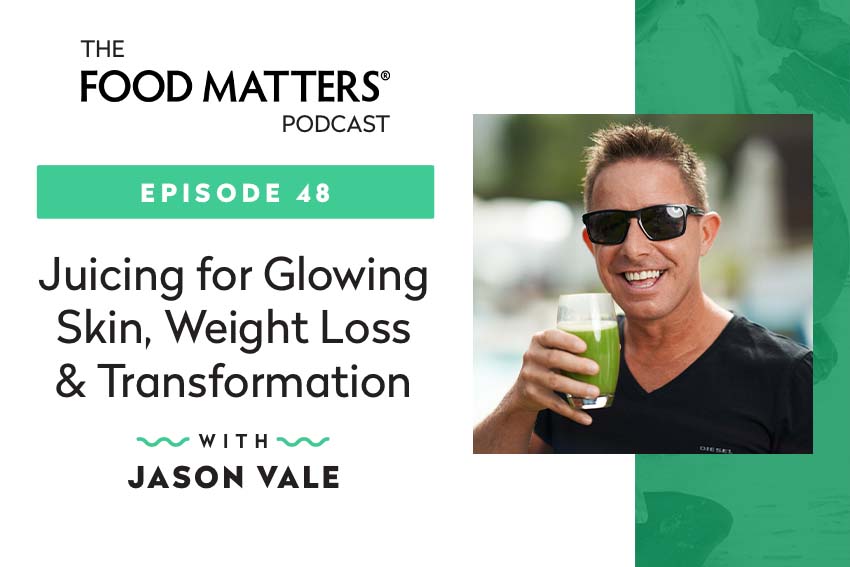 Can consuming freshly extracted juices be the key to unlocking a new world of health and wellness that can transform our lives?
Juice Master, Jason Vale joins James on this episode of the podcast to discuss the in's and out's of juice cleanses for healing, detoxification, and transformation.
Jason Vale is a man on a mission to "juice the world!" He is the best-selling author of 16 books on health, addiction and juicing; nine number 1 (iOS and Android) apps; and the groundbreaking, feature-length documentary SuperJuiceMe!
He shares his personal story of overcoming a severe skin condition and battling addiction by using nutrition, diet and juicing.
In this week's episode with Jason Vale you'll discover:
How juice cleanses can transform our overall health and wellbeing.
Juicing at home: common mistakes to avoid.
How to find new ways to consume vegetables if you don't like to eat them.
Juice for healing: overcoming skin conditions and other autoimmune disorders.
Tips to maintain your energy and avoid the dreaded sugar high crash.
Using juice for mental clarity: feeling limitless.
The benefits of fasting vs juice cleansing.
Jason Vale's Juice Master Retreats.
Jason Vale teaches us how to easily incorporate more nutrient rich juices into our diet on a regular basis, and take powerful action towards our own health and vitality.
Episode resources:
If you enjoyed this podcast, please share it with your friends and family on social media or leave a comment. We'd love to hear from you, and hear about your experience.
We'll see you next time!
---