10 Health & Wellness Books To Read This Year!
If you are lucky enough to catch a few days or moments to yourself these holidays, sinking into a thought provoking piece of literature is about as renewing as sinking into a warm bath. There are so many fantastic books, old and new, which you can find in good bookshops and online with fantastic insight into lives well lived. Many include accomplishable steps to help you embark on living a deeper more connected life, whether it be through food, mindfulness, or exploring your own creativity or humanity.
We've selected a collection of books that not only support your health and wellness through instruction but also through the beauty and thoughtfulness of the writing itself. The benefits of enjoying a good book are immeasurable. We hope you can find something you love in here!
This innovative cooking book comes from Wanderlust Festival and cafe founder Jeff Krasno, who has done incredible work in inspiring people to live mindfully and eat consciously. 'Find Your True Fork' aims to show people the variety of ways that you can cook and eat, whether you are vegan, vegetarian or omnivorous. Incorporating good eating into a balanced life, this book seeks to help people make the best decisions when it comes to cooking ethical and delicious meals. Renowned chefs and wellness experts have come together to provide advice on gardening and preparing food with your own produce, along with exploring and simplifying fermentation and biodynamic agriculture. The recipes included range from simple to complex, factor in a range of budgets, and are accompanied by stunning photographs. A journey through the incredible opportunities each of us has with food, this is a great choice for someone wanting to explore and deepen their relationship with food.
If you are intrigued by the wonders and potential of herbs but are intimidated by the complexities of nature's medicines, look no further than 'The Modern Herbal Dispensatory'. This book has received praise from both novice and advanced herbalists for its simplicity and technical comprehensiveness. Around 250 herbal medicine recipes are included, all of which you can make at home and have been tested by the expert herbalist authors. From harvesting to administering, this is the bible for making salves, lotions, essential oils and much more. This thoroughly researched guide is beautifully illustrated and a great resource to have on the shelf for hundreds of remedies.
A little book of comfort, this lovely gem spells out how to create the happiest home environment. When the chaos of the world overwhelms it is important that we have a safe and restoring space to retreat to. Hygge is difficult to translate but we have all felt the atmosphere of Hygge; it's a combination of the best feelings of home, cosiness, embraces with loved ones, sharing good food and the sound and smells of a crackling fire. The Hygge way comes from Denmark, reported to be the happiest nation in the world, and the authors suggest that it is because there has been a realization of noticing and appreciating the small, special things life offers daily. Learn how to harness and maintain Hygge in your home with this joyful little guide.
Stunningly written and incredibly profound, this is a great choice for anyone wanting to understand more about humanity. Both a Sunday Times and New York Times best seller, 'Sapiens' provides an astounding perspective on the youth of humankind on 4.5 billion year old planet earth. The book explores our biology, culture and relationship with agriculture and technology. It also looks at what makes humans human and what differentiates us from our closest relatives. From the Stone Age to the Silicon Age, 'Sapiens' tackles some big questions and leaves you with a sense of wonderment about existence!
'Milk and Honey' has been praised as a wise and relatable collection of short poems and letters that connects with the reader deeply. Rupi Kaur explores many of life's most harrowing experiences with frankness and gentleness. With over 1.5 million copies sold worldwide, this collection has clearly resonated with many and is a great holiday read, being a relatively short read but packed with heart. 'Milk and Honey' is perfect for sentimental quiet moments and exploring deep emotions.
With a focus on ritual, this book is a refreshing take on the self-help genre. Described as both inspiring and practically helpful, this book is recommended for those wanting to make positive changes to daily thoughts and habits. A Sunday Times best seller, '21 Rituals' asks the reader to consider daily unconscious thoughts and choices which may go against our deeper goals and purpose.
Another innovative spin on self help books, 'You Do You' is a quick guide to upheaving negative thinking and behaviors and being authentically yourself. From Sarah Knight, the author of popular 'The Life-Changing Magic of Not Giving a F**k' and the New York Times bestseller 'Get Your Sh*t Together', her new book implores readers to stop fighting who they are and shake off the world's expectations. Raw and relatable, this is a perfect choice if you want down-to-earth advice on improving the way you see yourself.
Intended to be read over the course of a year, this book provides salient advice on where to find joy and meaning from the wisdom of Stoics Emperor Marcus Aurelius, Seneca, and Epictetus, among many others. 'The Daily Stoic' offers insights, exercises and profound thoughts each day to help you to approach problems in new ways well explored by great thinkers throughout history.
Something the world really needs more of us to work on and something that benefits both the person practicing and everyone around them, niceness! From the wonderfully accessible and sage School of Life, 'On Being Nice' is a fantastic exploration into the importance of the forgotten quality of being nice. The book calls for and teaches people how to rediscover this beautiful thing we were reminded to practice daily as children but which has become harder and harder with the pressures of life as adults.
Popular in Korea, author Haemin Sunim is a Zen meditation teacher whose teachings resonate with people of all ages, religions and cultures. An important guide in mindfulness in the everyday, this book offers sage advice on handling a variety of life's stressors and navigating the complexities of relationships. If your world is feeling more chaotic than calm, more challenged than comfortable and in control, this is a great one to rejig your approach to life.
Come across a life changing piece of writing? We'd love to hear about what you've been reading. Let us know in the comments.
---
If you haven't already, join our free global challenge at www.GetOffTheGluten.com to receive daily recipes & health tips, access to our private group for support and inspiration, plus before and after testing to track your progress in key areas of your life such as weight, sleep, bloating, skin-conditions, mental health and more!
JOIN THE GROUP CHALLENGE STARTS IN: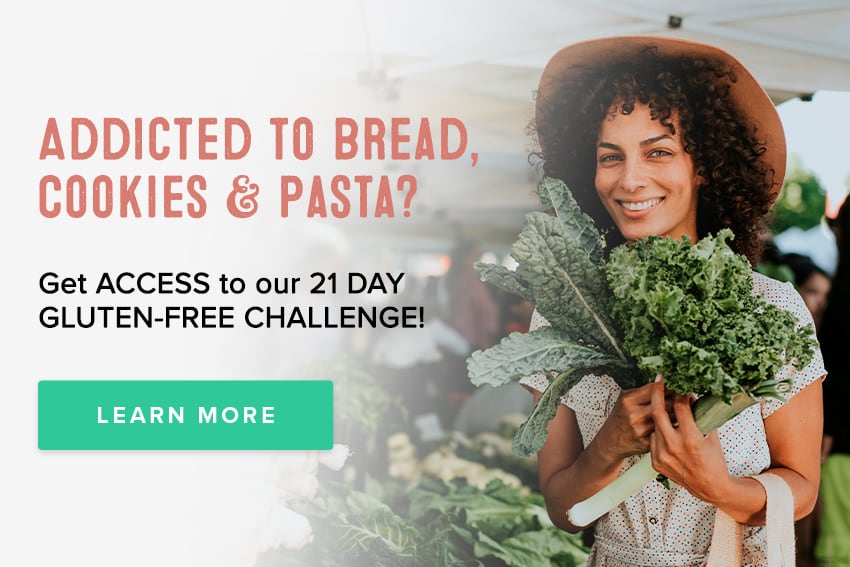 ---