6 Things You Can Do Today after Watching Wild & Free
If you've been following along our most recent series, Wild & Free: A Year On A Tropical Island, like many others, you might have been tempted to pack up your life and set up your own home in the happiest nation on earth. If the islands aren't too far from your day-to-day life, put in on your list of places to visit once borders open. But in this busy world, riddled with lockdowns, job losses, and an inability to travel like we once could, for some this lifestyle might not be within reach just yet. There is an abundance of ways you can make your life that little bit more Wild & Free.
1. Eating & Buying Local
We're foodies. We're the first to admit it. So discovering the relationship locals have to their food in Port Vila has been incredible. We're able to buy local produce fresh off the growers at our markets and learn time-old ways of preparing and eating the island foods. This isn't only something we can do in Vanuatu. There are farmer's markets across the world, where shoppers can support their local growers while minimizing food miles and indulging in seasonal produce. Not only does this mean your hard-earned money is going straight back into your community, but you're having a kinder impact on the environment while supporting your body's seasonal food cycle.
2. Connecting With Nature
One thing everyone notices about Vanuatu is how beautiful it is. From tropical jungles to white sandy beaches, this island nation is paradise. Of course, living in paradise is having the most amazing effects on all areas of our health. Each morning we are able to swim, surf, and snorkel in the ocean. We explore the forests on horseback and the rivers on foot. And we feel alive in doing it. Even if you live in the heart of the busiest city, the opportunity to connect with nature is always in reach. It may be a 20-minute stroll in the park nearby, or walking the scenic way to work once a week. Take the chance to explore your neighborhood. If you can do it barefoot, even better.
3. Creating A Community
It's been said that it takes a village to raise a child, and this is one thing we've witnessed first-hand in our local communities. The family-like atmosphere of the towns throughout Vanuatu has the most profound impact on day-to-day life. Friends become aunties, father's become guardians of the village, children become siblings. Your vibe attracts your tribe and by creating your own community, you are able to live simply and stress-free, with support from those closest to you. It's no secret that Vanuatu was recently voted the happiest country in the world, and when you hear tales of community life, it becomes obvious why.
4. Reducing Plastic Usage
Plastic is leaving a devastating footprint on our planet. In the islands we see all sorts of junk washing up on beaches, that were used once and disregarded. We see the impact that it has on sea life. We also see the impact that plastic production has on rising sea levels. We've always been extremely conscious of our throw-away society, but experiencing it first-hand has led us to champion the plastic-free lifestyle. It's all within reach. Keep cups, Tupperware containers, shopping at bulk stores, and buying items made from sustainable resources. There are affordable, accessible options for nearly any plastic alternative. There's no reason our environment should be copping the worst of it.
5. Getting Off The Grid
You don't have to build an extravagant treehouse in a tropical jungle to get off the grid. It does, however, invite humility into your life by making do with the nature surrounding you. This may mean collecting rainwater or even dining and reading by candlelight. In colder evenings light a fire instead of reaching for the heat pump. One of the best ways to do this, no matter where you live, is by growing as much food as possible. We try to do it everywhere. Whether you're growing a herb garden in your studio apartment in New York or sewing a season's produce on a farm in New Zealand, the feeling of actually growing your own food is truly marvelous.
6. Embrace Your Culture
Undeniably the most beautiful part of our time in Vanuatu has been embracing the local culture. Ni-Vanuatu are people steeped in history, ritual, and traditional tribal values. Coming from Western societies, this was unlike any community we had ever become a part of, but hearing the stories, watching the way they acknowledge their past and take their culture into the future, has served as inspiration for us to learn more about local cultures everywhere we go; from Australia to America. We can learn a lot from the people who walked the land before us. When we give them a chance to speak, worlds collide in the most exciting ways.
Have you been inspired by Wild & Free? You can watch the whole series on Food Matters or YouTube today, then let us know how you've been breaking away from the bounds of society below...
Do you have a passion for nutrition & natural healing?. Learn more about the Food Matters Nutrition Certification  Program here.
ENROLLMENT & BONUSES CLOSE IN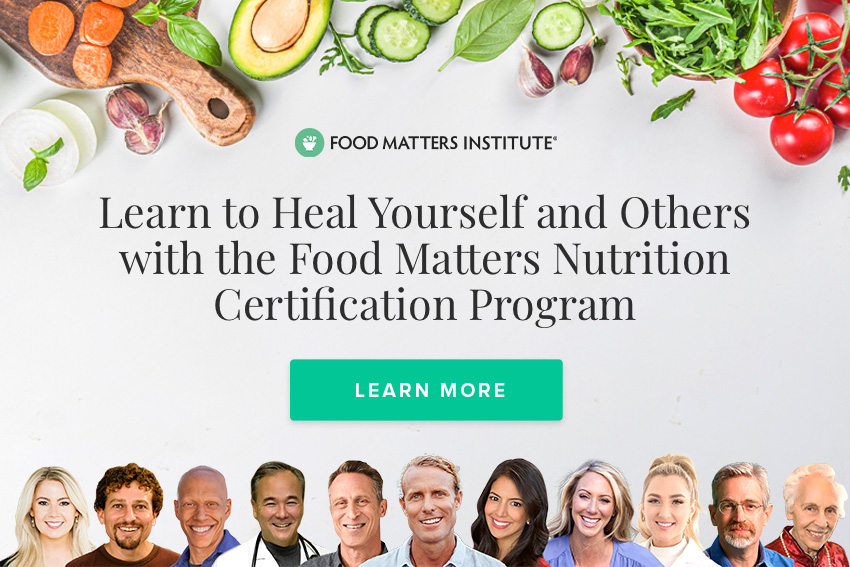 ---