A Message From Dr Junger, Author of 'Clean'
Dr. Junger is a fan of 'Food Matters' and we are excited that he has shared the film with his friends and professional colleagues. We spoke with him recently and he mentioned that he would like to create a video message about his book and how he came across 'Food Matters'. We stand with Dr Junger in his mission to help detox the planet and hope that his book can continue to reach people and impact their health! Thank you for your fantastic work!
James & Laurentine
Who is Dr. Junger?
Dr. Alejandro Junger was born in Uruguay. He graduated from medical school there in 1990 and moved to New York City for his postgraduate training. He completed three years of training in Internal Medicine at NYU Downtown Hospital and three more years of fellowship in Cardiovascular Diseases at Lenox Hill Hospital.

His drastic change in lifestyle and diet from his move to New York City soon reflected as irritable bowel syndrome and depression. Becoming a patient of the system he was practicing was such a shock, that it started a journey to search for an alternative solution to his health problems.

His findings are the subject of his first book, Clean. In it, Dr. Junger describes how he became aware of the toxicity of our planet. He also explains how detoxification and cleansing have been around for thousands of years, but knowledge about them has been lost at a time when it is more important than ever before. Most importantly, Clean is a manual for readers to learn how to turn our detoxification systems on full speed while supporting our bodies to maximize their effectiveness.

Dr. Junger now lives in New York City, where he practices at the Eleven Eleven Wellness Center and is also designing an Integrative Medicine Service at Lenox Hill Hospital, for which he was asked to be the Director of Integrative Medicine. Dr Junger also practices at the Akasha Center in LA.
About 'Clean' the book
How many of us can honestly say we do not suffer from at least one of the following:
Colds or viruses each year
Allergies or hay fever
Extra pounds that won't come off
Restless nights
Recurrent indigestion, constipation, or irritable bowel syndrome
Itchy skin, acne, or any other troubling skin condition
Depression, anxiety, or frequent fatigue
If you were to seek medical advice for any of the above, you would likely be prescribed pills, topical lotions, injections, or even surgery. Such treatments are used to manage the symptoms and do not address the root of the problem. Too often, doctors treat these common ailments as inevitable costs of living a modern life. The result is a patchwork approach to health care that has become the norm.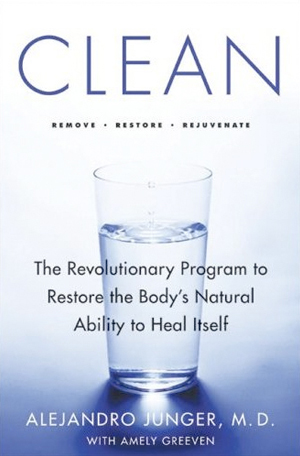 In Clean, a New York City cardiologist and a leader in the field of integrative medicine, Dr. Alejandro Junger offers a major medical breakthrough. Dr. Junger argues that the majority of these common ailments are the direct result of toxic buildup in our systems accumulated through the course of our daily lives. As the toxicity of modern life increases and disrupts our systems on a daily basis, bombarding us through our standard American diet and chemical-filled environments, our ability to handle the load hasn't accelerated at the same rapid pace. The toxins are everywhere, but Clean offers a solution.

Clean is an M.D.'s program that provides all the tools necessary to support and reactivate our detoxification system to its fullest capabilities, and can be easily incorporated into a busy schedule. The effect is transformative: nagging health problems will suddenly disappear, extra weight will drop away, and for the first time in our lives we will experience what it truly means to feel healthy.

Every day spent on the Clean program is a major step in healing not just the symptom but the root of the problem, effectively and simply. Dr. Junger's life-changing program restores what rightfully belongs to you—your health, vitality, and peace of mind.

To purchase 'Clean' the book please visit Amazon.com or your local bookstore.
Dr. Junger on the Matha Stewart Show talking Detox
Do you have a passion for nutrition & natural healing?. Learn more about the Food Matters Nutrition Certification  Program here.
ENROLLMENT & BONUSES CLOSE IN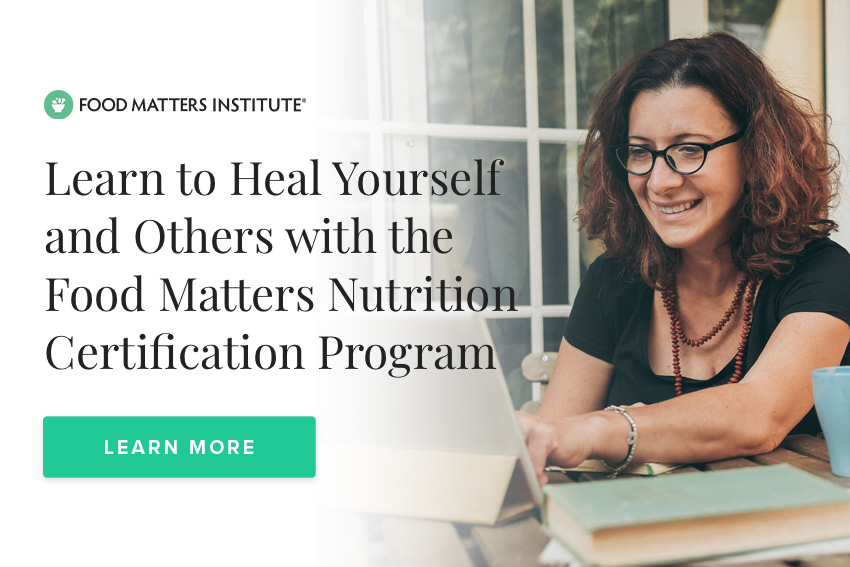 ---