Are You Maximizing Your Yoga Practice?
Is yoga alone enough to meet your fitness needs? In its traditional form I would argue that it's not but what if there was a way yoga could have it all?
The original Yogis created the practice for the sole purpose of being able to sit comfortably for hours in meditation, but since making its way to the West, most people come to the mat for different reasons. For some it's fitness and flexibility, and for others it's about finding that little piece of Zen amongst the chaos. There are so many forms of exercise but we choose yoga, consciously or not, because it takes us beyond the physical and into the spiritual by unifying mind, body and breath.
Since becoming a mother, I realized that I took for granted the other forms of exercise I did like walking, surfing and team sports that complimented my practice and kept my body relatively fit and healthy. I simply didn't have the time to ft these things in anymore and as a result I couldn't shift my baby weight. I knew if I wanted to see a substantial, sustainable change in my physical body I would have to choose something that I loved (a couple of fleeting, well-intended gym memberships taught me that!)
Hours of trawling the internet and researching different forms of exercise taught me that High Intensity Interval Training (HIIT) is scientifically proven to get the best results in the shortest amount of time. Running on very little sleep, breastfeeding my baby every other hour, and taming a toddler to boot, this was looking like a great option. HIIT is short bursts of intense exercise that fatigues the muscles in a way that fools them into thinking you've been working out for much longer. After a session you continue to burn fat and build muscle for up to 48 hours afterwards, and as an added bonus, it improves glucose metabolism. This is my type of exercise!
Many HIIT YouTube videos later I came away feeling like something was missing. Was I being challenged physically? Yes. Did I miss the yoga element of mindfulness and connecting with the breath? Absolutely. I began to play with my favorite yoga poses and adapted them to ft the HIIT mold maintaining the Yoga ethos. The weight rapidly disappeared and Yoga Bod was born!
3 x per week I built up to HIIT sessions lasting a maximum of 30 minutes targeting different muscle groups each time. Every other day consisted of a short yoga practice to soothe the affected muscles with one rest day per week. After practicing this way for 6 months I was fitter than I had ever been in my entire life.
Combined with meditations from my "Quick Every Day Meditations" series I had found a complete body, mind and soul practice that fulfilled my every need.
If you love yoga but wish you could see more physical results I would love to see you on the inside at FMTV.com where you can access my new series 'Yoga Bod'.
Lots of love and good health,
Emily x
Take the stress out of cooking with 21-days of guided meal plans, shopping lists, and nutrition support. You'll find all of this, and more, in our signature Clean Eating Program.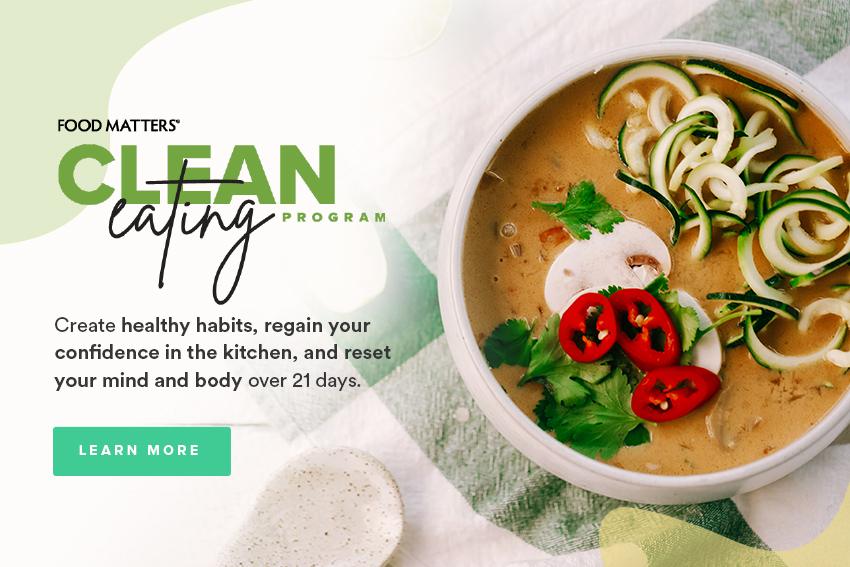 ---