The Best Natural Skincare for Summer
For a large part of the world, summer days are here to stay, so it's important to protect our largest organ against some of the harsher elements! Growing up in sunny Queensland, Australia, you could say I'm used to prepping my skin for the summer months. My years spent as a holistic dermal therapist only solidified what I grew up knowing - if we're out in the sun, we need to protect the skin.
But how do we do that? Shouldn't we just find one brand and stick to it? Don't worry if a re-vamped routine sounds overwhelming, I'm here to show you how to find the best natural skincare for summer.
First things first, why do we need to change up our skincare over summer?
If you know a thing or two about skin, you will have likely heard of sebaceous glands. If you're new to this, these glands produce the natural oils that our skin needs. But in the summer months, these glands produce excess oil to help cool your skin down. We also typically sweat more in the heat, which brings more oil to the surface of the skin. So when this sweat mixes with the bacteria and oils on your skin, it can clog your pores, and if you have acne-prone skin, this often means breakouts. It's also important to note that if the air is lacking humidity, your skin can lack moisture - especially when sitting in air conditioning all day.
For this reason, your skin will have a completely different set of requirements over the summer months - so you have to observe these changes and make sure you're giving your skin the nourishment it needs. Plus, we tend to spend more time outdoors and in the sun in summer months, so protecting your skin from the elements is paramount.
Now what kind of natural skincare should you be looking for in summer?
Well, like most things to do with our bodies, there's no one right answer on that. Everyone's skin tends to have a different set of needs, and it reacts to the sun in different ways from time to time. But there are a few rules of thumb I love to apply to natural skincare over the summer months.
Choose an oil-free moisturizer. You won't need a heavy moisturizer unless you're naturally very dry. In this instance, you could opt for a lighter oil to nourish the skin.
Use light hydration. Think ethically sourced hyaluronic acid, but online use it on damp skin as otherwise, it will draw moisture from the skin.
Change out your cleanser. Swap a heavier cleanser or oil in favor of a gentle, foaming option unless your skin is extremely dry. In this instance, use one that lightly hydrates the skin.
Focus on the nutrients. In natural skincare, you'll need to focus on the beneficial antioxidants containing ingredients, like Vitamin C or polyphenols to help with increased sun exposure and oxidative stress.
Sun protection. Just like a beach umbrella or a wide-brimmed hat, your skin needs protection from too much exposure too (but not so much that you become Vitamin D deficient - because that's essential for health too)!
I'm glad we mentioned sun protection too. How do we go about finding the right one?
Excess exposure to UV rays can not only contribute to skin cancer, but can also cause skin mottling (pigmented patches), freckles, redness, and some red, broken capillaries. To ensure optimal sun protection, stick with SPF 30 or higher (and make sure you use it if you're sitting in front of the screen all day too).
So what does the ideal summer skincare routine look like?
Like I said earlier, it will be different from person to person, but here's one example of how it may look.
Cleanse to remove excess oils.
Keep your skin hydrated.
Exfoliate weekly for healthy skin.
Wear sun protection.
Avoid heavy makeup.
Drink lots and lots of water - it's the most underrated skincare ingredient.
Unfortunately, there's no one-size-fits-all skincare routine, but the main thing you need to remember is to adapt it for the summer months. That's the real secret to having a beautiful glow year-round!
What does your summer skincare routine look like? Let us know in the comments below!
Do you have a passion for nutrition & natural healing?. Learn more about the Food Matters Nutrition Certification  Program here.
ENROLLMENT & BONUSES CLOSE IN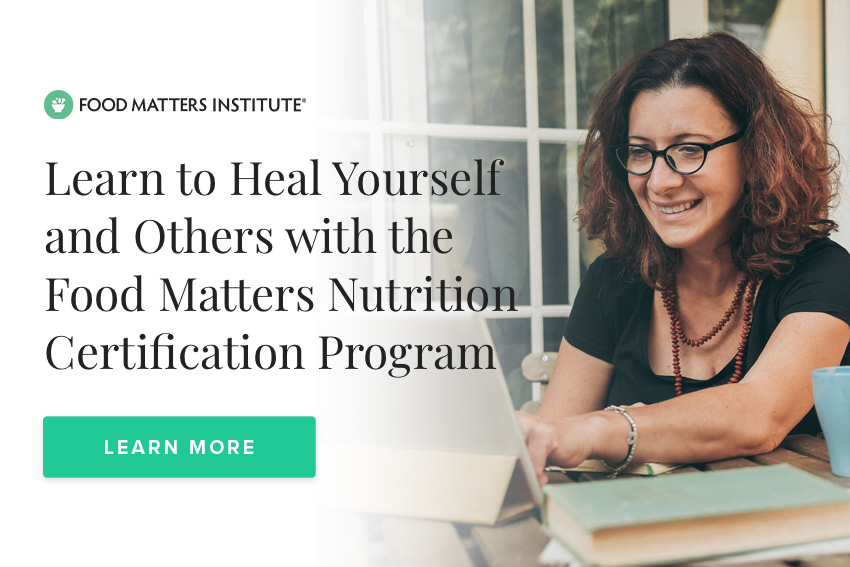 ---