Can Green Smoothies Transform Your Life?
Ever wondered what the green smoothie movement is all about?

Leafy fresh greens are incredible, they're healthy, they're edible! They are packed full of vitamins, minerals and anti-oxidants. And when blended into smoothies, they become easy to consume, making it possible to feed our bodies numerous servings of green goodness in one go. Now, that's rad!

As a huge fan (can you tell?) of these power packs of liquid gold, I can't say enough good things about them.

Which is why I am very excited to share with you this remarkable documentary, Powered by Green Smoothies, by Sergei Boutenko.

Having turned his own life around from one of unhappiness, sickness and suffering (the result of a poor diet as a young boy), Boutenko sets out to prove the unlimited potential of the green smoothie on health, with astonishing results.

Conducting the first experiment of its kind in the world, Boutenko enlists the cooperation of ten endurance athletes, who over the course of six weeks continue with their typical training and racing regimen, BUT FOR ONE MAJOR DIFFERENCE: the introduction of a quart (four cups) of green smoothie (consisting of leafy greens and fresh fruit) to their diet every day.

The outcome is extraordinary.

With a host of experts on board, including a professor, doctor and nutritionist, all are bowled over by the findings.

The green smoothies are seen to improve the athletes' endurance, increase their energy levels, speed up their recovery times, reduce their likelihood of injury and generally heighten their overall health. One participant even reports running further than a marathon without hitting the 'pain-barrier' wall he usually battles with, and still feels so great the next day, he goes for a 10-mile run.

In addition, a significant decline in the readings for inflammation (the marker of ill health) is noted, with many athletes impressively halving their pre-smoothie stats, feeling supercharged as a result.

With inflammation at the core of all health problems, including arthritis, obesity, cancer, Alzheimer's disease, diabetes, heart disease, depression, stress and even bad skin, this is a meaningful (and Boutenko believes, historic) discovery to the future of wellness.

"I am now beyond convinced that if you have any health problems, smoothies and whole foods can help you immensely," Boutenko confirms.

So, can the green smoothie transform your life?

After watching this movie, you will see the answer is a resounding YES. It's certainly a foodie miracle in my eyes. Watch and see for yourself.

Join us over at FMTV to see the full documentary, 'Powered By Green Smoothies'. No more wasting time scouring the internet for the latest film or obscure health doc. We've got you covered, bringing you the best of the best (and leaving the rest). Ever since we started Food Matters back in 2007 to heal my father, we became convinced about the power of real food and the body's own innate healing capacity. We saw firsthand that with access to solid information you can make better decisions for your health. It was through this experience that FMTV was born.

What's Your Go-To Green Smoothie Recipe?
Do you have a passion for nutrition & natural healing?. Learn more about the Food Matters Nutrition Certification  Program here.
ENROLLMENT & BONUSES CLOSE IN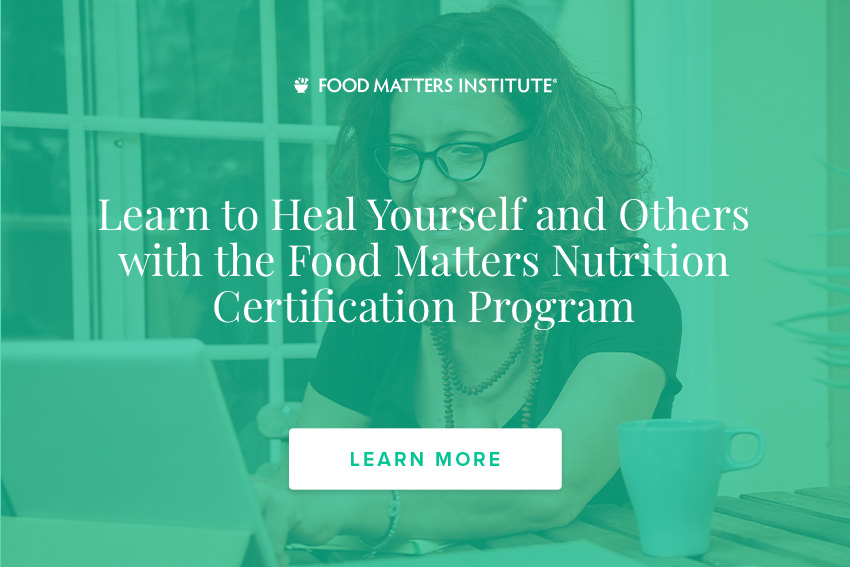 ---