COVID-19: How To Eat Healthily During Lockdown
The coronavirus outbreak has brought with it a number of health concerns – from the physical impact of the virus itself to the psychological impact of self-isolating on our own health and wellbeing.
But with gyms, leisure centers, parks, and fitness complexes currently closed, how can you ensure you're still in good health once the pandemic is over? Well, as with any health routine, a good diet is absolutely vital when it comes to staying in shape.
With this in mind, join us as we go through a few helpful tips and tricks on how to nail your diet plan, avoid snacking, and make the most of your time in lockdown.
1. Plan Your Meals
It may sound simple, but planning your meals in advance is probably the most effective way of keeping healthy while in isolation. After all, when you have no food in the house, it can suddenly become all too tempting to forget about the cooking and get a takeaway instead.
By planning your meals at the start of the week, you will not only keep these temptations at bay and save yourself some money, but you will also ensure your health doesn't suffer as a result either.
This should also help cut down on your level of food waste too, meaning you can effectively kill two birds with one stone – feel good while doing good as well.
2. Try A Food Delivery Service
With supermarkets currently under huge pressure to deal with an increased level of consumer demand, visiting your local Tesco, Sainsbury's, ASDA or Morrisons may now leave you with an overriding feeling of dread and a sudden urge to book in a massage.
Therefore, to remove this level of stress on both your and the supermarket's shoulders, rather than a massage, why not try a subscription food delivery service instead?
These services provide you with all the ingredients you need to cook fresh, balanced, and freezable meals. Better yet, they're delivered straight to your door, meaning you won't need to worry about lining up in any social distancing supermarket queues.
3. Make Healthy Easy-To-Freeze Meals
Another highly effective way of maintaining your health at home is by cooking and stocking up on recipes that are easy to freeze. Vegetable and protein-packed meals like stews, soups, curries, and chilies provide a great base and can be made in bulk for multiple dinners.
This will not only save you time in the long run, but it'll also mean you have spare food available when you run out of your day-to-day groceries. Here are some of our favorite freezer-friendly dinners.
4. Maintain Your Five-A-Day
Fresh fruit and vegetables may not be known for having the longest shelf-life, but ensuring you keep up with your five a day is vital. Even if most of the fruit and veg has been taken by the time you get to the supermarket, there are always ways to ensure you're getting the nutrients you require.
Tinned fruit like pineapple rings, mandarin segments, and sliced peaches each have a long shelf life and make a great addition to any well-balanced breakfast, lunch, or snack. Similarly, buying tinned and pickled vegetables can be a great way of ensuring you fill yourself up with healthy products instead of unfulfilling snacks.
Alternatively, if you'd rather invest in food that you can leave for weeks and months on end, frozen fruit and vegetables are packed with nutrients and are a refreshing addition to have in a lunchtime smoothie.
While we may be currently living in a highly uncertain time, there's no reason for your health to suffer as a result. In fact, keeping your immune system healthy is one of – if not the – best ways to combat the threat of coronavirus in the first place.
As our list above proves, with the right time and effort, keeping your health at the forefront of your mind can be a fairly effortless task. By calling on new resources and planning meals in advance, you can not only ensure your time in lockdown is put to good use but you may even come out of it fitter than you were before.
Take the stress out of cooking with 21-days of guided meal plans, shopping lists, and nutrition support. You'll find all of this, and more, in our signature Clean Eating Program.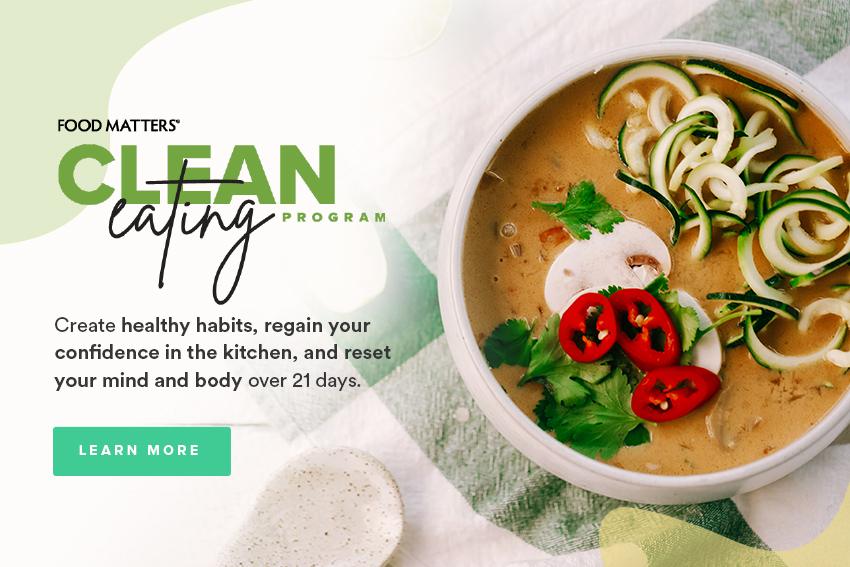 ---