Day On A Plate: The Hemsley Sisters
Late last year I had the absolute pleasure of chatting with the Hemsley sisters, Jasmine and Melissa, for an exclusive FMTV interview. When you meet them in person, you can see just how radiantly healthy they are. Which made me wonder - what do they eat to stay so healthy? What works for them?
So I asked! These girls are all about eating wholesome food, ethically sourced, and love returning to their Filipino heritage for recipe inspiration.
This month, they're about to launch their second cafe in Selfridges, London, and with such busy schedules, it takes proper nutrition to ensure that they're not burning out. So here's what they fuel up with each day to stay healthy and vibrant:
1. What Is The First Thing You Consume When You Wake Up?
Melissa: Water and lemon or a mug of Pep Up tea (cayenne, turmeric, ginger and lemon juice)
Jasmine: Hot water
2. What Does Breakfast Usually Look Like?
Jasmine: If it's the weekend, then something decadent like roasted bone marrow or sunnyside-up eggs or soft-boiled eggs. In the week, I like buckwheat porridge or banana bread - something I can take with me so I don't have to eat it while rushing out of the house.
Melissa: I love eggs in the morning, especially our huevos rancheros recipe which I have with guacamole on top. If I'm in a rush, I'll do a quick green smoothie with coconut oil or I'll have baked something on the weekend which I'll grab and go.
3. Favorite Way To Stay Hydrated?
Melissa: Pep Up tea (both hot or cold)
Jasmine: I love hot water and sip it all day - must have had a herbal tea overload at some point!
4. What's Your Go-To Healthy Pick-Me-Up? (Snack/Coffee/Green Juice?)
Melissa: I like a good coffee every now and then as I love the taste, but a matcha or turmeric latte and Pep Up tea (again!) In London, it's been really interesting to see everyone get into alternative hot drinks now after the coffee craze, and our mugs of miso bone broth at our cafe are really popular as a mid-morning and mid-afternoon snack.
Jasmine: Totally depends what's lacking! If I'm craving something creamy and sweet I'll go for a matcha latte or a Swiss water-processed decaf coffee at our cafe in London (caffeine plus work does not suit me - I save it for holidays). If I'm feeling sluggish, then ginger tea, lemon and hot water or a green juice. If I'm feeling a bit foggy from the night before or jet lagged, then I'll brave an umeboshi plum to wake me up!
5. If You Could Put Together The Ultimate Lunch Box, What Would Be In It?
Jasmine: Our beef, avocado and horseradish sandwiches on our homemade flax buns - our clients love these! Black seedless grapes, figs or cherries (my favorite fruits), Choc-beet fudge cakes, a spicy watercress and radish salad with olive oil dressing and a hot flask of tea. Maybe some unpasteurized goat's cheese if we're talking ultimate… and a bottle of red?
Melissa: A thermos of miso bone broth along with a leftovers lunch box - something like quinoa and roasted vegetables with a rocket (arugula) or watercress pesto, packed full of herbs and greens. I like something hot at lunchtime, as it's freezing in London.
6. How Do You Curb Those 3:00 pm Cravings?
Melissa: A Paradise Bar - the best seller in our cafe in London. It's a coconut, dark chocolate bar and it's divine.
Jasmine: A hot drink and then get up and walk around! If I'm actually hungry, then I'll tuck into almond cookies, or tamari seeds for something savory. And if I'm at home, I'll raid the fridge for leftovers.
7. If We Had You Over For Dinner And Were Serving Up Your Favorites - What Would That Look Like?
Jasmine: I think stews or curries work best - something you know you've perfected before guests start arriving and you get distracted from the job at hand with all the chitchat. We have an amazingly simple but punchy, creamy, Cambodian fish curry in our second book "Good + Simple". It's bright yellow and looks fabulous with fresh leaves and other colorful veg. I love chocolate, so our Chocolate Orange Bar with fresh clementine pieces to finish served on a chilled marble board with a knife so everyone can cut their own slices off while they sip on hot chicory or ginger tea.
Melissa: At the moment, I love spiralizing celeriac into spaghetti shapes (I think you call it celery root) then serving it with a beef ragu with chicken livers and parmesan cheese. Then probably our Paradise Bars for dessert as they are really easy to make and everyone loves them. Even people who say they don't like coconut like them!
8. Do You Have A Bedtime Ritual With Food? e.g. Don't Eat For 3 Hours Before Bed, Or Have A Glass Of Warm Water Before Bed.
Melissa: An early nourishing supper, laptops and phones away, and a relaxing tea (I like the lavender chamomile blends)
Jasmine: I start dimming lights quite early - especially in winter when it's dark outside, and candles set the mood. I eat as early as possible - if my friends and I want to go for a big dinner get-together we'll get a 6.30pm table so that there's plenty of time to enjoy and digest our meal (following the wisdom of our grandparents!). If I'm out until late at an event or party and haven't had a proper supper, then I'll have some bone broth and an egg yolk whisked in before bed so that I can sleep soundly.
9. Your Best Advice For Someone Starting To Eat Healthier?
You can do it! Take it step by step. First step, make a big pot of easy, nourishing soup using homemade bone broth as a base with your favorite veggies, herbs or spices, then freeze half for when you're really tired and don't want to cook. Then enjoy the rest during your busy week or take some to work. Its an easy, comforting way of getting the veggies in and being kind to your digestive system. It also doesn't require chef skills and reheats brilliantly. Make sure you have a stainless steel hot flask for soup at work and leave that microwave alone!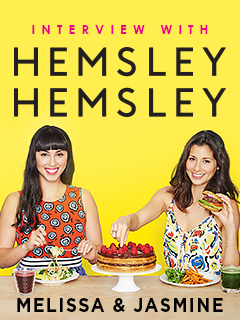 In this exclusive interview, you will discover:
How their heritage influenced their cooking style
Their journey to becoming best-selling recipe book authors
Mindful eating, listening intuitively to your body and finally forgetting 90's diet habits
How subtle changes in your eating habits can result in big impacts in your life
Their beauty secrets & extra uses for papaya skin
How you can repair by putting in good intention and actions
Hemsley sisters' responses to James' rapid-fire questions
Take the stress out of cooking with 21-days of guided meal plans, shopping lists, and nutrition support. You'll find all of this, and more, in our signature Clean Eating Program.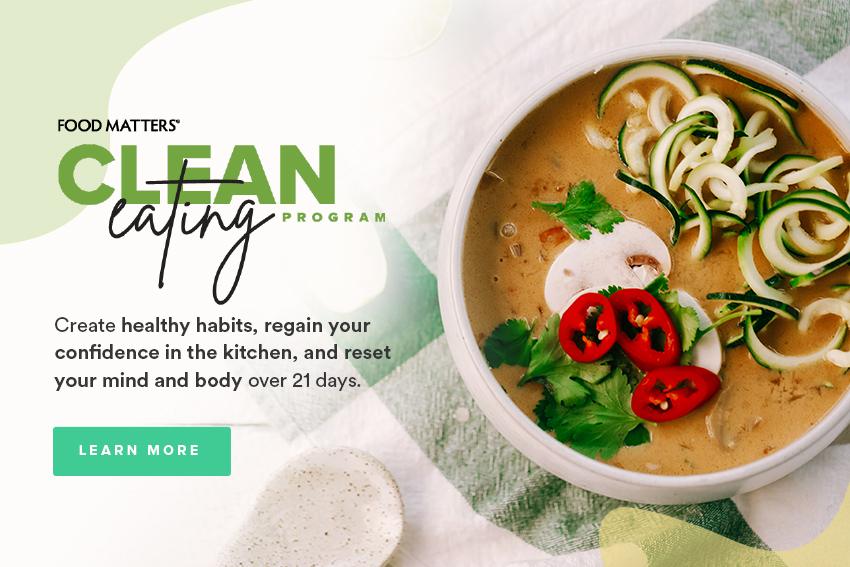 ---