The Food Trends To Watch Out For In 2022, According To Whole Foods
There's no health mecca quite like Whole Foods. As an ardent believer of 'food as medicine', and someone who just salivates over delicious foods, walking the aisles is like every good dream I've ever had. And that's the thing about a place like Whole Foods; not only do they provide you with everything you need and more, they also set the trends that let us know what it is we actually want.
Ahead of 2022 (which is scarily not too far off), Whole Foods have released their Annual Trends Report, giving us the insider scoop on what flavors, practices, and ingredients will be all over our shelves during the next year. And I have to say, I'm both surprised and excited. There's some old favorites (we're talking thousands of years) and new classics that are set to change the way we think about wholefoods.
Here are the food trends to keep an eye on this year.
1. Ultra-urban Farming
As many of us gravitate to a highly urban way of living, but a highly farm-to-table approach to food, this trend should come as no surprise. Many people living in cities are already seeing pocket farms pop up on their corner, and we can only expect to see more of this regenerative practice in 2022. Plus, it makes the city beautiful too - so it's a win all around.
2. Yuzu
The first of the flavor predictions, this citrus fruit is mainly cultivated in Japan, Korea, and China and has started popping up in more Western markets in the form of "vinaigrettes, hard seltzers, and mayos" according to Whole Foods. I'm personally a huge fan of anything yuzu right now, so this is a trend I can't wait for.
3. Reducetarianism
Here's one for the plant-curious crew, or those who dabble in the idea of veganism but aren't ready to commit. Instead of going cold turkey, Whole Foods anticipates that we're going to start taking a look at our eating habits with greater awareness, and we'll take slower steps towards eating a more conscious plate.
4. Hibiscus
My favorite kombucha flavor is hibiscus and galangal, so I couldn't be happier about this prediction - and I can't wait to see it on every shelf. The great thing about hibiscus, apart from the flavor, is the beautiful natural hue, so we can expect to see this as a natural food dye too.
5. Buzz-Less Spirits
Perhaps it's just an observation, but somehow in the midst of the world right now, people are actually drinking a lot less than they have before. And the market is adapting to meet that social shift. While so many of our outings still rely on alcohol as the glue to hold them together, there's now an emerging market for alcohol-free alcohol, so everyone can have some fun. We're even starting to see nootropic seltzers; alcohol-like drinks that boost brain cognition rather than impair it.
6. Grains That Give Back
This one's for the regenerative agriculture nerds again - but really it benefits us all. Slightly less self-explanatory, this trend touches on the way grain-based foods are cluing into their role in the ecosystem and growing more "via agriculture practices and farming processes that help address soil health," explains Whole Foods.
7. Sunflower Seeds
Look, sunflower seeds probably haven't had the credit that they deserve in recent years. They've been overshadowed by chia or cumin, but they're still awarded a spot in our hearts. But we're not just having them whole; they're in seed butters, milks, and even ice creams.
8. Moringa
Though it's been used in traditional medicine and Ayurvedic healing for thousands of years, Whole Foods Market is naming this superfood a key ingredient trend to look out for in 2022—beyond just supplements, particularly (like in bars and snacks).
9. Functional Fizz
Kombucha has been a hit for a few years now, and we've been dabbling a little in kefir too. Whole Foods thinks we should brace ourselves to see more of these drinks popping up on shelves. The report predicts 2022 will be the year people really start to reach for more functional beverages.
10. Turmeric
Where would we be without turmeric? Just when you thought we couldn't get enough, turmeric is predicted to boom even more on the food scene after a handful of years sweeping the wellness scene—specifically in "packaged foods like cereals, sauerkrauts, and even plant-based ice cream."
So there's a pretty resounding common theme among these predictions. People care about their health & wellness, and they care about looking after it in a way that's conscious of the world around them. Whether that's seeking out ethically-produced foods, looking for ways to tackle the climate crisis on their plates, or simply aiming to observe the world around them, I am here for it.
At the risk of calling it too soon, bring on 2022.
Get access to the entire Food Matters Film Library. Start watching here.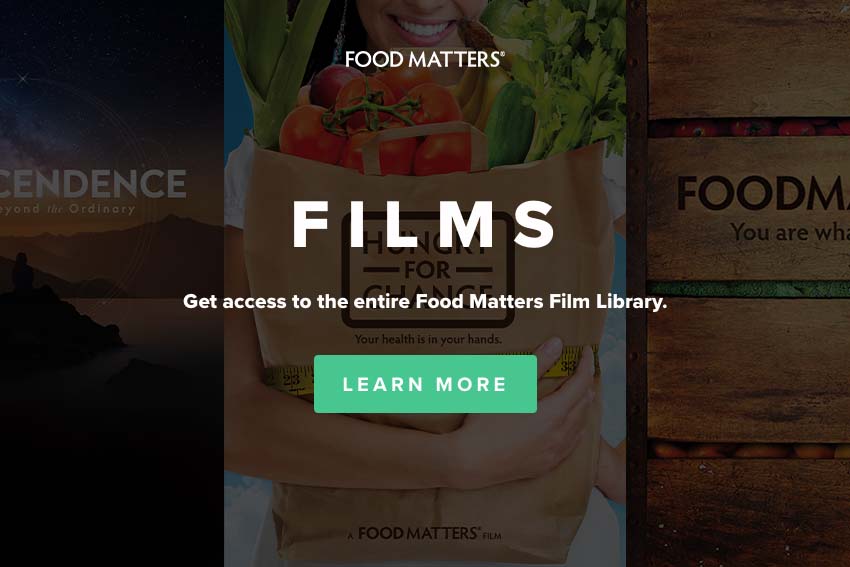 ---