From Hashimoto's To Health
Last week we received a message from one of our Food Matters TV community members.
Jacqui, pictured above, has shared her journey from a place of ill health, ailed with hormone-disrupting conditions, to a place that is clearer, lighter and stronger. It's people like Jacqui who continue to inspire us and we hope that her story inspires you, too. With her simple approach to healing, where there are no tricks, gimmicks or fad diets, Jacqui has turned her life around using the Food Matters TV resources as a tool for change.
Here is Jacqui's story…
I wanted to share with others who are struggling to adopt a healthy lifestyle. Over the years I put on a lot of weight due to having Hashimoto's and hypothyroidism as well as unforgiving, unhealthy eating habits.

The weight and having Hashimoto's had a big impact on my health. I got to a point where life just became a struggle and I had to make a change.

I adopted a mostly plant-based diet (with occasional fish), gave up foods that I had developed sensitivity to including dairy, soy and gluten.

I also gave up fast food, junk food and almost all processed food. I added exercise. At first, just walking and then in the last 6 months I added in yoga, running and weight training. I feel better than I have in years and I have now lost just over 100 lbs.

I hope I can inspire others (especially those with hormone imbalance) that it is possible with patience and healthy changes. I have about 10 more pounds to go. This year's goal is to become very fit and hopefully help others.

Thanks FMTV for guiding and inspiring me on this journey! - Jacqui.
-------
We feel honored to share Jacqui's story and hope her words resonate with you. By taking small steps, being determined and having the access to resources to educate yourself on healing - you can take control of your life and live abundantly in health.
Take the stress out of cooking with 21-days of guided meal plans, shopping lists, and nutrition support. You'll find all of this, and more, in our signature Clean Eating Program.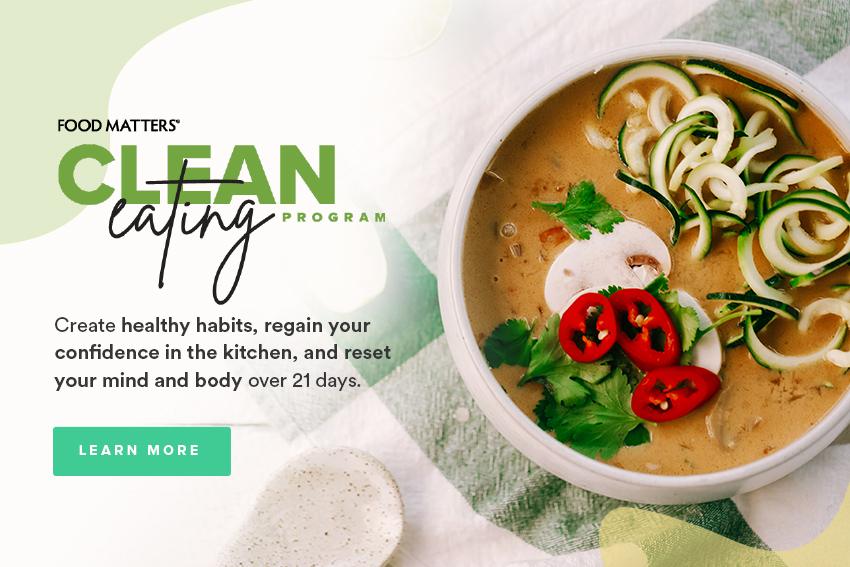 ---