Set Yourself up for Success with These Healthy Meal Prep Hacks
There are two kinds of people in this world; devoted meal preppers, and those who just take each day as it comes. I know this because I have been both. In fact, I spent most of my life just making up meals each day, but as I recognized specific dietary goals I needed to hit, the fact that I was spending outrageous amounts of money on daily supermarket shops, and sometimes just forgetting to eat altogether, meal prepping quickly became my secret weapon.
Sure, meal prep takes a little time out of my Sunday routine, but it's saved me that time (and more) throughout the week as I stress less about foods and actually enjoy my evenings. But before I show you how to set yourself up for success with these healthy meal prep hacks, you should know a little more about why I started meal prepping.
Some may see it as an activity for gym devotees or those on restricted diets, but I'm someone who's actively trying to break away from those habits by eating nourishing meals, three times a day. I also cook for myself, meaning that I get tired of making elaborate meals for a single-serve each evening. Lastly, as I limit my meat intake, I often forget to ensure I get enough protein in my diet. Taking some time to consciously prepare my meals ensures that I'm eating the healthiest dinners for me.
So how do I do it? These are my meal prep hacks that make time in the kitchen so much easier.
1. Start With The Staples
As a self-proclaimed eco-nerd, I'm a huge advocate for the package-less pantry. Not only does it look aesthetically pleasing and limit your soft plastic usage, but it also ensures you've got every grain, legume, seed, or spice on hand that you need to make your meals delicious and nutritious. That way, you only need to purchase fresh produce (or sometimes proteins and dairies) each week and top up your jars as required.
2. Invest In Some Good-Quality Containers
Speaking of jars, does presentation play a role in the meals you eat? For me, it definitely does, and investing in good quality glass containers (that stack on top of each other) have made my meal prep a dream. That way I can see and date exactly what's in each, and it's always a beautiful surprise to peek into the fridge.
3. Plan Your Weekly Meals Ahead Of Market Day
Not only does this make your meal prep easier, but going to the markets with a solid (but seasonally flexible) list of ingredients you need, ensures you're not going over budget and there won't be an abundance of food waste at the end of each week.
4. Take A Few Moments To Dice & Prepare Produce
This is a trick I learned from our incredible Head of Community Nadine (seriously, she can do no wrong). When unpacking your bags from the farmers market, take some time to prepare your foods for longevity. This may mean storing fresh herbs and leafy greens in damp paper towels or dicing carrots to keep in jars of water, but if you can take the extra step now, it'll make the cooking process much easier too!
5. Where Possible, Make Extra To Freeze (Trust Me, They'll Come In Handy On Busy Days)
With meals like lasagne and casseroles, I typically double the recipe. You don't have to, but if you have a little freezer space it can maximize your efforts and ensure that there's always a healthy meal in the house to come home to. Plus, for those weeks when it feels like you're eating the same dish for days on end, a homecooked staple can add variety to your weekly routine. Be warned though, it can get addictive and you may need to invest in a chest freezer to keep in the garage.
6. Turn Leftover Veggies Into A Hearty Soup
From time to time, we all crave a hearty bowl of soup, and it can be fuss-free too. With a simple stock or a tasty broth, I like to dice any vegetables that need using from the last week and create a big batch of soup (with some onion and garlic of course). You can use this for the meals you're making each week, or you can count it as an extra and freeze it for those busy days or when sickness calls.
7. Set Aside Some Time On Your Sunday
Cooking for the week ahead may seem like the last thing that you want to do on a Sunday afternoon, but with time it will become almost a meditative exercise where you can prepare for the week ahead. That way as Monday morning comes around, and it's time to head to the office (or the home office), you'll have everything ready for the week ahead. That way you can spend your evenings reading a book, running a bath, or doing something that you really love.
8. Now Cook!
Here's the fun part, cooking. You can browse your favorite recipes over in our Food Matters library, or take inspiration from our signature Clean Eating Program.
We always love hearing about your recipes, and getting new ideas for our own kitchen. So take some time and let us know your favorite dishes to meal prep in the comments below!
Do you have a passion for nutrition & natural healing?. Learn more about the Food Matters Nutrition Certification  Program here.
ENROLLMENT & BONUSES CLOSE IN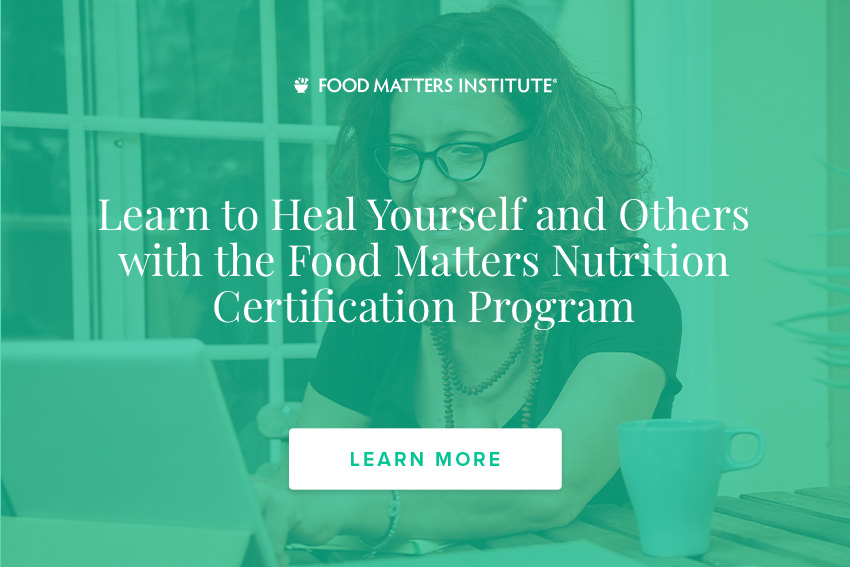 ---