How To Keep Your Kids Happy, Busy, and Healthy when School Closes
We all know that young minds need stimulation, whether in the school grounds or when they're at home alone. The prospect of schools closing is a daunting one for many parents, whether we're able to take our work home or not, but we can choose to see this as an opportunity to spend time with our children and provide them with a holistic education for a moment in time. Like a rainy day, it's not long before cabin fever sets in, and boredom turns to temper tantrums, so for everyone's sanity, it's important to keep your kids happy, busy, and healthy.
1. Make a Daily Schedule & Involve Kids in the Process
While it's easy to slip into holiday mode with the kids at home, ensuring there is a loose structure to your days will make this ship run smoothly for everyone. When making a schedule, it's important to involve your kids in the process and let them know why you're doing it. Much like a morning routine, try to include activities they want to do and ask them for new lessons they hope to learn.
2. Teach Them Something You Already Know
It doesn't need to be straight-and-narrow classroom tasks, but young minds are thirsty for new knowledge. If the time allows, you could try to teach the children the language of your ancestors or your birth country, or teach them about (and ask them to present on) your own family history. English classes can become opportunities for creative writing; think poetry, chapter books, or short stories. Make your life, your curriculum.
3. Get Creative in the Kitchen
If you are a family of food lovers, take this opportunity to encourage your kids to get creative in the kitchen. Our original series, Kids in the Kitchen, is a curated collection of recipes for any age. If you've got a craving for baking, try making something with this home-made natural food coloring recipe. Once your kids have picked up their newfound skills, ask them to make a healthy lunch for everyone, and set the table while you take the opportunity to get some work done.
4. Teach Life-Skills You Always Wished You Knew
How many times have you thought to yourself, "I wish someone taught me that when I was younger…" Now's the chance to make sure your kids know. Depending on their age, interests, and understanding of the world, make learning about sewing buttons, changing car tires, taxes, and how to vote, a fun experience that they'll be equipped with for life.
5. Encourage Daily Movement for Healthy Bodies & Minds
Gym class might not be in session, but we can still get the heart-rate pumping at home. Have a boogie together, or encourage kids to choreograph a dance to perform after dinner. Kick around a ball together after lunch and get the little ones to join you for a morning yoga flow. Cabin fever can set in quickly, so getting up and moving around will help to break up the boring bits. Plus, movement is always good for your mind, body, and soul.
6. Set A Screen-Time Schedule
It can be easy to give in and let the little ones sit in front of a TV or iPad all day, but eyes go square, and minds go numb. That's not to say ignore technology entirely; allocate your kids a screen-time allowance each day, and let them choose how they wish to spend it. Also, invite them to watch the news with you in the evenings every once in a while, ensuring it is from an ethical source, so they can use this time to gather a deeper understanding of the world around them.
7. Get Muddy in the Great Outdoors
Self-isolation doesn't mean solitary confinement. Spend as much time taking in the fresh air, out in the garden, or enjoying the views from your balcony as possible. Bring the classroom lessons to the great outdoors, or make the lessons the great outdoors. Earthing has such a positive effect on any mind, absorbing all of the negative energies into its core. Where possible, plant a veggie patch or an indoor herb garden, and task the kids with looking after the plants.
8. Become A Bookworm
Days are best spent losing yourself in a good book. As a child, I would devour new books on the way home from the library, and eagerly tell my mum all about the new characters over dinner. Reading is a wonderful way to stimulate creativity in young minds. Read stories together, or dig out some of your favorite childhood books for them to read. Talk about what they mean and even ask them to prepare a book review for you to read.
9. Embrace the Crafternoons
Creativity comes in many different forms, and pouring our energy into a project always makes us feel good. Crack out the craft supplies and let your imagination run free. Try making the most of what you have around if you're shy on resources; a textured artwork with dried leaves or a flower crown with beautiful blooms… Let creativity be the teacher.
10. Listen To Their Needs & Adapt Accordingly
Like you and I, children too can suffer from stress and anxieties, especially considering the global state of panic. They may not understand the severity or implications of what this epidemic means, but they know how it makes them feel. Offer support, cuddles, understanding, and answers where you are able to give them. Your children will respond to your intuition and gentle guidance, let them do the same for you. Just remember don't try to be their teacher, you are their parent and you are guiding them through these uncertain times.
Do you have a passion for nutrition & natural healing?. Learn more about the Food Matters Nutrition Certification  Program here.
ENROLLMENT & BONUSES CLOSE IN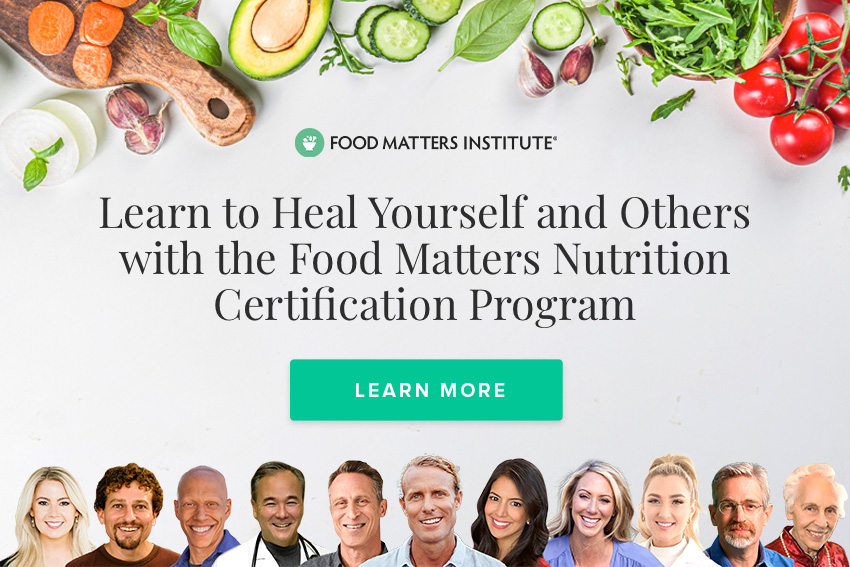 ---