How To Make Your Own Natural Food Colouring at Home
There's no denying that brightly colored food is more fun to eat, and undoubtedly more delicious. Yet as we start to learn the ingredients that make our foods these beautiful colors, some stomachs may start to turn. Traditional food colorings used in everyday foods are often derived from petroleum and coal tar, are manufactured in test tubes with harsh chemicals and don't contain a single nutritional benefit. It's alarming, to say the least.
But with the kids home on school holidays and time to be spent creating in the kitchen, we've found new ways to get our food every color of the rainbow while bringing even more veggies onto our plates. Here are our tried and true ways to make your own natural food colorings. And when we say natural, we mean as nature intended.
Red
Have you ever tried to de-seed a pomegranate for a salad or cake and ended up with blood-red fingertips? Now you can harness the natural dye for good. Pomegranate seeds make the perfect red food coloring. Traditionally, red is one of the artificial colors most associated with irritation and carcinogens, but by simply using pure pomegranate juice, you'll have healthy and exciting food at your fingertips.
Orange
Use your favorite cold-pressed juicer to extract the goodness from the brightest carrots you can find at the market. Try to resist drinking your freshly squeezed fruit juice, and bring to the boil with 1 tbsp of paprika and 1 diced and peeled orange sweet potato and ½ a diced and peeled beetroot. Once the sweet potato is tender, let the mixture cool and place into a blender. Store this mixture in an airtight jar in your fridge for up to two weeks, but remember to use this color sparingly as the flavors can be quite intense.
Yellow
We all know how much turmeric stains; from benchtops to our favorite white tops, but we love it anyway. This spice has been praised for it's healing properties, so it only makes sense to include it into our natural dye dispensary. Simply boil ¼ cup of water with ½ tsp ground turmeric on the stovetop for 5 minutes. Allow to fully cool before storing in an airtight glass jar in the fridge for two weeks.
Green
The most potent (and iron-rich) green of all makes the most vibrant color for food. By simply using 1 cup of fresh spinach, boiled for five minutes and blended with 3 tbsp of water, you'll have a mixture to make Popeye proud. You can strain the blend if you wish, but those extra little lumps are a good source of dietary fiber! Cool the mixture and put it into an airtight jar. Your natural green coloring will keep for up to two weeks in the fridge.
Blue
It seems counterintuitive, but the best blue comes from red cabbage. Shred 1 cup of the vegetable and bring it to the boil with 4 cups of water. Once reached a rolling boil, reduce the heat and simmer for 15 minutes. Once cool and strained, add 2 tbsp of white distilled vinegar. This dye is great for homemade Easter eggs, known for turning brown eggs into a lovely shade of blue. In an airtight glass jar, this blue dye will keep in your fridge for two weeks.
Purple
An antioxidant delight, loaded with beautiful natural sugars to add as a sweetener to any baking. Blueberries make the perfect purple. Simply blend ¼ cup of blueberries with 2 tbsp of water, strain the skins (and save these for another baking project) and store in the fridge in an airtight jar for up to two weeks.
Pink
In your favorite high-speed blender, mix up ¼ cup of canned (BPA-free) or fresh, lightly steamed beetroot, with 1tsp of its own juice. Strain, pour into a glass jar and store in your fridge for up to two weeks.
Have you tried making your own food coloring at home?
Let us know in the comments below!
Do you have a passion for nutrition & natural healing?. Learn more about the Food Matters Nutrition Certification  Program here.
ENROLLMENT & BONUSES CLOSE IN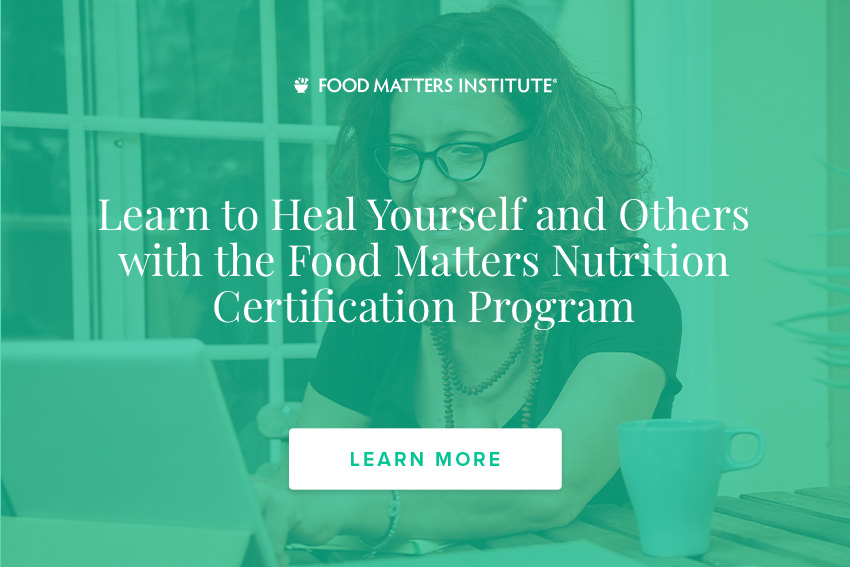 ---