How to Make Desserts Low in FODMAPs
Do you have a sweet tooth or like to enjoy an occasional sweet every now and again? If you have Irritable Bowel Syndrome (IBS) you may or may not have noticed that some sweet foods trigger symptoms. Those triggers could be FODMAPs, which are short-chain carbohydrates made up of sugars and fibers. The most common FODMAPs found in sweets are:
Lactose (Disaccharides) found in milk (ice cream, pudding, milkshakes), milk and white chocolate, custard, buttermilk, sweetened condensed milk, excess fructose (Monosaccharides) found in honey, agave and fruits like apples, cherries and figs (and a few other fruits), sugar alcohols (Polyols) found in sugar-free confectionary and other sugar-free products, as well as fruits such as apples, blackberries, lychee and nectarines (and more fruits).
Many of the FODMAPs listed above are ingredients utilized in desserts in different cultures across the globe and there's nothing wrong with these FODMAPs; they only pose a problem at the completion of the low-FODMAP diet if they still play a role in an individual's symptoms of IBS.
If you've learned about the low-FODMAP diet which is an elimination diet, which you can read about here, you know that during the Elimination Phase you are to avoid foods that are high in FODMAPs and that after you've completed the Rechallenge and Reintroduction Phases, you should have a better understanding of the foods that may be triggering symptoms.
So until you've completed the diet and know for sure your personal food triggers, you'll need to be creative and be open to learning how to make healthier desserts!
Low-FODMAP Sweet Swaps
Swap honey for maple syrup
Swap cream for coconut milk
Swap carob powder for raw cocoa powder
Swap 1 cup sugar for 1 cup mashed ripe bananas 2-3 tablespoons water (add more if needed for a smooth consistency); puree until smooth
Low-FODMAP Desserts, Cakes and Cookies
Listed below are a few sweet ideas that are low in FODMAPs, based on the ingredients used and serving sizes.
I Want Nice Cream!
Perhaps one of the easiest low-FODMAP desserts to make at home is "nice cream".
This is where a blended frozen banana takes place of traditional, milk, cream-based and sugar loaded ice cream (not to mention other processed ingredients that you probably could do without).
All you need to do is freeze a ripe medium sized banana and once frozen, remove the skin and blend. Enjoy as is or you can blend the banana with low-FODMAP ingredients such as the traditional and creative add-ins listed below.
Be Sure To Pay Attention To Low-FODMAP Serving Sizes For All Add-Ins
Dark chocolate
Cacao or cocoa powder
Coconut, hemp, almond or rice milk
Unsweetened shredded coconut
Walnuts, macadamia nuts, peanuts, almonds, Brazil nuts, pecans, pine nuts
Nut butters – peanut, almond, sunflower
Chia, poppy, pumpkin, sesame, sunflower seeds
Cinnamon, Curry powder (onion and garlic free), Nutmeg, Turmeric
Maple syrup
Strawberry jam (no added FODMAPs like HFCS, apple or pear juice)
Brown, palm, raw, white sugar
*Note –1 medium banana counts as one low-FODMAP serving of fruit and one serving of fruit per sitting is part of the low-FODMAP diet protocol. If you want to add more fruit, you would need to use half of a banana and half of a low-FODMAP serving of another frozen fruit. Some examples: 10 blueberries (20 is one full serving); 5 chopped strawberries (10 is one full serving); ½ cup chopped pineapple (1 cup is one full serving).
Chocolate Chip Cookies
Swap out regular ingredients for FODMAP friendly ingredients such as:
King Arthur Gluten Free Multi Purpose Flour
Bob's Red Mill 1-to-1 All-Purpose Gluten Free Flour
Namaste Gluten Free Perfect Flour Blend
Use alcohol-free vanilla extract
Replace milk chocolate or white chocolate chips with dark chocolate chips
Here Are Some Other Healthy Tips And Suggestions For Your Chocolate Chip Recipe (Not Low-FODMAP Protocol)
Use turbinado sugar and light brown sugar
Replace canola oil, vegetable/soybean oil or corn oil with pure coconut, sunflower or safflower oil
Replace eggs with flax eggs
Use half the amount of dark chocolate chips and add in chia seeds and low-FODMAP nuts for some extra omega3s and healthy fats
Oats are another great add-in as long as you know they do not trigger symptoms. Remember a ¼ cup dry is one low-FODMAP serving per person
Mug Cakes
Mug cakes are one of the best inventions because you can have a small delicious serving of cake in less than five minutes. Try this low-FODMAP version.
Ingredients
3 tablespoons King Arthur Flour Gluten-Free Yellow Cake Mix*
1 tablespoon organic canned pumpkin puree
1 tablespoon water
½ teaspoon organic pumpkin spice
2 drops liquid vanilla stevia
1 tablespoon coconut whipped cream
1 organic dark chocolate square
*The yellow cake mix above appears to be low in FODMAPs as no high-FODMAP ingredients are listed on the label. Always read labels to ensure no high-FODMAP ingredients are used in any packaged products that you buy.
Directions
Lightly grease a microwave-safe mug with butter or oil.
Add all ingredients into mug and stir well until combined and smooth.
Microwave on high for 60 seconds or until cake rises to top of mug. Some microwaves may require more time.
Top with coconut whipped cream.
Nutrition per serving:
Calories 194/ Fat 11g/ Sat fat 6g/ Sodium 124mg /Total carbs 23g/Dietary fiber 2g/Sugars 2g/Protein 2g
Enjoy your sweets and when in doubt, choose whole fruit or nuts for dessert!
What Are Your Favorite FODMAP Friendly Desserts?
Take the stress out of cooking with 21-days of guided meal plans, shopping lists, and nutrition support. You'll find all of this, and more, in our signature Clean Eating Program.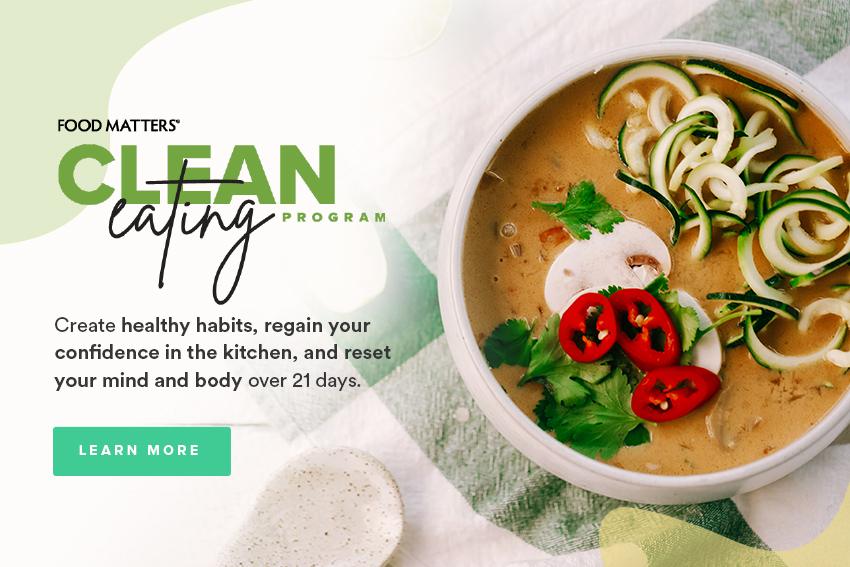 ---