One Nutritionist's Top 3 Healthy Non-Negotiables and Tips for Transformative Health
Wellness knowledge is a good thing to have - if you're putting it into practice. In this interview series, we get up close and personal with our FMTV members; finding out their insider wellness hacks and hearing the advice that has resonated with them. Ruth is a nutritionist from the United Kingdom, who has found her new family within the FMTV community. She can't wait for the next installment in the Transcendence series and shares her favorite smoothie hacks below.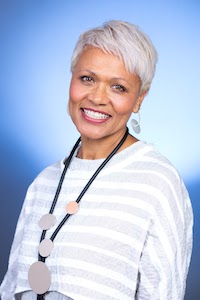 How do you like to start your day?
Ruth: I like to wake early. This gives me time to make a cup of hot water with a thick slice of lemon or lime and mint leaves, and center myself to set my intention for the day. To be honest, a practice I added after joining FMTV, is to spend the first few moments taking five deep conscious breaths and expressing gratitude for the moment and the day ahead. After an early morning workout at the gym, I'll walk and feed the dogs, then make my breakfast and start work. So I don't even look at my smartphone for the first three hours of the day!
What are your top 3 healthy non-negotiables?
Ruth: That's an interesting one – to me I've learned (and continue to learn), that health is more than what we put into our bodies – I think that it's also about calming our minds, as well as aligning with our spirit. So I guess I would have to say my commitment to myself is optimizing nutrition, avoiding processed foods (and so limiting processed thinking… or toxic thoughts, and in turn toxic relationships), trying to calm my mind and finally giving attention to the spiritual.
What is the one healthy habit that has changed your life?
Ruth: I would have to say realizing that the value and benefit of good nutrition and a positive environment, has far-reaching consequences to and how we experience life and health. You see, I believe nature has already provided us with the information and the instruction our bodies need in order to function (consequently opening up doors to experience other levels of consciousness as it were) with ease and at it's best. For example, I think about the wide range of amazing colors that come from fruit and vegetables – providing phytonutrients (which deliver antioxidants, reduce inflammation, are anti-aging, etc.)… there's the magic – it's like filling your car with the right fuel for smooth and efficient running. So healthy eating is my habit.
What's your go-to, nourishing meal when you're low on time?
Ruth: I always have a range of frozen soups and broths in the freezer, or a quick vegetable stir-fry if I don't fancy soup but am running low on time.
Where do you call home?
Ruth: Geographically, I live in the United Kingdom but as I enjoy travel, emotionally and spiritually home to me is wherever I am surrounded by those I love and who love me!
How long have you been a part of the Food Matters community?
Ruth: I'm a newbie and have only been a part of the community since the middle of October last year. I'd been aware of Food Matters for some time but was not in the right 'place' to fully appreciate and enjoy what the community has to offer.
What's your motivation to be healthy?
Ruth: I believe that despite living longer, we are not necessarily living 'better' as it were. I love the idea of becoming the best version of myself and having made a whole load of mistakes in the past, I want to be able to completely experience the next part of my life as fully and as completely as possible. I fancy an optimized life, not an adequate life.
How would you describe your eating style?
Ruth: I have learned to listen to my body, so my eating style is flexible – I'm mostly vegan/vegetarian, though enjoy meat and fish when the mood arises.
Would you describe your community as health-conscious?
Ruth: Yes, my community is health-conscious – and if I extend that out a bit more, most of those I mix with are certainly aware of the relevance and importance of good health, but perhaps are on a journey of finding out what works best for them given their individual and personal set of circumstances. It can be quite challenging sometimes, as there is so much conflicting and confusing information out there!
How do you stay motivated to stay healthy?
Ruth: Oh, that's easy… when you've put in the effort to make the transition from feeling exhausted all the time or inflamed or depressed, and you've put work into moving away from that – once you know what it feels like to wake up and feel refreshed, with reduced or no inflammation, with clarity of thought and a sustained energy level throughout the day – you REALLY don't want to go back to where you were before. Why on earth would I want to keep repeating that cycle? That's my motivation for staying healthy - it feels like such a great place to be.
What is your go-to breakfast?
Ruth: I have a nourishing smoothie – it's very easy and quick to prepare, as well as portable when the need arises! Homemade smoothie, not shop-bought! For those of us who are stuck for time, I have found that this is also a great way to get a filling and nourishing meal on the go!
What is your favorite film on FMTV?
Ruth: Few of us go through life without experiencing some form of trauma, shock, or period of sustained stress. FMTV has a fantastic range of informative documentaries, but the one that struck the biggest chord so far would have to be the Transcendence docu-series – that was a game-changer for me. I loved the breadth of issues it covered as well as thought-provoking ideas and suggestions for a different and better outcome. I am really looking forward to the next one.
Do you supplement?
Ruth: Yes – for a couple of reasons – I truly believe that as hard as we try, it is difficult to get the complete level of nourishment we need from our food alone given modern farming methods and the decrease in available nutrients from the soil. As a nutritionist, I have a special interest in nutrigenetics and nutrigenomics, and have found that for me, some of the genetic SNPs I carry mean that there are some areas I need a little bit more support than I would otherwise get from my food alone.
What's your biggest takeaway after joining FMTV?
Ruth: To me, FMTV feels like family – with a huge range of personalities and lessons that we learn from each other. I love that the community is receptive, accepting, and well-intentioned. It's somewhere to find answers to some of the questions you might have – or at least be pointed in the right direction. I am so, so grateful to James Colquhoun and Laurentine ten Bosch, and the FMTV team for providing an accessible platform where we can all learn and grow.
What is your favorite dinner that's on the menu most weeks?
Ruth: I like to close the day with the lightest or least work-intensive meal that also minimizes the demands on my digestive system. So, as a rule, it tends to be a nourishing and varied salad with a warming home-made soup (especially at this time of year!)
What's your favorite piece of content on Gaia?
Ruth: Crikey – there is so much to choose from, but I am currently working my way through (and thoroughly enjoying, I hasten to add), Rewired, with Dr. Joe Dispenza.
Are you a meal prepper? Or do you cook daily?
Ruth: I'm actually a bit of both – I love to spend time planning and preparing the weekly menu and batch cook at the weekend. To me, cooking is a wonderfully meditative experience. I pop some soothing music on to play in the background and focus on the experience of preparing each meal. Once I've created my batch, into the freezer it goes – now there is a series of ready meals available to suit the mood and the occasion.
Ruth: Inevitably though, given the demands of family life, there is some meal prep on a daily basis, but this is more about putting something together that's quick and easy such as a stir-fry, which my son loves!
What are your weekly staples in your grocery cart?
Ruth: Definitely a wide range of fruit and vegetables including garlic, ginger, fresh turmeric, spices, and grass-fed/organic meat.
Do you have a trade secret healthy eating hack?
Ruth: I tend to freeze the fruit and veg so I have a ready supply available when I want. Pop what is needed into the processor to defrost overnight. Kale, spinach, and avocado freeze beautifully for example. In the morning it's just a matter of adding personal supplements and quality protein powder, water, whizz and we're good to go! Ready in three minutes or less. I find this takes the time pressure out of getting the smoothie ready in the morning. Nuts and seeds make a great, and portable snack, and hydrate. Water is a great way to re-energize.
What's your daily non-negotiable? Meditation? 1L of water straight up in the morning…
Ruth: My daily non-negotiable would be a mug of hot water, honey and lemon to signal the start of my day, and a mug of non-dairy, golden milk prepares me for the end of the day. I'm currently learning to meditate, and have great ambitions to be able to meditate for at least an hour a day every day – that's my goal!
With so many inspirational health and wellness documentaries, guided programs, recipe series, and meditation and yoga classes at your fingertips, you too can have a positive transformation and share this life-saving information with those you love. Click here to learn more about joining the FMTV Community.
Take the stress out of cooking with 21-days of guided meal plans, shopping lists, and nutrition support. You'll find all of this, and more, in our signature Clean Eating Program.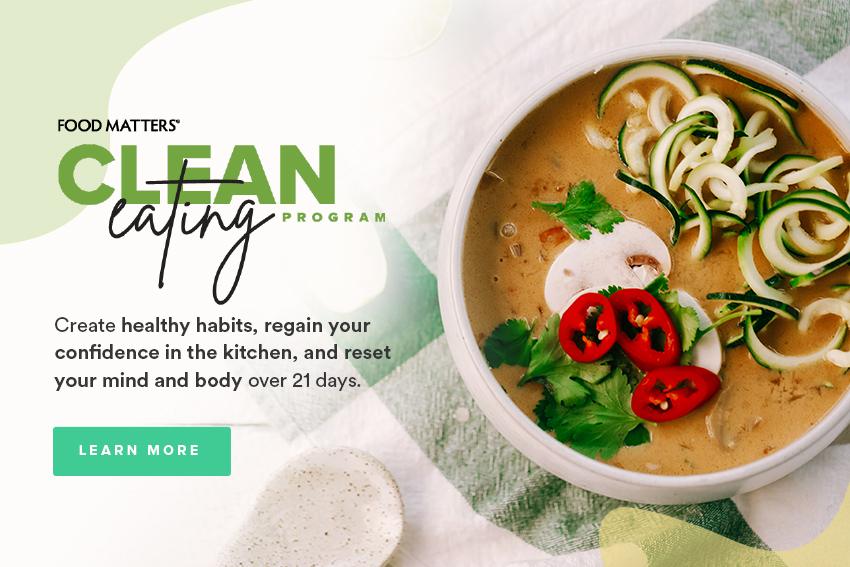 ---