Our Biggest Announcement Is Here
FMTV Has Found a New Home
We've got some big news that has been a long time coming - and we can't contain our excitement!
In 2020 our streaming channel FMTV is joining forces with Gaia to create the largest transformational media network in the world.
One subscription, two channels, over 9,000 titles, and the world's largest transformational streaming library.
As of today, all FMTV members will get access to both platforms (not a member? - sign up here). And from 2020 onwards, both channels will collectively host the world's largest library of inspirational films and documentaries, yoga, meditation, and exercise classes, recipe programs, and original series programming.
From the Beginning...

From the beginning, with the release of Food Matters, our first film in 2008, then Hungry for Change in 2012, and then FMTV.com in 2014, our intention has always been to help this content and this message reach more people.
Food Matters was born out of frustration and a desire to help my father heal. After he was successfully able to get off six different medications, shed 50 unwanted pounds, and get his life back on track, Laurentine and I set about taking this life-saving message to more people.
What emerged out of countless stories of transformation, hope, and "beating the odds" was something we never saw coming… that food was not the end of the healing journey, it was the beginning. The beginning of an opening, an awakening, and of an exploration into deeper components of healing.
That lead to the creation of our latest docu-series Transcendence, which went deeper into the mind and body than we've ever been before, including emotions, beliefs, meditation, purpose, fulfillment, happiness, and what it means to live a truly healthy life.
And through this journey, FMTV became more than just a streaming channel. We found that streaming channels don't have to just be an intake of films and shows (Netflix, Disney, and Apple can have that), but can actually bring people into more like-minded communities that are seeking to live more consciously, working toward the same goal to impact their health and the world for the better, all while transforming their lives.
Our community is filled with people that are changing the world, whether through their healthy lifestyle or their commitment to seeing the world changed for the better through conscious decisions and seeking a conscious mind. The inspiring and hopeful stories are endless and are creating a ripple effect that we are so honored to be a part of, including that of Jeff and Christine.
In that search for the next step in our collective communities journey from food to total mind-body healing, for conscious content that nourishes the mind, for great meditation series and mindfulness practices - we kept being ultimately lead to one channel… Gaia, the largest conscious media platform in the world.
And that's where things started to get exciting.
Gaia, like FMTV, is a streaming platform with a very similar shared mission and ethos - their website puts it well, saying that they are a "member-supported media network of truth-seekers and believers empowering an evolution of consciousness."
Gaia has over 8,000 transformational titles relating to emotional healing, finding happiness, and expanded consciousness; including the world's most expansive yoga and meditation libraries, and amazing original programmings, such as Rewired with Joe Dispenza, Inspirations with Lisa Garr, The Healing Matrix with Sue Morter, and Missing Links with Gregg Braden. And all of this exists on an elegantly powerful technology platform that makes the experience for the member seamless.
So here it is - the largest conscious health, wellness, and transformation media network in the world… introducing:
FMTV on GAIA!

This joining of forces opens up endless possibilities for the FMTV members to truly round out their transformational journey - transforming mind, body, and spirit. Members will now get access to both channels until the end of the year. One subscription and two channels. From 1,700 titles to over 9,000 titles on health, wellness, transformation, and more.
Then as of early 2020, FMTV will move completely over to Gaia. And combined with their premiere technology and capabilities, such as having multiple profiles on one membership, being able to play content offline, and even the ability to share free content with family and friends, this message will continue to reach more people.
Additionally, Gaia has rolled out live access streaming events that bring in leading experts in health, nutrition, transformation, and consciousness to their Gaia Sphere Event Center. These events stream live for a few days and can be accessed by those with a live access membership.
The ceiling that once existed for content on FMTV has been lifted, and with FMTV on Gaia, the possibilities for transformation and insight are endless.
I hope you enjoy this as much as we are. You can find out more about FMTV on Gaia here.
xo James, Laurentine, and the Food Matters team.
Do you have a passion for nutrition & natural healing?. Learn more about the Food Matters Nutrition Certification  Program here.
ENROLLMENT & BONUSES CLOSE IN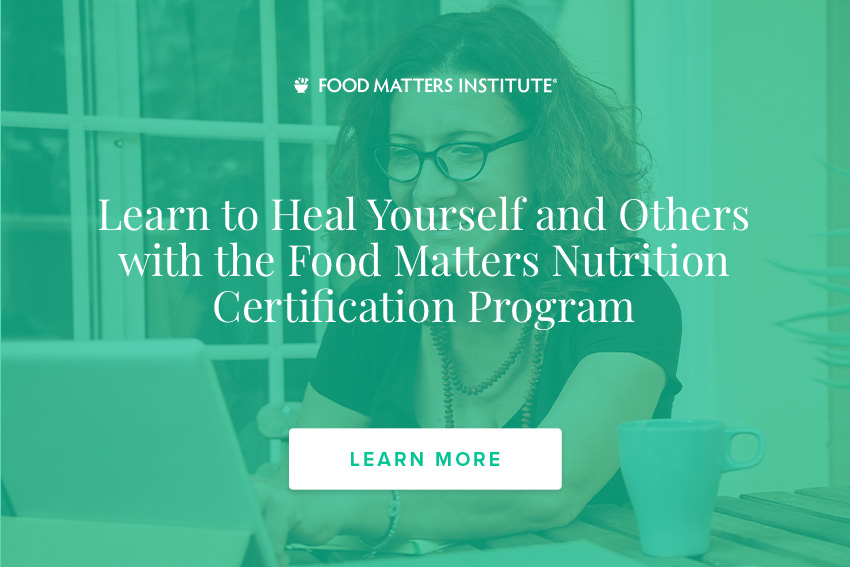 ---