Our Favorite Natural 2-Step Skincare Routine
If you're the type of person who's discerning about what you put IN your body, then you probably also care as much about what you put ON your body.
But what if the skin care products you're using contain harmful ingredients that can damage your health and your delicate epidermis?
Chemicals abound in commercial products, but surprisingly in many organic brands, whose ingredient list don't betray the hidden content of sneaky artificial ingredients that don't need to be indicated on the label by law.
There's one brand that we've been using for years now! Not only are they great friends of ours, we wholeheartedly support their brand, their voice and the way their products are created. Annmarie Skin Care create the most beautiful, organic and wildcrafted products.
What is wildcrafted? A selection of the herbs used in Annmarie Skin Care are hand-picked in the mountains where they grow wild—this is the definition of wildcrafted. When they use wildcrafted herbs, we know that no commercial farming methods have been used and that the plants are hearty, vibrant and full of skin-nourishing nutrients.
Their organic, wild-crafted herbs and ingredients, infused and extracted at low temperature, are of the highest quality.
Do you want:
Alleviation of temporary redness or discomfort, and your skin left soft, supple and ready to seize the day (Carpe diem!)
Products that are entirely devoid of harmful ingredients and make a real difference in how you feel? That means no itchy eyes, no dry skin; only positive results and compliments.
Soothing herb-infused formulas that reduce the appearance of fine lines and wrinkles, without irritating sensitive skin types?
Products that keep your skin looking firm and lifted?
You don't even have to splurge to try these kinds of products!
We've partnered up with Annmarie Skin Care so that you can try their new Essentials Collection at a limited-time price.
The Essentials Collection includes:
1. Renew Facial Cream Cleanser
A gentle, pH-balanced cream cleanser to nourish and refresh skin daily. Cleanse and hydrate with organic aloe vera.
2. Radiate Moisturizing Facial Oil
This all-natural facial oil promotes flawless, dewy skin with 14 potent plant botanicals. Scented with invigorating notes of nature.
And…
They're also going to include a sample of their Illuminating Pearl Mask.
Want to give these products a try?
Annmarie Skin Care has has put together this special offer for our community. You can get the 2-Step Essentials Collection for just $32.00 (free shipping for U.S. and Canada). This is a limited quantity offer that won't be around for long. It's also exclusive here and cannot be found on Annmarie Skin Care's website. This offer is limited to one per customer. Head here to learn more.
Do you have a passion for nutrition & natural healing?. Learn more about the Food Matters Nutrition Certification  Program here.
ENROLLMENT & BONUSES CLOSE IN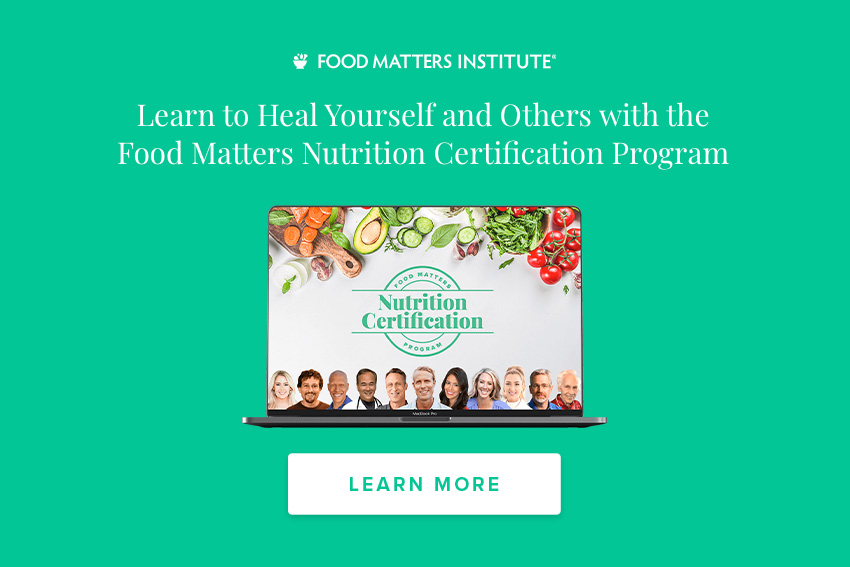 ---