Stretch your way to wellness (and drop a few pounds!)
Peace. Relaxation. Happiness. Mindfulness. Daily yoga practice is well known for its emotional benefits, but did you know it can also help to balance your weight and prevent obesity?
There are many styles of yoga, each with their own focus. A study by Guarracino and colleagues examined men and women aged 18 years or older on a program of hatha yoga or relaxation yoga for up to four years. The two forms of yoga were significantly beneficial in controlling weight.
This comes as no surprise considering the amount of core strength and balance required for even basic yoga poses!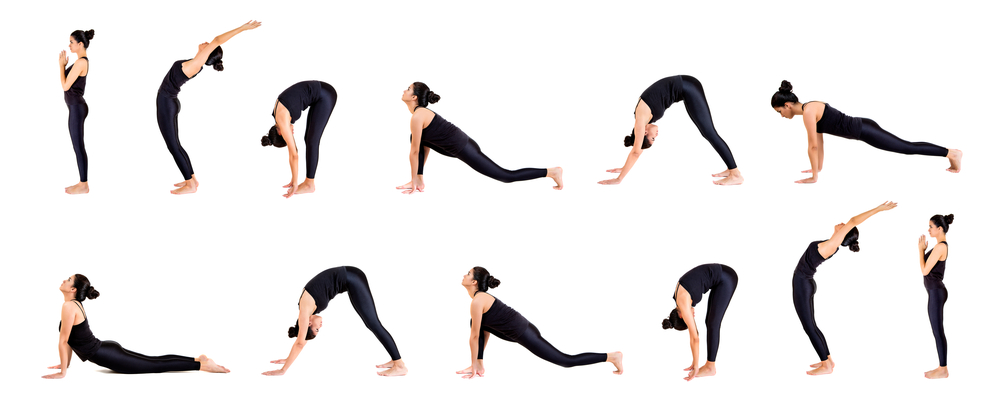 A classic series used in most hatha yoga practice is Sun Salutation. This sequence of poses is generally carried out 2-6 times in a row at sunrise to greet the day, although if early mornings aren't your thing you can practice at any time of the day! By increasing circulation and stretching the muscles, the body heats up and burns off excess fat. By following the steps below for a classic Sun Salutation you can enjoy the powerful benefits of this beautiful practice:
Stand tall on your mat with feet parallel and facing forward, palms pressed together in front of your chest and shoulders pulled down and back.
Inhale and bring both arms up above your head, pressing your palms together once more as you look up to your hands.
Exhale and bend forward so your palms touch the ground in front of you, bending your knees slightly if necessary.
Inhale and step your right foot to the back of your mat, keeping your right leg as straight as possible while your left leg is bent with knee directly over ankle. Hands are resting on either side of your left foot and head is facing up and looking forward.
Bring your left foot to the back of your mat to join your right foot. Form a plank position with your body parallel to the ground, arms straight and palms flat on the mat below your chest.
Exhale and lower your knees, elbows, chin and chest to the floor, then arch the back and look forward with legs stretched out straight behind you.
Inhale and press down into your palms, keeping your arms straight and lifting your hips and legs slightly off the ground.
Exhale to form downward facing dog. Hips and bottom lift up towards the sky, legs are as straight as possible with feet flat on the mat, arms outstretched to the front of your mat, palms flat on the ground and head hanging.
Inhale and step your right foot to the front of your mat between your hands. Keep your left leg straight, drop your hips towards the ground and face forward.
Exhale and bring your feet side by side, bending forward over your knees, let your head hang and aim to press your palms into the ground
Inhale and curl your body up to standing position, then bring your arms up over your head with palms pressed together, looking upwards.
Exhale and bring your palms together in front of your chest, facing forward with shoulders pressed back and down.
Your Sun Salutation is complete! With daily practice, you will start to feel stronger and more toned as your body adjusts to the poses. There is always a new pose or sequence to master and with practice you can stretch your body further and further as you become more experienced. All you need is your mat and an open mind and you can begin to enjoy the abundant rewards of a life enriched by yoga.
Do You Have A Daily Stretch Routine? Share Your Thoughts In The Comments Below!
Do you have a passion for nutrition & natural healing?. Learn more about the Food Matters Nutrition Certification  Program here.
ENROLLMENT & BONUSES CLOSE IN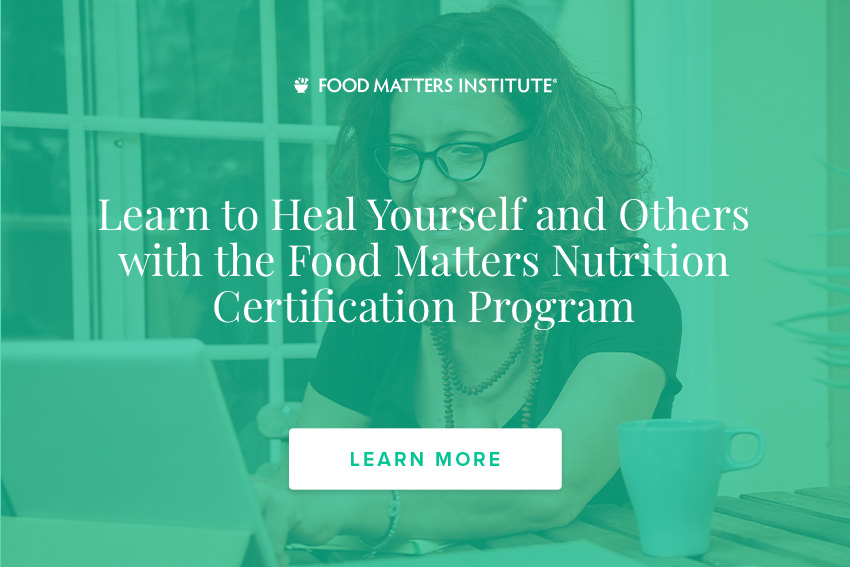 ---