Toxic Timeout: Should You Rethink Your Non-Stick Cookware?
Hot on the heels of spring cleaning season, we're revitalizing our toxic timeout series with a breakdown of the mysterious and ubiquitous chemical, PFOA.
These facts come from the founder of MADE SAFE, Amy Ziff, who's taught us that most dangerous chemicals in our homes often hide behind a veil of convenience, as with the case of non-stick cookware.
This overview of PFOA may inspire you to stock up on non-health compromising enamelware and classic iron-clad pots and pans. But when you really just prefer the ease of non-stick on a busy morning or evening, the TCM team is impressed with the brand GreenPan which makes functional, non-stick pans that are PFOA-free, and are actually beautiful as well!
We know it can be overwhelming to learn about toxins in the home, but take one step at a time, up your knowledge, and make just one small change. Check back every month for more of this series, and detoxify one area of your life at a time until strange, modern dangers like PFOA no longer lurk in your home.
What Is It?
Perfluorooctanoic acid is commonly known as PFOA or C8, and also goes by the CAS #335-67-1. It's a manmade perfluorinated chemical (you might see these referred to as PFCs in the news), which means that its base includes carbon attached to fluorine atoms.
PFOA is used in non-stick cookware (think Teflon), in other non-stick coatings like Gore-Tex, and in carpet and furniture that have been treated to be stain resistant. It can even be found in makeup such as eye shadow, powders and creams.
What's The Concern?
PFOA is an endocrine disruptor linked to cancer according to sources like these. In addition, it's persistent (which means it stays in the environment) and bioaccumulates (which means it stays in the human body for long periods of time).
It's Also Terrifyingly Common
A 2007 study from the CDC found PFOA in the blood of 99.7% of Americans. After a class-action lawsuit that revealed PFOA's link to cancer and other diseases, DuPont (PFOA's major producer) made a deal with the EPA to phase out its use beginning in 2006 – however, this doesn't mean that this dangerous chemical has disappeared from consumer products. It's a good idea to try to consciously reduce your exposure where you can.
How Do We Avoid It?
You can avoid PFOA in everyday products by switching from non-stick cookware to cast iron or stainless steel. Also try to avoid stain-resistant materials where possible, including clothing, carpets and furniture. Make sure it's not listed in your makeup as PFOA, PFTE or polyacrylmide. PFOA is also not permitted in any of our MADE SAFE certified products.
Have You Made The Change To Toxin-Free Cookware? Share Your Experience Below!
Take the stress out of cooking with 21-days of guided meal plans, shopping lists, and nutrition support. You'll find all of this, and more, in our signature Clean Eating Program.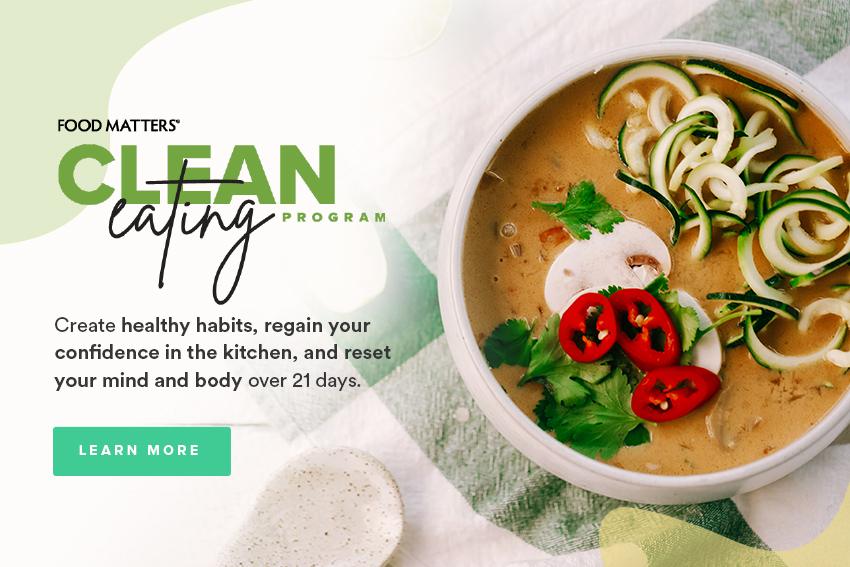 ---