What We're Reading: 7 Best Health & Wellness Books in 2021
Remember that New Year's Resolution to read more books this year? Now's the time to make sure you're making good on it. Since COVID-19 struck, it almost feels like there's been a literary boom. From lengthy novels for escapism to self-help books for bettering our own quality of life, there's been an abundance of new titles to add to this year's reading list. But what are we reading? These are the 7 best health and wellness books that are topping our 2021 reading list.
The first release from a self-proclaimed self-healer with a significant following, Dr. Nicole LePera, who you may know as The Holistic Psychologist on Instagram, brings a revolutionary approach to healing that harnesses the power of the self to produce lasting change.
After gaining over 2 million followers around the world, Dr. LePera is ready to share her much-requested protocol even further. Drawing on the latest research from a diversity of scientific fields and healing modalities, she helps us recognize how adverse experiences and trauma in childhood live with us, resulting in whole-body dysfunction - activating harmful stress responses that keep us stuck engaging in patterns of codependency, emotional immaturity, and trauma bonds. Unless addressed, these self-sabotaging behaviors can quickly become cyclical, leaving people feeling unhappy, unfulfilled, and unwell.
In How to Do the Work, Dr. LePera offers readers the support and tools that will allow them to break free from destructive behaviors to reclaim and recreate their lives. Nothing short of a paradigm shift, this is a celebration of empowerment that will forever change the way we approach mental wellness and self-care.
Release Date: March 9, 2021.
This year's release from the much-loved biohacker is a must-read if you've ever considered using the power of nutrition for ultimate health and wellbeing. For more than a decade, Bulletproof founder Dave Asprey has shared his unique point of view and expertise to help fans become the best versions of themselves. From living longer to getting smarter, maximizing performance to practicing mindfulness, Dave's followers look to him for his take on the most effective techniques to become healthier and more powerful than most doctors think is possible.
In Fast This Way, Dave asks readers to forget everything they think they know about the ancient practice and takes them on a journey through cutting-edge science to examine the ways novice fasters and Intermittent Fasting loyalists can up-end their relationship with food and upgrade their fasting game beyond calorie restriction.
What if the ability to look, feel, and perform at peak capacity wasn't the stuff of lore but instead was within easy reach? Sure, some of us find ways to hit peak performance in one area or another - there are professional poker players, computer programmers, and race car drivers hunched over card games, keyboards, and steering wheels with optimized minds; UFC and NFL gladiators fighting for glory on television with optimized bodies; and monks and meditators roaming the planet with optimized spirits. But in a perfect world, you would be able to have it all: complete optimization of mind, body, and spirit. That's the premise of Ben Greenfield's 2020 bible, Boundless, and the knowledge shared is mind-shattering.
In Boundless, the New York Times bestselling author and health and fitness leader Ben Greenfield encores with offers the first-of-its-kind blueprint for total human optimization. It's a read that requires a lot of attention but guides the reader every step of the way to becoming an expert in what makes their brain tick, bodywork, and spirit happy. You can flip open the book to any chapter and discover research-proven, trench-tested techniques to build muscle, burn fat, live longer, have mind-blowing sex, raise robust children, and much, much more.
What does success truly mean to you? Following his bestseller, Not A Diet Book, James Smith is back to challenge everything you thought you knew about the path to fulfillment and happiness. With hard-hitting home truths and a helping of tough love, be prepared to re-set your outlook, redefine your goals, and truly consider your relationship with success.
Now, more than ever, is the time to take back control. Time to stop sleep-walking through your life; to challenge the status quo; and to truly ask yourself if you're on the right path to success, happiness, and fulfillment. Only you can take the reins of your own life and choose to make a change, but with invaluable experience, a hunger for genuine happiness, and a drive to be the kind of coach he needed when his life was broken, James can give you the tools to do it. And it's all living in this book.
This book's a shout-out to all of our nutrition nerds, who love to know the reasons why. Why we're getting it wrong, why the science keeps changing, and why we need to start getting it right again. From T. Colin Campbell, Ph.D., the brains behind the legacy of The China Study, this latest book asks all of the right why's.
In The Future of Nutrition, he takes on the institution of nutrition itself: the history of how we got locked into focusing on 'disease care' over health care; the widespread impact of our reverence of animal protein on our interpretation of scientific evidence; the way even well-meaning organizations can limit what science is and is not taken seriously; and what we can do to ensure the future of nutrition is different than its past. The Future of Nutrition offers a fascinating deep-dive behind the curtain of the field of nutrition-with implications both for our health and for the practice of science itself and is a must-read for plant-based lovers and meat-eaters alike.
If you've been following Food Matters for a while, you'll be familiar with our good friend Dr. Mark Hyman, who has pioneered a pegan diet for ultimate health and wellbeing. In The Pegan Diet, readers will explore 21 practical principles for reclaiming health in a nutritionally confusing world.
So what do you get when you combine the best of paleo with the best of vegan? Pegan! For decades, the diet wars have pitted advocates for the low-carb, high-fat paleo diet against advocates of the exclusively plant-based vegan diet and dozens of other diets leaving most of us bewildered and confused. In this recent release, readers can discover all they need to know about adopting this approach to food for ultimate health and wellbeing.
With news that Vishen Lakhiani is set to release his third book this year, we've had to include his 2020 release on this roundup. The Buddha & The Baddass should be the ultimate bible for anyone wanting to dive deeper into the space of conscious business and explore ethical ways to approach the capitalist nature of our world.
The Buddha is the archetype of the spiritual master. The person who can live in this world but also move with an ease, grace, and flow that comes from inner awareness and alignment. The Badass is the archetype of the changemaker. This is the person who is out there creating change, building, coding, writing, inventing, leading. The badass represents the benevolent disruptor - the person challenging the norms so we can be better as a species. And when working symbiotically, one person has the ability to disrupt the world as we know it. It's a must-read for anyone wanting to bring a little more consciousness into their daily business.
What books are on your must-read list for this year? We would love for you to let us know in the comments below!
Discover how to lose excess fat from your belly, face & thighs in less than 7 days with this simple ancient practice. Watch the Detox Masterclass here. Playing for a limited time!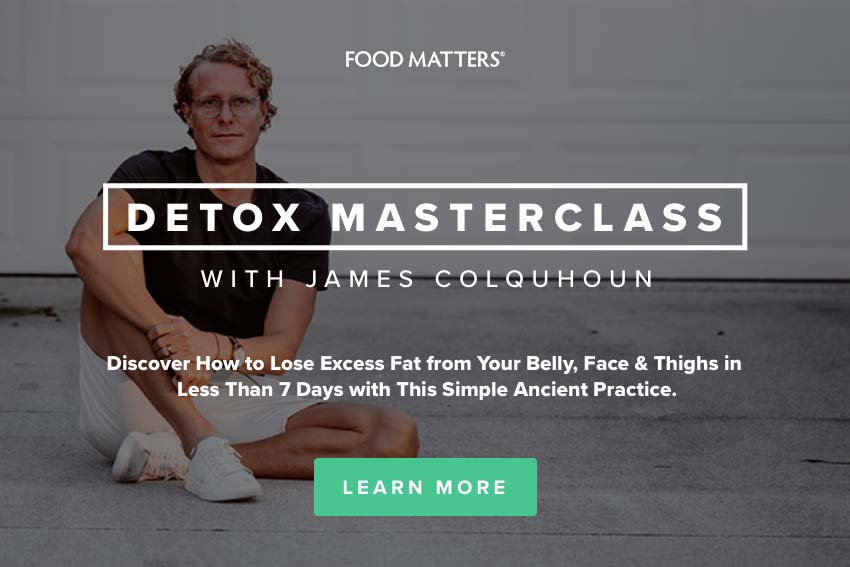 ---