How a Health Practitioner Can Dramatically Improve Your Life
Consider whether you relate to the following:
1. Managing your fitness and diet seems like an impossible task
Whether you're not sure where to begin or you generally feel like "being healthy" is out of your reach, consulting a health practitioner will most likely change this around for you. Health Practitioners look at where you are at right now and gently guide you to better health in a sustainable way. You don't have to face this hurdle on your own and you don't have to change your entire lifestyle in an instant to make progress.
2. You often get stuck on the way to reaching health goals
Health Practitioners are equipped to help you find the triggers or blocks that get you stuck, preventing you from achieving wellness. When you consult a health coach you can work together to set achievable and worthwhile goals and you can be guided through challenges as they crop up; whether you're struggling to find the time, have financial challenges or interfering health issues. A good health practitioner encourages and enables you to be a better you and keeps you accountable to your highest dreams and goals.
3. You struggle with persistent health conditions
Have you lived with a condition (or conditions) for a long time because you've been told there are no solutions even after visiting a variety of different health practitioners? Consulting with someone who will consider your entire health history and your concerns holistically while taking the time to match the right information to suit your needs can mean missing pieces of your health puzzle can be found and a completely personalized and effective health plan can be designed.
4. Your health challenges are complex and overwhelming
Whether you struggle with depression, anxiety, chronic disease, weight loss, digestive issues or a combination of concerns, simple and complex, Health Practitioners can empathize with what you are going through and to help you make positive change. Practitioners work to find the root cause of your health concerns and treat that rather than the symptoms alone and help you to start to feel better even by making the simplest of changes.
5. You are time poor
Evaluating the plethora of diet options and fitness routines suitable to your needs takes time. A Health Practitioner eliminates the need to become an expert in health or nutrition so you can commence a plan that will work almost straight away.
Not only are health coaches equipped with and able to discern the latest research in health and wellness, but they are also able to commit their time to you, when it suits you, to optimize the time you spend and the benefits you will receive from focussing on your health.
6. You find it hard to stay motivated
Being informed practitioners of holistic health, health coaches can assist clients in addressing the psychological barriers to health. Through listening and understanding your concerns, along with keeping up with you throughout your journey and adjusting your routines as required, Health Practitioners are the champions of motivation and support and will be there when you slip up to remind you of what you can achieve.
7. You're sick of wasting money
Rather than continuously buying ineffective medications, diet plans, joining short-term fitness groups or visiting multiple practitioners - Health Practitioners can provide all the information and support you need at once and enable you to emancipate yourself from a broken health system and the money hungry fitness world.
What is a Health Practitioner?
Health Practitioners are considered both mentors and wellness experts that guide people to make eating and lifestyle changes to improve overall health and wellbeing.
Health coaching has in many ways been borne from an ineffective and time poor health care system that over-prescribes and sees the body as individual parts rather than a complex whole. Health coaching is a new behavioral intervention becoming more prominent in public health due to its approach of addressing behaviors, health risks, and encourages people actively managing their health through lifestyle change.
Where Are The Best Health Practitioners?
Food Matters have hand-picked an incredible selection of qualified and affordable Health Practitioners from around the world for those looking to turn their health around for good… and these health experts are available to you wherever you are online! The team of Health Practitioners we've put together are a mixture of integrative therapists, dietitians, functional medicine doctors, and clinical nutritionists. They come from a range of countries around the world, to provide you with expert advice to find creative healing solutions for sustainable, long-lasting success. Our mission is to empower you to become your own health success story.

Could a health coach help you reach your health and wellness goals?
Health Practitioners provide expertise, support, motivation and hold you accountable to your goals. Motivated by seeing you reach your goals, health practitioners give you the peace of mind of a trustworthy partner with you on your health journey.
Getting on top of health and wellness can seem like a monumental task. There are many barriers including time constraints, financial constraints, injury, and long-term medical issues as well as internal challenges of self-esteem or low motivation due to failure to reach health goals in the past. If you're tired of trying and failing to achieve real and lasting change it might be time to try a new approach to your health.
With more people than ever struggling with challenging health issues such as heart disease, obesity, hormonal issues, stress, burnout, allergies, digestive disorders, and autoimmune conditions to name a few, there has never been a better time for a revolution in the way we approach health and wellness. The support of someone willing to be your personal health expert, we believe, is one of the best ways to see real and sustainable change in your health and in your life!
Do you have a passion for nutrition & natural healing?. Learn more about the Food Matters Nutrition Certification  Program here.
ENROLLMENT & BONUSES CLOSE IN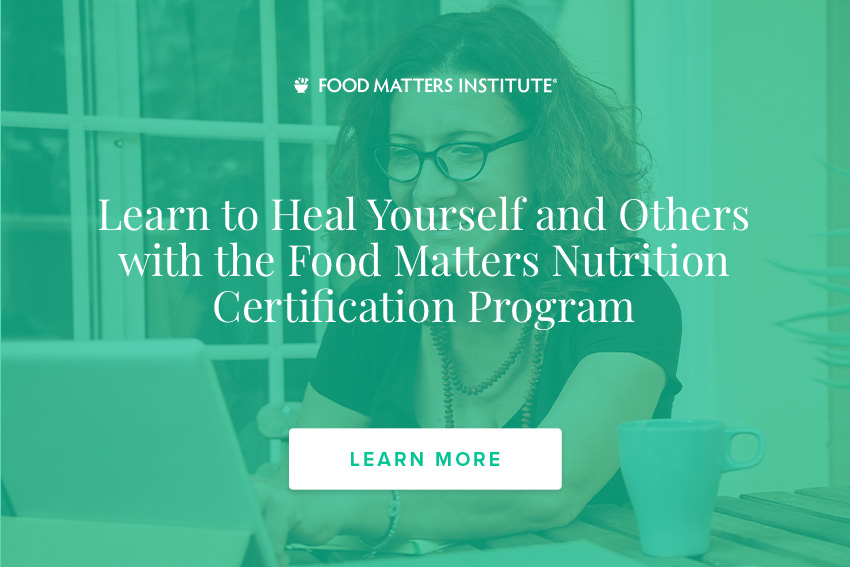 ---