10 Ways To Make Isolation A Positive Experience
Sometimes the heaviness of the world's energy just hits you like a semi-trailer, and all you want to do is scream or lie on the floor and stare at the ceiling when it seems harder than usual to find any purpose in it all. And that's okay. An important part of nurturing ourselves is accepting where we are at. But hand-in-hand, another just-as-important part is having a feel-good toolbox that we can reach into at any point in time to lift ourselves out of the iso-funk. Here's of a couple of easy things to do before your screws let loose.
1. Adopt A New Hobby
It is said that creativity is born from adversity. Once you get into your new rhythm, comfortable with spending your days at home, take this opportunity to explore something you've always want to. It's not to suggest that you need to spend your days in the productivity trap, but sometimes a little, old fashioned, arts and crafts is all that can lift you out of the unpleasantness. It might be baking, pottery, knitting, trying a new online dance class, or creating work of art to adorn your walls… Find something you love and sink your soul into it.
2. Do Something Kind For Your Neighbours
Act the way you want to feel, and kindness begets kindness. That friendly elderly couple down the street? They may be too vulnerable to leave the house. The single mum next door with the sick child? She mightn't get to the shops for the days. If you've got the ability, and you're searching for a purpose, let your neighbors know that you're there for them. Drop a letter in their mailbox to tell them that you're happy to pick up something from the shops, or there for a phone call if they need someone to talk to. Make sure you're following safety precautions, but for some at home alone, a little goes a very long way.
3. Share Your Talents With Friends
What makes us special as human beings, is that we all have something to give the world. This may be a tangible skill, or simply a way of existing, but it's completely free for us to share. Hop on Instagram Live or host a Zoom workshop where you teach your nearest and dearest to paint or write poetry, or perhaps you can share your own meditations guiding people you live towards a sense of inner peace.
4. Limit Your Time Spent Absorbing The News
It's important to keep informed in this rapidly changing world, but make sure you're not becoming consumed by the news. It's easy to become a sponge for sorrow, so make sure you are protecting yourself. Set aside time each day where you allow yourself to access and make sense of the news, perhaps an hour in the evenings, and spend the rest of your days avoiding the stress. You'll thank yourself for the self-control.
5. Foster A Furry Friend
Aside from giving gorgeously lovely cuddles and endless entertainment, looking after a pet gives the owner a sense of purpose in life. When finding it difficult to overcome the stress of this pandemic, having something that relies on you is an added bonus to get out of bed each morning. There are many animals in shelters who need permanent homes or even just a place to stay while they look for their new mum and dad. You could even take the opportunity to help train a Seeing Eye dog. If you have the time, energy, and means, it's one of the most rewarding things you can do.
6. Learn A New Language
One of my hopes for life is to never stop learning. Whether it's the science of the evolution of a conscious universe or mastering a new recipe, the feeling of growth and achievement is enough to keep me fulfilled inside. A language is a beautiful place to start because there are many free apps where you can learn about the culture and practice speaking alongside. While you imagine all the post-pandemic travel you hope to do, keep learning the language so you can look like a local when you arrive.
7. Spend Time In Nature
If there's one lesson we're learning right now, it's how beautiful and peaceful the universe can be without interference. Dolphins swimming in the canals of Venice and butterflies swarming the beaches of Australia. The air is clearer and cleaner, and the forests are thriving. Being in nature has a powerful effect on us, a moment of calm and relaxation. We also know that earthing can help to recharge our bodies. However, you are able, whether it's basking in the sunshine on your balcony or digging your hands in the garden, spending time in nature will help you see this through.
8. Treat Others With Kindness & Understanding
How you treat others is a reflection of what you would like to see in the world. Do you dream of a world of more stress and negativity, or one of kindness and understanding? It takes no extra energy to give a heartfelt thank you to the checkout operator working a double shift or to really listen to your friends who need support. Those around you will pick up on your energy and begin to exist in the same way.
9. Make Room For Mindless Drivel
If watching your favorite TV program or lounging about in your pajamas is going to be what gets you through today, then allow yourself to do just that. It can be a slippery slope, but treating yourself and your needs to gentle forgiveness will do wonders for your inner child. Be kind and easy.
10. Move Slowly & Consciously
Take the time you need to wake up. Explore the four walls of your home with soft and slow footsteps. Make your breakfast and coffee with love and care. Listen to the sounds around you and allow yourself to feel all that it is you need to feel. It's not often that we get to spend this much time in our own homes. In these first few weeks, as we slip out of the productivity mindset, it will feel strange and uncomfortable, but as you move into your slow and conscious way of being, consider why your days may be better spent this way.
How are you staying positive through these times? Share your tips and tricks with the community below...
---
If you haven't already, join our free global challenge at www.GetOffTheGluten.com to receive daily recipes & health tips, access to our private group for support and inspiration, plus before and after testing to track your progress in key areas of your life such as weight, sleep, bloating, skin-conditions, mental health and more!
JOIN THE GROUP CHALLENGE STARTS IN: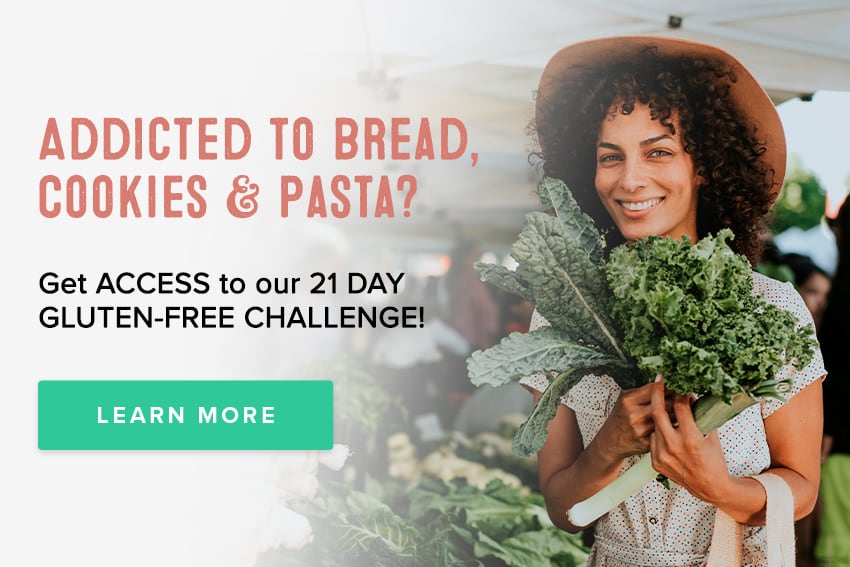 ---