10 Ways to Give Back This Holiday Season
The holidays are a time for reconnecting, rejoicing and embracing the spirit of giving, whether it be mindfully, physically or consciously, there is more than one way to give to those around us. While many write their lists for what they hope to receive, we've put together a list of how we can all give more over the holidays.
1. Buying Local
One of the best gifts we can give as a consumer is choosing to purchase from a local business. Buying your produce from the local farmer's markets can not only make a huge difference on your wallet and to the environment but, it also supports your local farmers and neighbors. Not only will you get better produce and service than that of the big corporations, but you are single handedly helping local businesses and the local economy thrive. This doesn't just extend to the farmers markets, you might also want to consider homemade gifts, skincare and grooming products this holiday season, spoiling the ones you love and the businesses around you too!
2. Conscious Brands
Another great consideration when making purchases over the holidays is to buy from conscious brands. Ethical, sustainable, conscious and eco-friendly are just some of the confusing language that surrounds shoppers when on the lookout for their Christmas stocking fillers. A great way to wade through the good from the bad is to look at where they are being made and if they are supportive of a local charity, community or environment. Buy buying from conscious brands, you are helping our consumerism coexist without the environmental or social guilt.
3. Giving Time
The last thing we feel like doing on the holidays is working, but there is no better feeling than giving your time to help those that are in need. From serving meals at your local community center, to creating Christmas hampers and hosting a gift drive – there are many ways that you can give back to your community this Christmas, which may also be the best gift that you receive.
4. Less Consumption
Our carbon footprint might not be front of mind this holiday season as we prepare to empty our wallets for a pile of presents and Christmas day feast. But the consumer madness of late December is the perfect time to ponder the consequences of our habits and excesses.
One of the biggest consumers of all this holiday season is our electricity. Despite what you might think, the Christmas lights are not the culprit – our heating/cooling is! About 40% of residential electricity use, depending on your local climate, of course, goes into indoor temperature control. Fans, on the other hand, typically use about 20% (or less) of the energy consumed by air-conditioners – so why don't use a fan and cool down with a Christmas cocktail or smoothie of your choice? Or, warm up with some yummy homemade baked goods and a don your best 'ugly Christmas sweater'!
5. Practicing Mindfulness
With the pressure of Christmas compounding, tempers can grow and patience can diminish quickly… especially if you find yourself inside a large shopping center. Be mindful of your actions, your expressions and your interactions remembering that most people around you are also feeling pressure and all have the same Christmas Day deadline (or sooner). By giving a smile, showing kindness and being courteous should make everyone around you feel much better and you could spread the joy.
6. Donate to Make Someone Else's Christmas Brighter
It should come as no surprise that many go without during the holiday season and even a small donation can go a long way! Try looking local and see what organizations need your help around your area. Even if you don't have cash to give there might be organizations collecting food or you could re-gift items you receive but don't necessarily need.
7. Adopt a New Best Friend
This time of year is busy for everyone, including the animal shelters around your area – so why not give your loved one the cuddliest gift of all this holiday season… a pet! RSPCA and many other shelters are always looking to find their furry friend's new homes and this holiday season might be the perfect excuse. Check out the local adopt days around your area for your chance to find your new furry friend!
8. Clean Out Your Closet
None of us enjoy cleaning out our wardrobes, but with Christmas around the corner, now is the perfect time to declutter and start your 2019 with a clear mind (and closet). Not only will you feel free, but you will give charities the chance to give your once-loved clothes a new life with someone else.
9. Set an Extra Space at The Table
Not everyone has a home to go to during the holidays, and for people without, Christmas can be a lonely time. Why not share your holidays with someone else this festive season and set some more seats around your Christmas table?
10. Practice Self Care
Filling up your own cup before you pour out all your love to others is important throughout the year and especially during the holidays. Give yourself some time to reflect, treat yourself to healthy nourishing food and give yourself as much sleep and rest as possible so you can be the best person you can be this Christmas. It can be hard to take a break and breathe – but try to allow yourself to de-stress and re-prioritize your life. Here are some great tips and tricks that you can utilize this Christmas to refresh and reset for 2019.
Time management: with a seemingly unending list of end-of-year parties and Christmas functions, the holiday season can seem like a drain on your personal and professional life as we feel the need to say yes to everything. A great way to give yourself some breathing room is to just say… No!
De-stressing: Between families and friends there is a lot of stress and anxiety that comes with the holidays with the impending mix of personalities. The best way to combat a family feud is to engage in gratitude and remember the reason you're all together.
Share with us in the comments how you like to give back during the holiday season.
Do you have a passion for nutrition & natural healing?. Learn more about the Food Matters Nutrition Certification  Program here.
ENROLLMENT & BONUSES CLOSE IN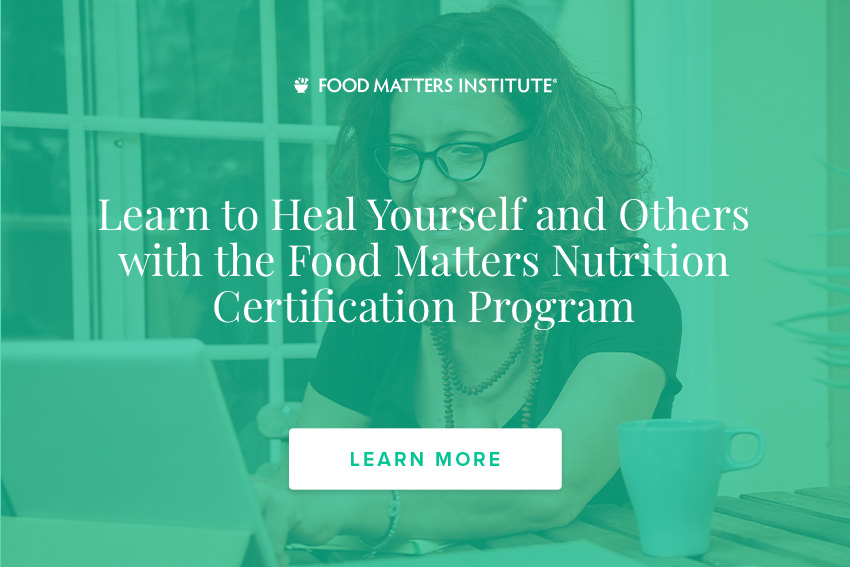 ---